Bohlin Cywinski Jackson and the Wiseman Group Design a California Retreat Near Lake Tahoe
Located on 2,100 High Sierra acres in Truckee, California, a few miles from Lake Tahoe, Martis Camp is a private community of vacation homes for the super accomplished, such as Massy Mehdipour. An Iranian emigre, she earned an electrical engineering degree from McGill University, went to work for the Bechtel Corporation's microelectronics unit, and then became a serial entrepreneur, founding companies providing construction management software. The Palo Alto–based Mehdipour flies her own jet and is passionate about architecture and design, commissioning work from the masters: Frank Gehry for her principal residence, under construction, in Atherton; Legorreta + Legorreta for a planned house in Pebble Beach; and, most recently, Interior Design Hall of Fame member Peter Q. Bohlin, founding principal of Bohlin Cywinski Jackson, for her Martis Camp retreat. Although this was Mehdipour's first project with the architect—a self-described modernist by training but a humanist in practice—it turned out they are kindred spirits. "My life fascination is with the nature of people, whether it's Steve Jobs, Bill Gates, or my mother," Bohlin says, referencing three of his most important clients. "You'd better be listening and observing carefully to discover how things work emotionally." If that is the first voice he heeds, "Number two is the natural world." On this, Mehdipour completely concurs: "I wanted the house to bring the environment in, not close it out," she explains,
"to make it feel as if you were walking on the open mountainside and the house just happened to appear right there."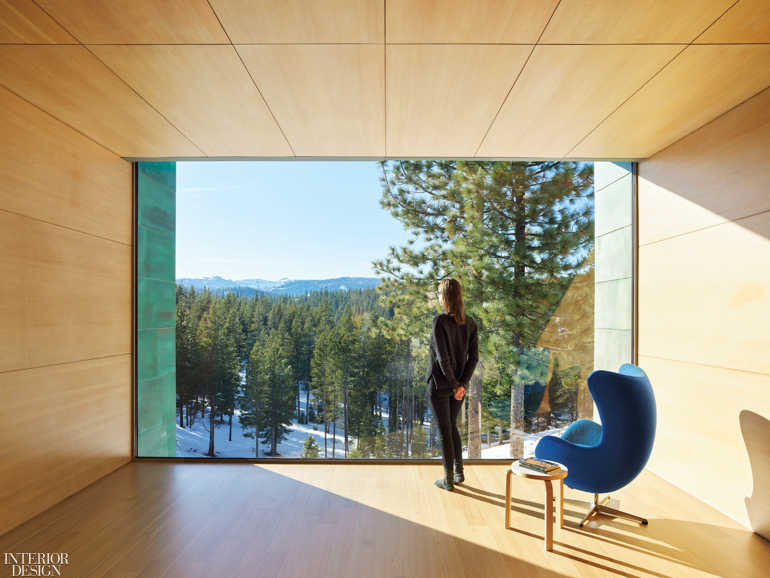 In actuality, the 12,200-square-foot, three-level residence is carefully sited on the lip of a west-facing crescent bowl lined with evergreens, a position that affords it spectacular views of the Pacific Crest Trail, which Bohlin took pains not to obstruct. What he did have to block out, however, were neighboring properties along the access road to the east, which the house turns its back on, presenting a public facade of long, overlapping cedar screens. These elements—some solid, some slatted—are stained gray, black, or red to correlate with the internal layout, which follows a multigenerational program: separate quarters for Mehdipour and each of her two grown children's families, with a central living area in which they can all congregate. The son's section, in the southernmost volume, is sheathed with gray-stained boards, while ebony-stained siding defines the daughter's wing and adjacent garage at the north end. The middle section, comprising an entry pavilion, stairs, and sprawling common areas with Mehdipour's suite perched on top, is fronted by a dramatic steel-frame screen of crimson-stained cedar slats. This double-sided structure extends into the house where it not only becomes a feature wall in the 22-foot-high center hall but also forms one side of the three-story stairwell.
"It's the coolest wall ever," enthuses James Hunter, design director of the Wiseman Group Interior Design, which collaborated on the interiors. Unlike Bohlin, this was not the firm's first Mehdipour residence. "We've been working with Massy for almost 30 years," founder and president Paul Vincent Wiseman discloses. The designers were also familiar with the location: "We've done six projects at Martis Camp," Hunter reports.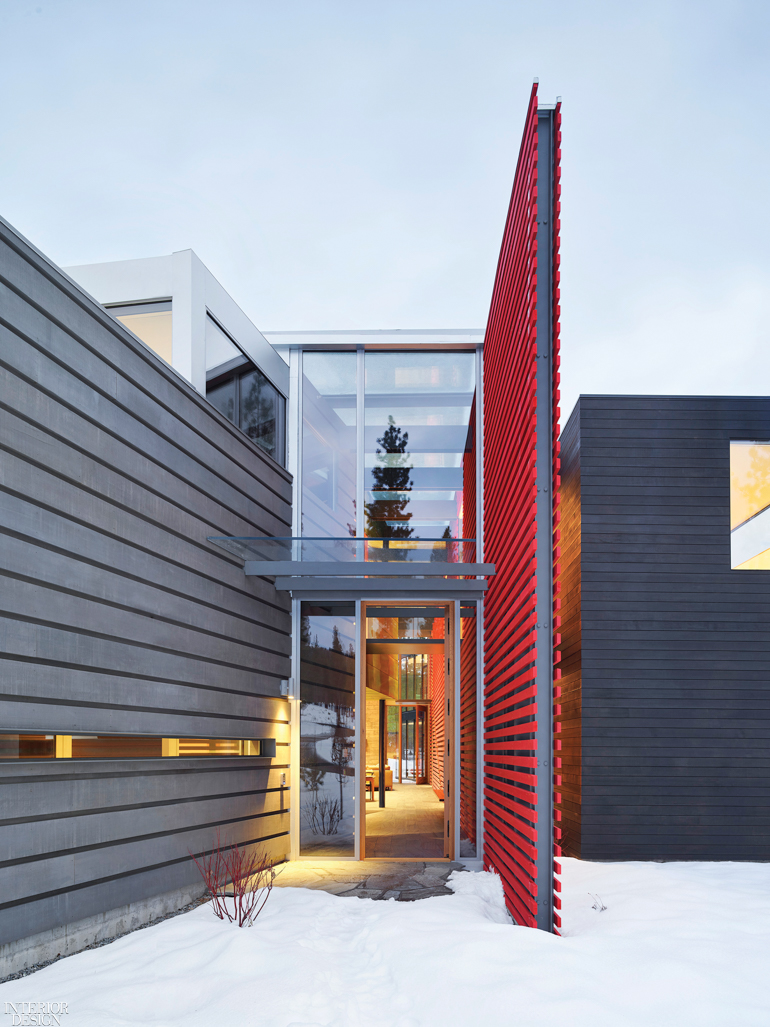 Grand mansion or diminutive apartment, people inevitably head to the kitchen first. Bohlin has made the passage easy by setting it at one end of the vast great room, right next to the main entry. The sink and major appliances are housed in a wall of custom Douglas-fir cabinetry; the stove top is mounted on the adjacent island's countertop that seats up to 12 people; and a dropped ceiling, clad in patinated-copper panels and apparently supported by a single navy-blue steel column, defines the space. More formal meals can be taken at an oval table and chairs by Oscar Tusquets Blanca in the adjoining dining area. While cooking and eating are very much family affairs, so is just chilling. Who wouldn't want to hang out in the great room with its endless panorama through floor-to-ceiling glass walls and a sitting area that's both chic and cozy whether for one person or 20? To wit: Elegant Patrick Norguet lounge chairs in red chenille and a cushy sectional sofa are gathered around the towering fireplace, its board-formed concrete tinted a warm shade of buff. The tawny color is echoed both underfoot in what Wiseman dubs "the herd rug" since it's made from the hides of 16 cows, and overhead in the Douglas-fir paneled ceiling, "unique in its angularity," the designer notes, "like unfolded origami."Additional common areas include a generous lanai and, on the semisubterranean level, wine, game, and golf-simulator rooms.
Upstairs is Mehdipour's private aerie. Her glass-enclosed bathroom opens to a spacious roof deck with a hot tub and a fire pit. Douglas fir along the ceiling and walls and pine-board flooring make the bedroom another super-warm space, while verdigris copper panels line the deep soffits surrounding the enormous single-pane window wall opposite the bed. It's Mehdipour's favorite design element. "At night I can see the stars," she says, which is just the kind of visceral connection to the natural world she asked for.
Project Team:
Gregory R. Mottola; Denis Schofield; Priya Mara; Adam Galletly; Brian Padgett; Alexander Ellenbogen; Archer Firouzi: Bohlin Cywinski Jackson. Sadie Darsie: The Wiseman Group Interior Design. Gabbart and Woods: Structural Engineer. Eckersley O'Callaghan: Glass Facade Engineer. Bender Engineering and Construction: MEP. Tieslau Civil Engineering: Civil Engineer. Westgate Hardwoods: Woodwork. Loverde Builders: General Contractor.
Product Sources: High Sierra Custom Doors: Front Door (Exterior). Ken Saling Masonry: Flagstone Paving. Cassina: Chairs (Great Room). Jefferson Mack Metal: Custom Nesting Tables. Hilde-Brand Furniture: Custom Sofa, Custom Rug (Great Room), Custom Bed, Lumber Pillow (Main Bedroom). Mark Albrecht Studio: Stools (Kitchen). BD Barcelona Design: Table, Chairs. Franke: Sink. Dornbracht: Sink Fittings. Sub-Zero Group: Refrigerator, Freezer, Oven, Stove Top. Neolith Countertops: Countertops (Kitchen), Backsplash (Kitchen, Lanai). Thermory: Decking (Lanai). Studio Roeper: Custom Table. Frette: Bedding (Bunkroom, Main Bedroom). Sue Fisher King: Blankets (Bunkroom). Delany & Long: Headboard Leather (Main Bedroom). Rogers & Goffigon: Bed Fabric. Holland & Sherry: Lumber Pillow Fabric. Anthem: Blanket. Antonio's Antiques: Custom Nightstand. Christiane Perrochon: Lamp. Boffi: Tub (Bathroom). Vola: Tub Filler, Shower. Throughout: Brombal: Curtain Wall, Skylights. Reynaers: Windows, Sliding Doors. Class A Roofing: Copper Panels. Northern Nevada Hardwood Floors: Wood Flooring. Vermont Structural Slate Company: Slate Flooring. Sherwin-Williams Company: Paint.