Bornstein Lyckefors Arkitekter Camouflages the Modernist Forms of a Residential Compound in Sweden
Andreas Lyckefors had an unexpected change of mind midway through the drawings of a house he was designing for a single father of two. After a divorce, the client—a successful rock drummer who has recorded with the likes of ABBA and also loves to sail—decided to fulfill a dream and live close to his 24-foot sloop, buying farmland near its slip in Kärna, on Sweden's west coast. The head architect and owner of Bornstein Lyckefors Arkitekter looked to the dynamic lines of his client's späckhuggaren (killer whale) class sailboat—a classic Danish design, so named for the fiberglass hull's resemblance to an orca—and gave the house the shape of a vessel beached upside down.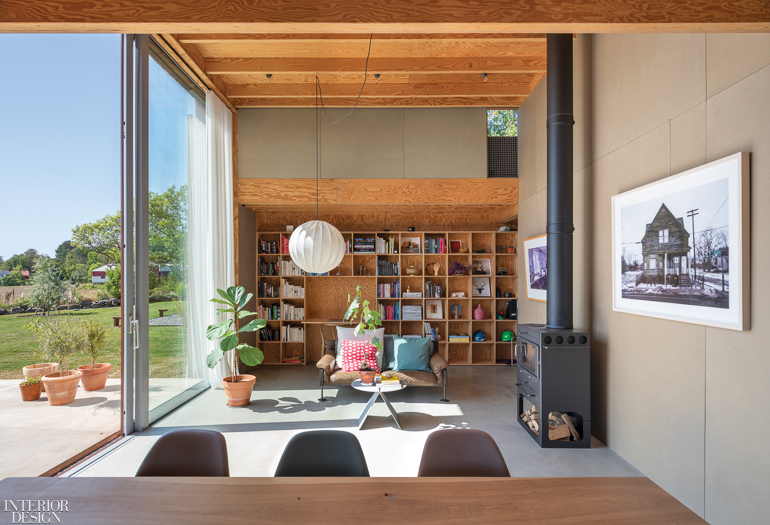 But the property had ideas of its own. Lyckefors learned that there had once been a hardware store and warehouse on the land. The site's history seemed to argue for a vernacular rather than a nautical architectural tradition. Coincidentally, the architect discovered that the 19th-century building, which burned down generations ago, had been owned "by the grandfather of my grandfather," as he puts it. The combined suggestive power of the ghost warehouse and the personal connection led him and his client to reconceive the house as a traditional wood-framed structure, standing still in the landscape. But rather than create a modern version of a specific type of rural building, they "sampled" details and characteristics from the entire genre. "Is it a storehouse, barn, or dwelling?" Lyckefors asks of the cubic form, its facades outlined with pine slats that emphasize the crisp contemporary geometry. "We didn't want its function to be perfectly clear."
The concept for the 1,400-square-foot main house—later joined by a 375-square-foot guest cottage with a sleeping loft and sauna—began
inside with the layout. The client sought a place in which he felt comfortable alone when the children were away, but that was roomy, generous, and social when they were home. The house would have different rhythms on weekdays and weekends; it needed to be able to expand and contract.
To create a mix of spaces, Lyckefors split the cross-section in half and distributed the rooms across three levels. At the front of the ground floor, the living area occupies a one-and-a-half story volume. It flows into the dining and kitchen area, where the ceiling drops from 11 1/2 feet to 7 1/2. Near a bathroom, the central staircase leads to the second floor comprising the two children's bedrooms, another bathroom, and a family room, from which a steel stair rises a half level to the main bedroom. Steel-mesh panels in some walls open spaces to each other, allowing views between floors while retaining a cozy sense of intimacy.
"Adolf Loos's Raumplan was another source of inspiration," Lyckefors continues, referring to the early 20th–century Viennese architect's practice of scaling rooms according to function and organizing them on multiple, interconnected levels. The Swede was designing a modernist interior with an international pedigree for a modernist structure rooted in a local lineage. The result of splitting the floor plates is that "light comes in from many different angles, from left and right, above and below; it's like sitting under a tree," Lyckefors explains. "A light source doesn't have to be a window to look out of." This isn't a house that stretches into the landscape, à la Frank Lloyd Wright, but a contained vessel that light fills. "We wanted to bring the outside in," he says.
The house connects to the landscape most directly through the living area's full-height sliding-glass wall, which opens onto a large concrete terrace, an extension of the ground-floor slab. A pair of barnlike slatted doors provides screening when needed and introduces an overtly vernacular reference, one that Lyckefors heightened by finishing the pine siding in Falu Red, the traditional flour-based paint that's ubiquitous in the Scandinavian countryside. The color acts as camouflage for the house, guest cottage, and storage shed, which would be instantly recognized as internationalist structures were they painted white.
Even though the interior materials palette—polished concrete, untreated plywood, gray fiberboard, steel mesh—echoes the long-gone warehouse, Lyckefors did not totally abandon the sailboat idea. As with tight onboard quarters, he gave the house transformable spaces. Off a short, wide corridor is the laundry room to one side and, on the other, a built-in daybed that functions as a reading nook or overnight-guest crash pad. The main staircase cuts through the house like a ship's companionway, while the bridgelike room above the kitchen can be a place for the family to gather or the client to riff on his drums. The guest cottage abounds with yachtlike built-ins, too, from a tidy desk to the sleeping loft's bunk beds—most of them rendered in untreated plywood. Furnishings throughout, a mix of mid-century and contemporary pieces, boast a streamlined efficiency, as well. There are chairs by Alvar Aalto, Niko Kralj, and Charles and Ray Eames and light fixtures by Bernard-Albin Gras, Michele De Lucchi, and Jaime Hayon.
"And while we sited the structures in the traditional way—beside a road in a rural landscape—we were also thinking of the farmland as water with the buildings docked at its edge," Lyckefors says. "In that sense, we built the house on a beach." No surprise then that the client has named his home
after the class of his sailboat.
Project Team:
Per Bornstein; Johan Olsson; Caroline Jokiniemi; Viktor Stansvik; Monica Warwick; Ainhoa Etxeberria: Bornstein Lyckefors Arkitekter. Rejnäsvillan: General Contractor.
Product Sources: Fiam: Chaise Longues, Table, Chairs (Main Terrace). Rex Kralj: Chair (Hall). Norrgavel: Pendant Fixture (Living Area). dk3: Tables (Living Area, Dining Area). Vitra: Chairs (Dining Area). Jotex: Sheets (Bunk Beds). Klippan: Blanket. &Tradition: Pendant Fixture (Stair). Catalano Verso: Sink (Bathroom). Bra Kakel: Tile. Santa & Cole: Floor Lamp (Cottage). Artemide: Sconce. Artek: Desk Chair. Lovi: Desktop Tree, Rabbit. DCW Éditions: Pendant Fixture. Hay: Chairs, Bench (Cottage Terrace). Throughout: Falu Rödfärg: Exterior Paint. Perssons: Facade.