Brilliant Hues Set the Mood for Jouin Manku's Voyages by Alain Ducasse in Macau's Morpheus Hotel
The two restaurants in the Morpheus hotel share the main fourth-floor elevator landing and reception area, a luxurious floor-to-ceiling, wall-to-wall expanse of burnished walnut. A curving corridor to the north leads to Voyages by Alain Ducasse, its entrance anchored by a massive circular bar of heavily veined marble with a glittering armada of backlit bottles arrayed on stainless-steel shelves. "It's like a central chandelier cage, but sitting on the floor," Patrick Jouin says. "It provides a stage setting for the barman."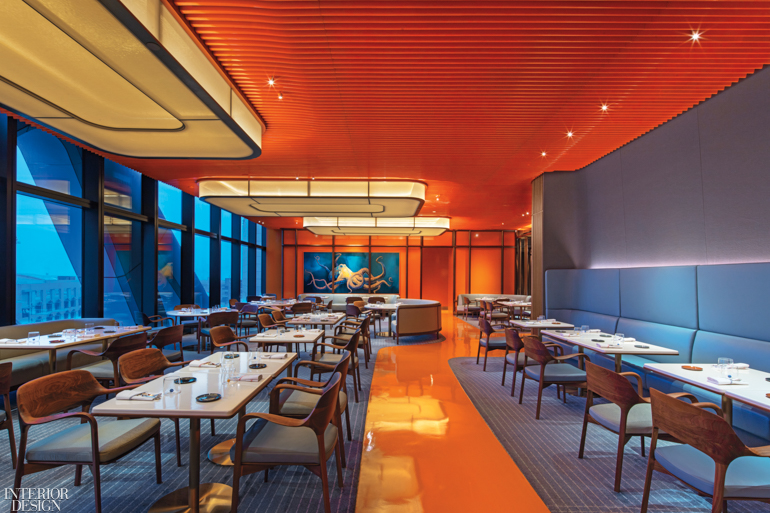 In the bar, lounge, and the 116-seat dining room, brilliant hues are the key—an exception for Jouin Manku—with vivid orange flooring and ceiling panels inspired by the persimmons found in local markets. Barstools Jouin designed are covered in emerald velvet, lounge furnishings are golden amber, some banquette upholstery and carpeting are cobalt blue, and a glass-enclosed interior garden overflows with greenery. In the dining room, a wall-size panel in yet more tangerine displays an installation of 100 tiles printed with delightfully playful food drawings by French illustrator Léa Maupetit, interspersed with brief recipes and notes handwritten on the tiles by Ducasse.
Throughout, large rounded-rectangle ceiling fixtures are based on traditional Chinese celestial lanterns. And it's all presided over by French artist Romain Bernini's sprawling site-specific painting of a giant octopus swimming in an iridescent blue sea, a reference to one of Asia's most important foods, that has quickly become the Voyages mascot.
Keep scrolling to view more images from the project >
Project Team:
Aude-Marine Beuzelin; Marion Guerry; Filippo Canni; Viola Terozzi; Céline Allard; Bruno Pimpanini; Julien Lizé; François Isone; Antoine Defour: Jouin Manku. Leigh & Orange: Architect of Record. Neveux Rouyer: Interior Garden Consultant. Isometrix: Lighting Consultant. Pat Davie: General Contractor.
Product Sources:
From Top: Porada: Chairs (Dining Room). Pyrolave: Tabletop Material. Fiva Créations: Custom Panel Fabrication. Pedrali: Stools (Bar). Dines: Wallpaper. Antonio Lupi: Sinks, Sink Fittings (Restroom). Throughout: Kingwood: Custom Furnishings. Tai Ping: Custom Carpet. Ricardo Lighting: Custom Ceiling Fixtures, Custom Recessed Ceiling Fixtures.
> Read about the Alain Ducasse at Morpheus restaurant
> Read more about both Alain Ducasse restaurants at the Morpheus Hotel