Bubbles Inspire Pone Architecture's Hele International Art Center in Wuhan, China
Moms and dads will vividly recall the moment when their child first pipes up with an insight that leaves them breathless. Exactly that occurred while Pone Architecture design director Ming Leung was playing with her 4-year-old daughter at home in Guangzhou, China. "When bubbles meet the ceiling, why do they burst?" the girl asked as she watched soap bubbles float upward. "Why doesn't the ceiling burst?"
In that eureka moment, bubbles became the central concept that Leung and design director Golden Ho would subsequently explore for an arts academy in Wuhan. As Leung elaborates with a smile, "Children think differently than we do. My daughter was speaking instinctively. To me, her comment meant that she was eager to protect the beauty that she sees both with her eyes and in her heart."
Children age 4 to 12 were the group that interested the government-owned China Poly Education when it originally approached Pone about setting up an initiative to conduct research into the design of arts environments. A year later, China Poly Education announced the intention to establish Hele International Art Center, a professional school for the performing and visual arts. In addition, the affiliated China Poly Development Holdings envisions the ground-up facility as a real-estate magnet, attracting families to the company's new mid-rises in the surrounding suburban area.
"From the start, there were three criteria," Leung explains. "First, Hele should not look childish. Rather, it should convey an impression of professionalism. Second, interiors should reflect how children feel, as opposed to the constrained and rigid style of traditional teaching environments. Third, the center should be a place that fosters art for the entire city."
Hele's two-story, 58,500-square-foot building now serves 2,000 students, led by 30 faculty and staff consisting of arts professors from China's top universities alongside professional artists and performers. Subjects include calligraphy, ballet, vocal music, piano, an ancient Chinese plucked instrument called the guzheng, and martial arts. Students attend regular day school for reading, writing, and arithmetic, then come to Hele to study in the late afternoon and early evening, on weekends, and during holidays.
Immediately upon entering, Dorothy knows she's not in Kansas anymore. The fluid open spaces that greet her are anchored by the sweeping curves of a staircase with illuminated steps that spiral upward, while an overarching canopy swoops down. In sight of the entry, room enclosures curve enticingly, leading the eye around corners. These enclosures are clad with vertical panels of blond wood-grain composite, the only color against an ethereal white backdrop.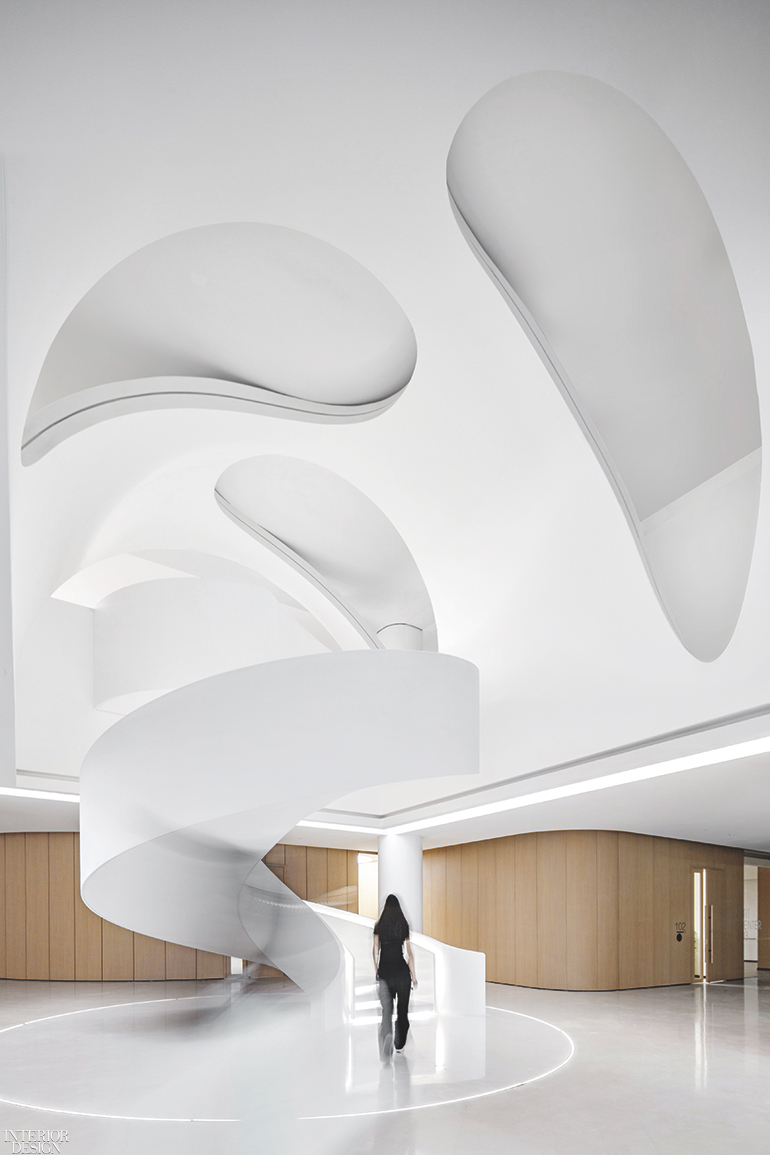 "We played with the idea of a naughty bubble that we chase, but it keeps eluding us," Leung explains. "Some bubbles expand to function as classrooms, while others demarcate spaces that students can appropriate for mini concerts. A few semicircular lounges can accommodate parents waiting for children to finish class." Due to the nature of the school's curriculum, square footage ranges from 50 for dressing rooms and 90 for intimate studios for one-on-one teaching to 1,300 for a dance studio and 2,600 for an amphitheater. One round classroom on the ground level, just behind the spiral staircase,
is intended for painting. Stacked directly above is
a multipurpose room for assemblies and the like.
"Furniture in the smaller classrooms, such as the ones for painting, is multifunctional," Ho points out. "Tables and chairs can be height-adjusted to suit different ages and sizes. Tables can be ganged together for group learning or separated for independent work, depending on the lesson or the activity." Rooms that require storage for gear such as paint, palettes, and brushes are outfitted with built-ins that combine open shelves, closed cabinets, and shallow pull-out drawers for large sheets of paper.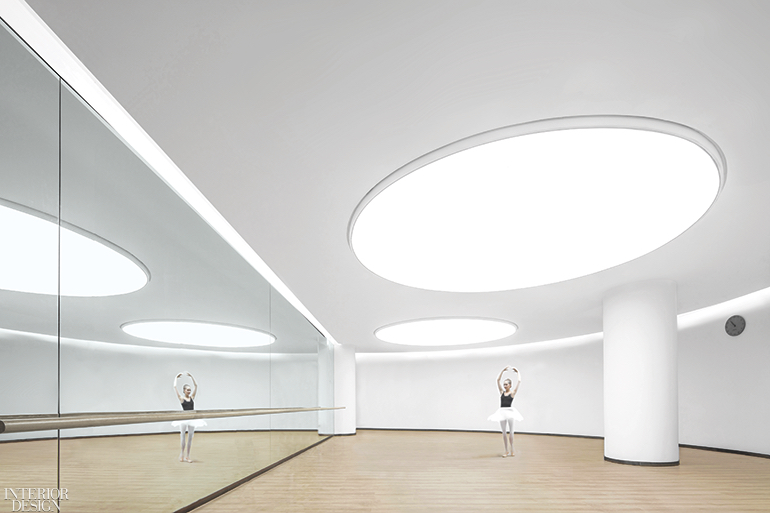 Wherever possible, illumination is natural. Sunlight shines through the large windows of perimeter classrooms, then filters through their glass fronts, into cor­ridors. Artificial illumination is LED, softly diffused by a stretched membrane system. Against the predominantly white backdrop, the overall effect is of a gentle aura that seems to radiate from the curving surfaces. "Circulation areas are lit at 200 lux, the average classroom is 300 lux, and the dance studio is 400 lux," Leung notes. "The warm glow is meant to help build confidence in budding artists."
Project Team: Guangdong Pak Corporation Co.: Lighting Consultant. Wuhan Top­ography Electronics Co.: Audiovisual Consultant. Foshan Tiange Acoustics Decoration Materials Co.: Acoustical Con­sultant. Citic General Institute Of Architectural Design And Research Co.: Structural Engineer, Electrical Engineer. Wuhan Xianyao Archi­Tectural Decoration Engineering Co.: General Contractor.
> See more from the February 2019 issue of Interior Design. And check out coverage of other exciting projects in China.