CannonDesign Produces an Eye-Catching Los Angeles Office for Showtime
Some of the edgiest programs to hit the airwaves come from Showtime. No doubt about it. Dexter, Homeland, Ray Donovan, Billions. The list goes on. You'd never have guessed, however, from visiting the Los Angeles office. Considering that this is the West Coast headquarters for New York-based Showtime Networks, a subsidiary of the mighty CBS Corporation, the space was unremarkable at best. "We'd been there for over a decade, and it hadn't been updated in terms of decor or functionality," admits Showtime Networks president of entertainment Jana Winograde.
Relocation offered the opportunity to create "an environment that was warm and welcoming, cool without being trendy," she continues. For that, kudos go to CannonDesign where Principal Chari Jalali led the project from L.A., while design principal Robert Benson commuted in from Chicago.
Any previous disconnect between brand and environs disappeared with a move to the Lot, the redevelopment of a property legendary since actors Mary Pickford and Douglas Fairbanks established Pickford-Fairbanks Studio there in 1922. Showtime leased 46,000 square feet of raw space on two levels of a new glass building. It's one of a pair keeping company with the Lot's historical structures, including sound stages, a postproduction facility, offices, and writers' bungalows. Walking around—being on set, so to speak—we got the distinct vibe of old-school Hollywood filmmaking. The place was bustling with folks manipulating lights, cameras, and assorted paraphernalia. Views of the Hollywood sign don't hurt either.
As for expressing Showtime's own history, Jalali and Benson took their cues from the company's award-winning dramas. "Perception versus reality" became the governing design concept, which plays out from the start. Stepping out of the elevator, visitors encounter…themselves. That's thanks to the opposite wall of reflective glass, back-painted gold. Benson takes up the narrative: "There is you and then the image of you."
From here, you have two choices. Turn left, toward the light, and you arrive in the reception area. Showtime's white logo of capital letters angles out from a white wall, imparting a subtle all-business attitude, while the curves of a serpentine sectional read comfy-chic. Employees, however, might bypass reception, instead turning right toward a dark, undulating volume. A few more steps reveal this enigma to be the exterior of the screening room, wrapped in a wall covering reminiscent of shou sugi ban, the Japanese charred-wood treatment.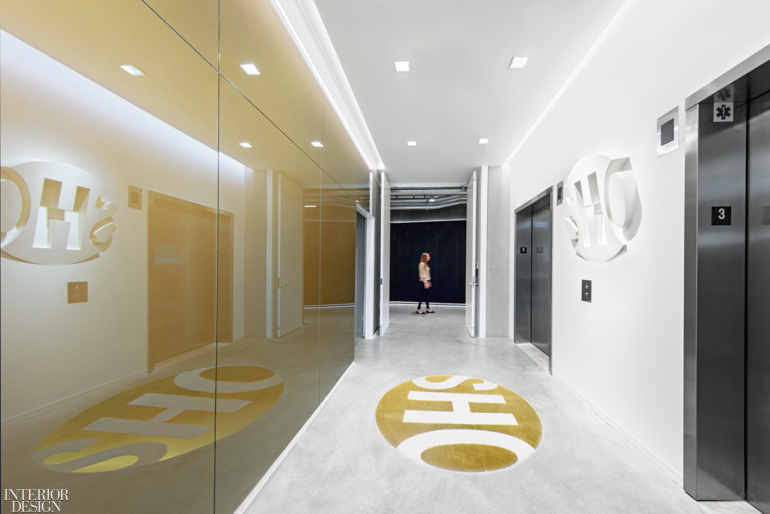 The interior of the screening room is likewise not what one would expect. In lieu of theater-style ganged seating, which by its nature cannot be reconfigured, upholstered swivel chairs are easy to move, offering increased flexibility for events ranging from premieres to training sessions. After all, as Benson notes, "Programming is about choice." As for the big move, architecturally speaking, it's back on the reception side: a vertical connector, of course. "There's nothing I like better than knocking a giant hole in the middle of a beautiful concrete slab," he says with a laugh. In this case, though, the connector is simply that, a switchback staircase, not a stadium stair cum all-hands venue.
"They don't meet in that way," Jalali notes. Programming is an endeavor that entails pitches and screenings. Neither occurs out in the open. To fa­cilitate confidential conversations, Winograde chimes in, "The pitch rooms feel like living rooms."
Ditto for the healthy proportion of enclosed offices, 40 percent, despite the predominance of open plans in current workplace design. "They struggled with the choice between private spaces, the focus they provide, as opposed to a collaborative environment," Jalali says. In the end, the compromise was to maximize transparency wherever possible. Executive suites have clear glass fronts, without the frosted film initially considered—and even ordered. Anyone can see into the individually furnished, often quirky quarters. A rosy pink velvet-upholstered sofa, for example, gives Winograde's a homey atmosphere to ease the formality of high-stakes development meetings.
The perception game also comes into play with the screen of louvers descending through the center of the staircase, suggesting a division between reception and the contiguous social hub, a café. Here, barstools and high round tables beckon, with coffee and kombucha emitting another siren call. Keeping watch over everything are the immense eyes of Claire Danes, aka Homeland's CIA agent Carrie Mathison.
Call the photomural spooky, or call it cool—it introduces us to the art program, derived from Showtime's archival photography. Elsewhere appear images of Michael C. Hall, the eponymous serial killer from Dexter, and Damian Lewis as Billions's hedge-fund titan Bobby Axelrod. Again, Jalali circles back to the designers' theme: "Usually, we're watching the actor. In this case, it's the actor who's looking at you."
The portrait series has attracted attention, not to mention sparking professional rivalry. Talent comes in and asks, "Where's mine?" So stay tuned for additional versions. CannonDesign has already signed on to expand Showtime's office to the level below.
Keep scrolling to view more images of the project >
Project Team: Michael Kmak; Agnès Freeman; Craig Hamilton; Jay Whisenant; William Ramos; Elizabeth Fox: CannonDesign. Studio Lux: Lighting Consultant. Nabih Youssef Associates: Structural Engineer. AMA Consulting Engineers: MEP. Taber Company: Wood­work. Howard Building Corporation: General Contractor.
Product Sources: BluDot: Barstools, Tables (Café). Fluxwerx: Pendant Fixtures (Office Area). Herman Miller: Workstations (Office Area), Guest Chairs (Producer Office). Blå Station: Sectional (Reception). Geiger: Lounge Chair. Jane Hamley Wells: Table. Viccarbe: Side Tables. Handmade Rug Company: Rug. Pulp Studio: Feature Wall (Elevator Lobby). CA Signs: Custom Logo. Ark: Cus­tom Desk, Custom Credenza (President Office). Carl Hansen & Son: Guest Chairs. Room & Board: Sofa, Bookcases. Coalesse: Table, Chairs (Conference Room), Chairs (Screening Room). Designtex: Wall Covering (Conference Room). ALW: Pendant Fixture. Wolf-Gordon: Exterior Wall Covering (Screening Room). Turf: Acou­stical Baffles. Nova Wall: Wall System. Guilford of Maine: Wall System Fabric. Throughout: Metropolitan West: Custom Graphic Wall Covering. Modulyss: Carpet Tile. Sherwin-Williams Company: Paint. Sheridan Group: Furniture Dealer.