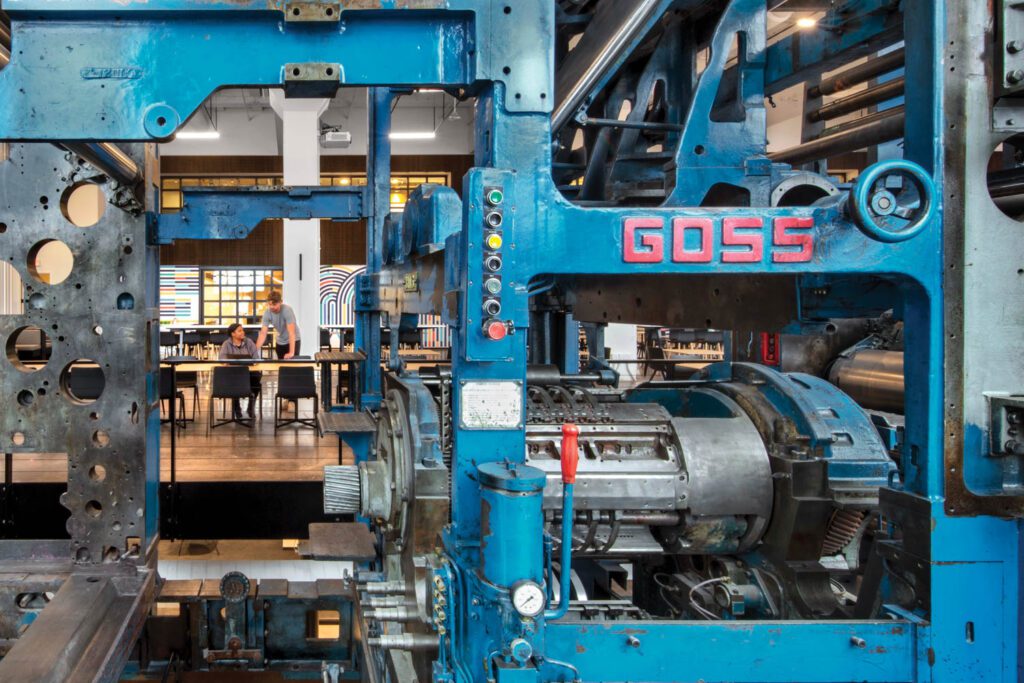 CannonDesign Transforms the Interiors of a Former Newspaper Building into Modern Tech Offices
Back in 1878, when the West was still wild and the U.S. had only 38 states, Joseph Pulitzer, a self-made Hungarian immigrant, acquired two struggling Missouri newspapers and merged them into the St. Louis Post-Dispatch, which has been publishing ever since. In 1959, the paper moved its newsroom and printing plant into a 1930 art deco-style building by prominent local architects Mauran, Russell and Crowell for another, now-defunct news daily. The Post-Dispatch sold the building in 2018 and now occupies smaller facilities nearby.
Today, after a $70 million overall makeover, the building houses 850 employees of Square and Cash App, two divisions of Block, Inc., the high-tech financial services and digital payments company. The staff had previously been working in three different locations, and the corporation's primary objective was to centralize this workforce in one user-friendly space.
Now based in San Francisco, Block was founded in St. Louis in 2009 by two natives of the Gateway City: Jack Dorsey (also a co-founder of Twitter) and Jim McKelvey, a tech-head, entrepreneur, and glass artist. To create its new Missouri digs, the company hired CannonDesign, one of the nation's largest architectural firms.
Block was clear about its remit for the 225,000-square-foot building, which comprises six stories and two basement levels: "The client was looking to create a home for its employees," reports project director Ken Crabiel, vice president and commercial and civic market leader at Cannon's St. Louis office. "A place where they could be connected with one another in a variety of ways." Like a home, the plan called for a series of connected spaces, both large and small, public and private, to accommodate multiple activities.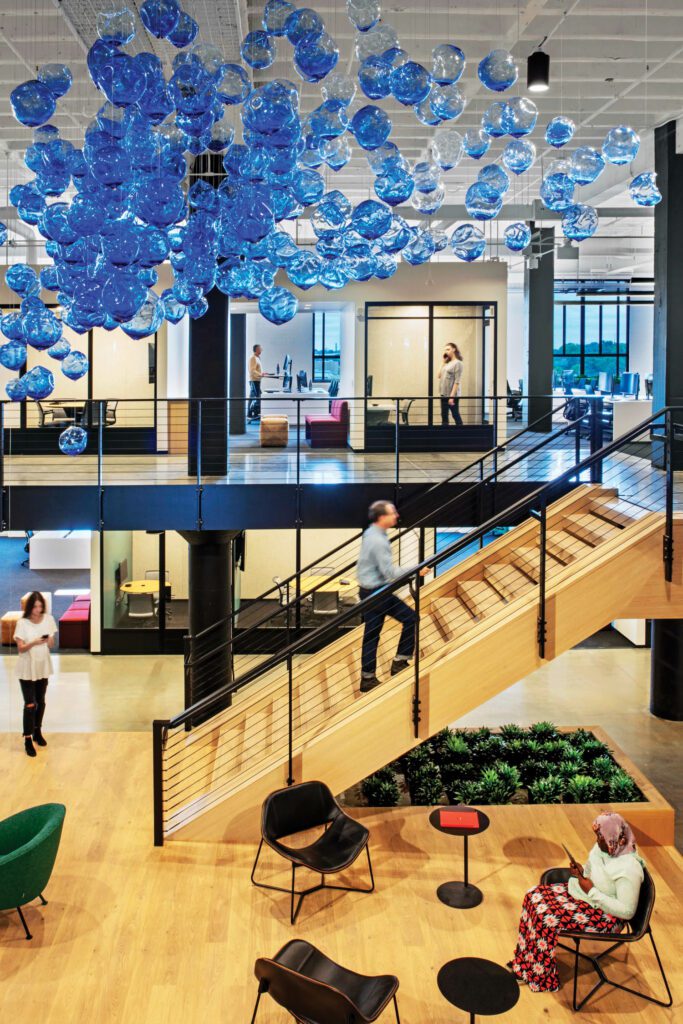 The large spaces include three multilevel atria that connect to the more intimate areas by a series of interior staircases. Employees can choose to work at a traditional desk or on a sofa or lounge chair, and meetings can range from intimate tête-à-têtes to company-wide confabs in the vast all-hands area. The building can accommodate up to 1,200 workers, so Block has room to grow in place. (Currently, most employees are free to work from home or in the office, as they choose.)
In a project-defining move, the original newspaper printing press has been left in place—a steampunkish behemoth that stretches roughly 80 feet along the ground floor. Project designer and Cannon associate Olivia Gebben is especially enamored of the small basement-level lounge spaces tucked among the massive steel columns and beams that support the machinery above. "In these lounges, you can look up and literally touch the buttons and wheels that made the presses tick," she enthuses.
"It's hard to overestimate the role that press has in the collective memory of St. Louis," Crabiel observes, noting that the machinery was clearly visible behind large street-level windows. "People used to come to watch the presses cranking out the paper. Nowadays the use of the building may be different, but you can still see activity in and around the press through those same windows, especially at night."
The renovation also preserved a spiral staircase, much of Pulitzer's office, and areas of decorative terrazzo flooring. Otherwise, floors throughout are the original concrete, with all their evolved patina showing. "We just refinished them with a low-grit polish," Gebben notes. Adaptive reuse is nothing new to Cannon, which operates its St. Louis practice out of a similarly gutted and reinvented 1928 power station. "We're fortunate to have a lot of that kind of building stock in our city," Crabiel acknowledges. "And much of it is getting new life."
The interior program was intentionally kept timeless, both natural and neutral. "We featured exposed concrete and natural oak against a lot of black and white," Gebben says. "The bright blue printing press is a huge presence, so we didn't add much color." Most of the color, in fact, comes from numerous art installations.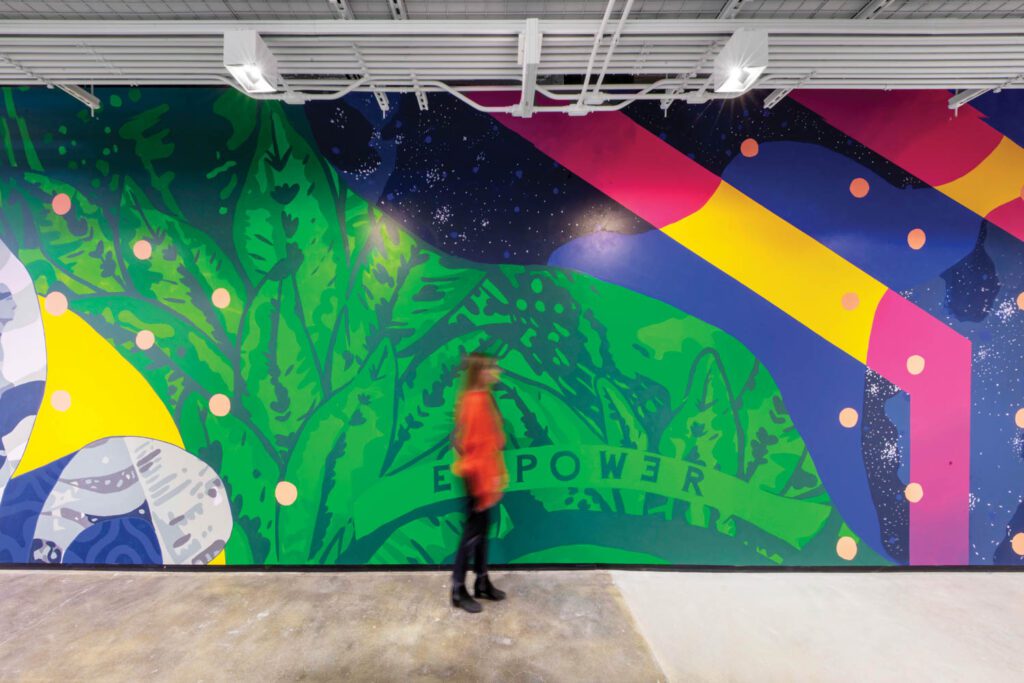 "Art is in the DNA of our company," says Jay Scheinman, Block's global municipal affairs lead. "Jack Dorsey and Jim McKelvey came up with the idea of Square when Jim couldn't complete the sale of one of his glass pieces because he didn't have the ability to take a credit card." In keeping with this strong connection to art, a contest was run for local artists to come up with pieces reflecting the company's mission of economic empowerment. The 10 winning entries are now incorporated into the fabric of the building. Third Degree Glass Factory, founded by McKelvey in a reclaimed 1920's service station, devised a striking ceiling installation—a constellation of suspended vitreous globes—for the third-to-fourth-floor atrium. "The blue color is as close a match to the press as possible," Crabiel explains. "And the individual handblown 'bubbles' are meant to represent ink droplets."
"So often in design, you look at the physical form and can see the connections between the original building and the renovation," Crabiel continues. "But sometimes there's an underlying philosophical connection, too." Pulitzer believed that providing information enabled readers to make responsible choices. "Block is centered on the same principle," the architect says, "and we wanted that notion to have a presence in the new iteration of the Post-Dispatch building."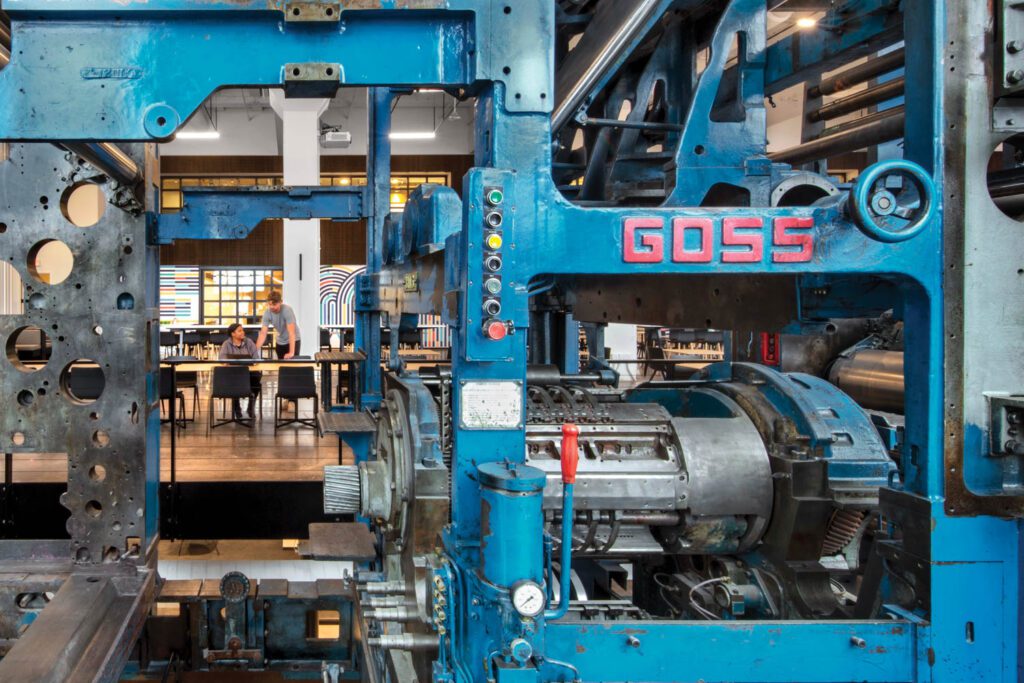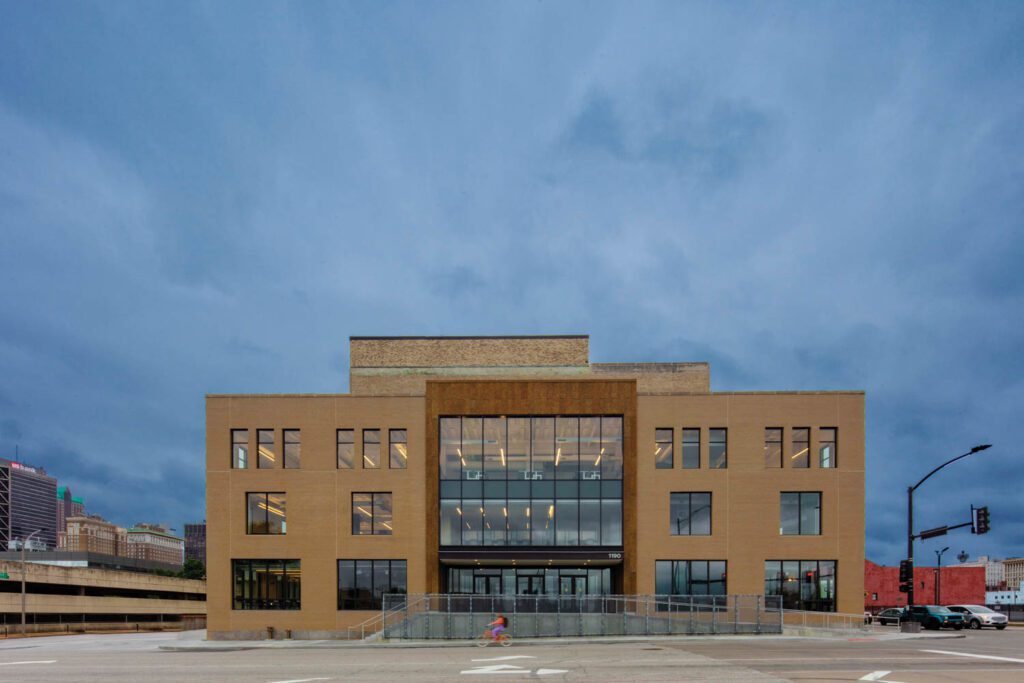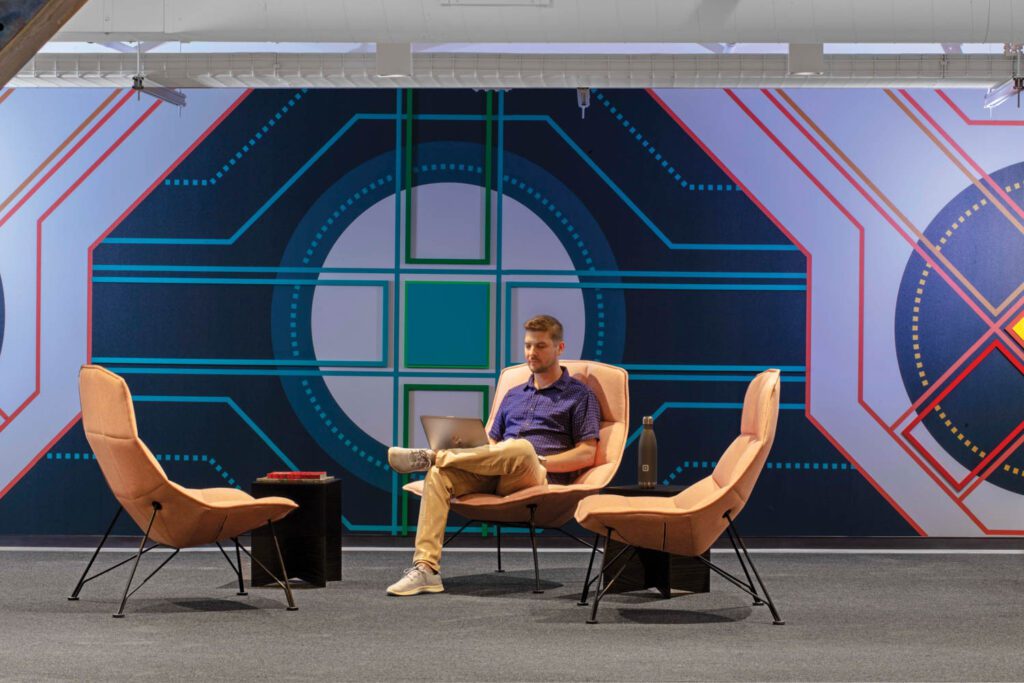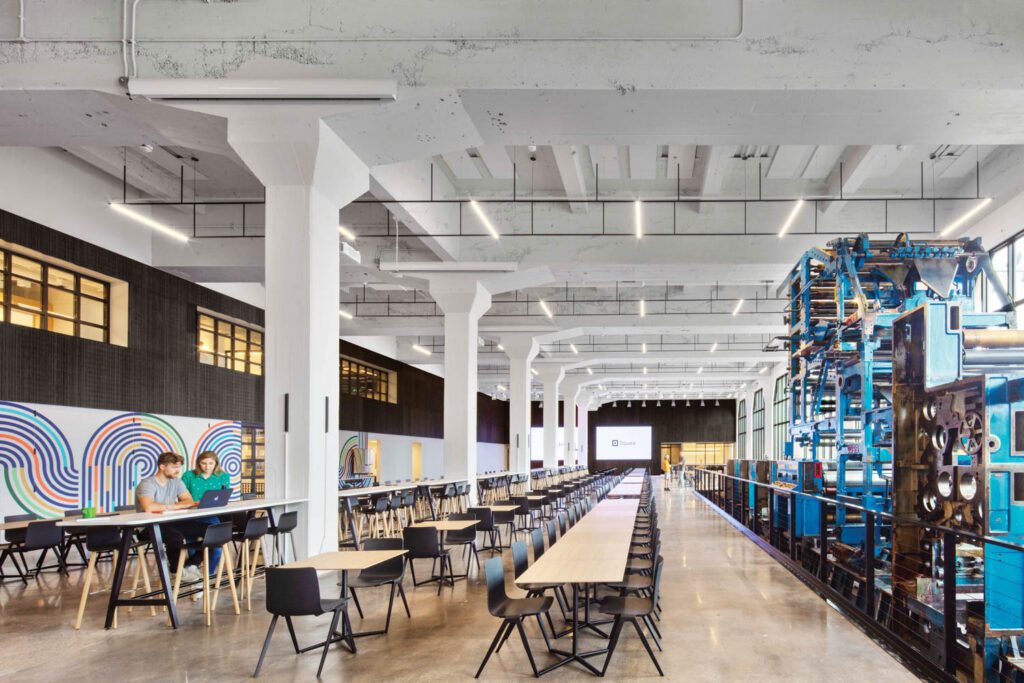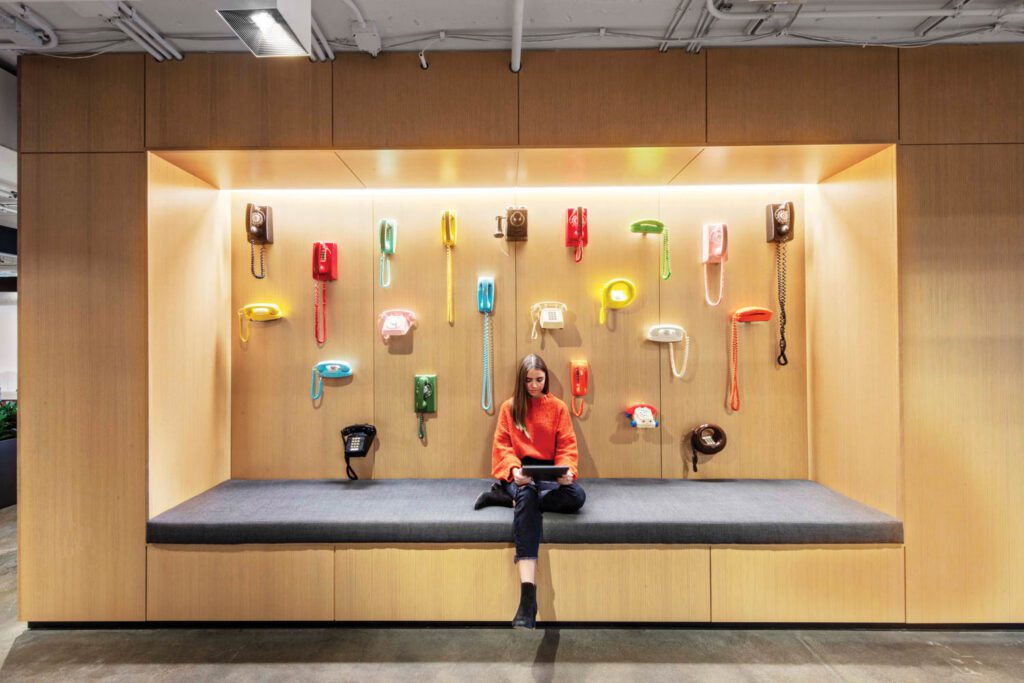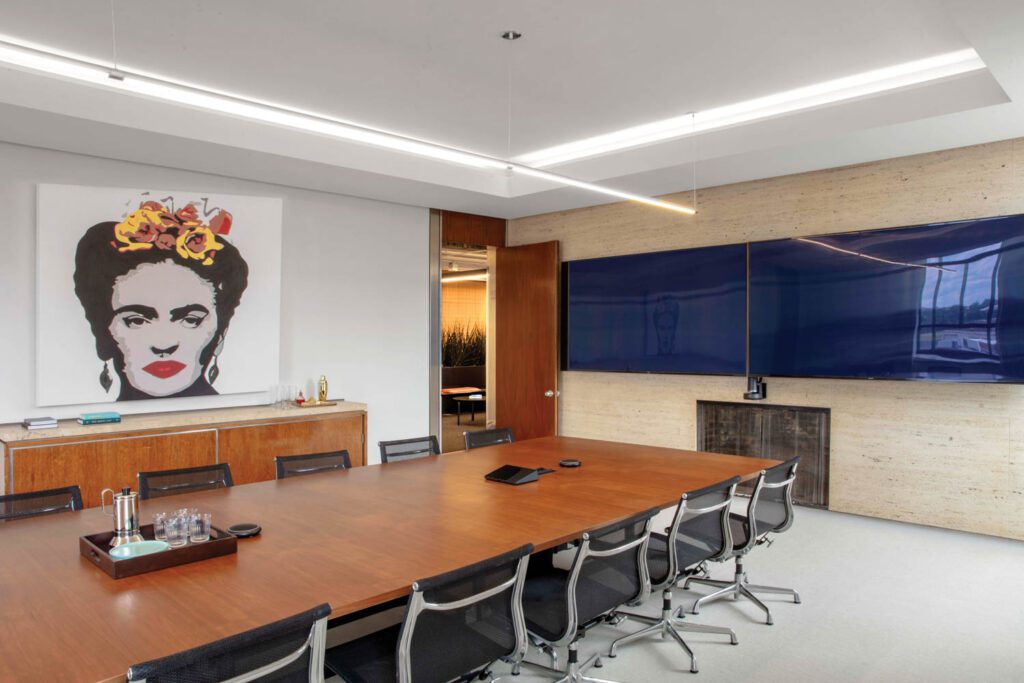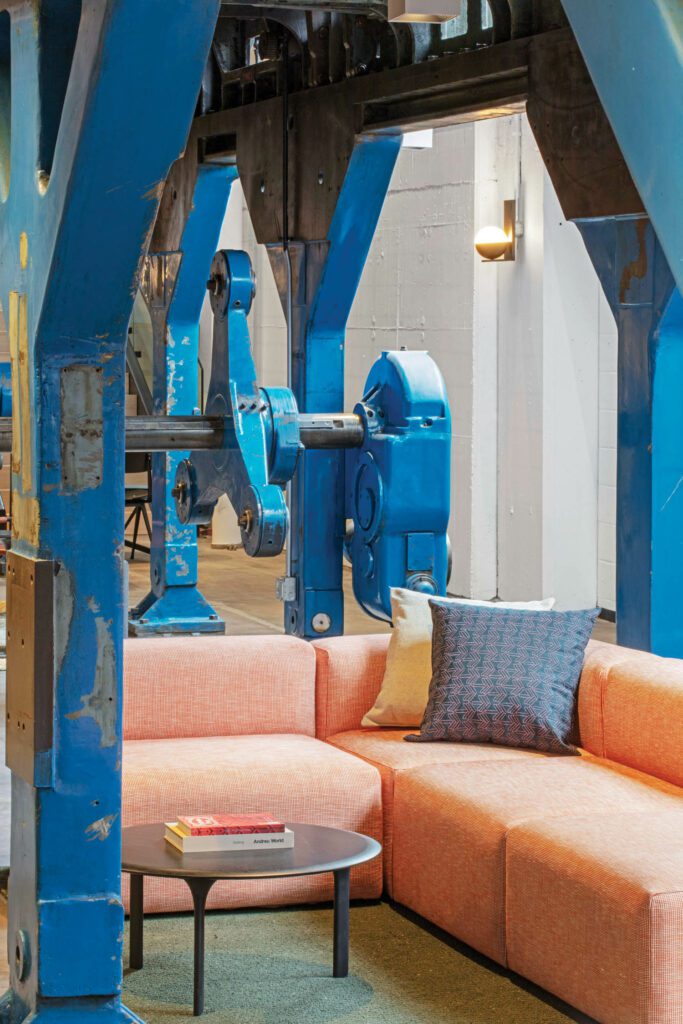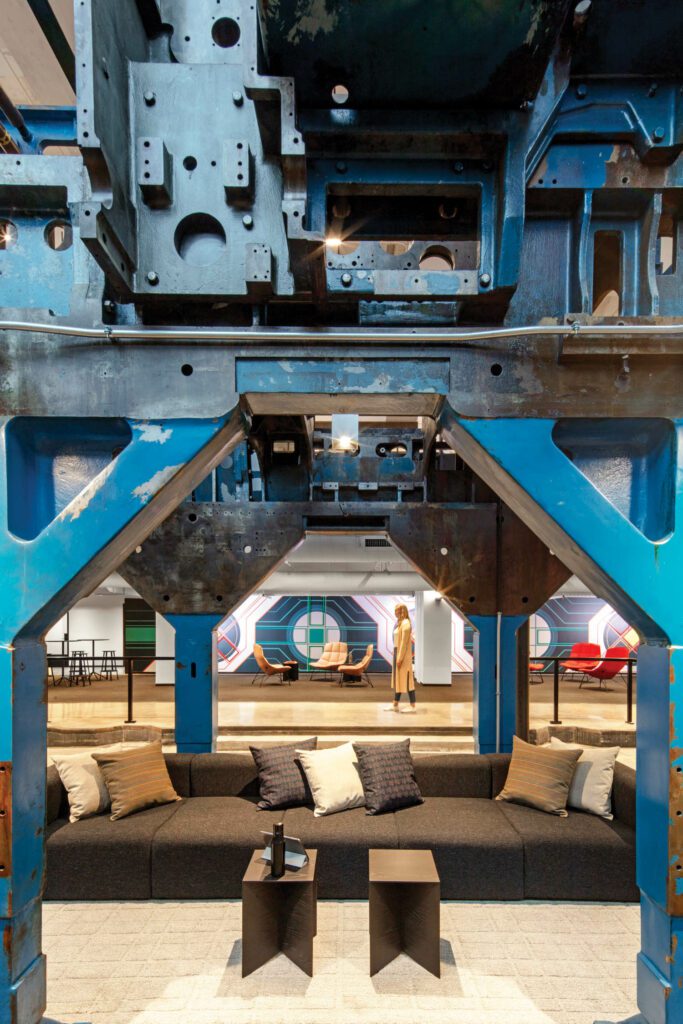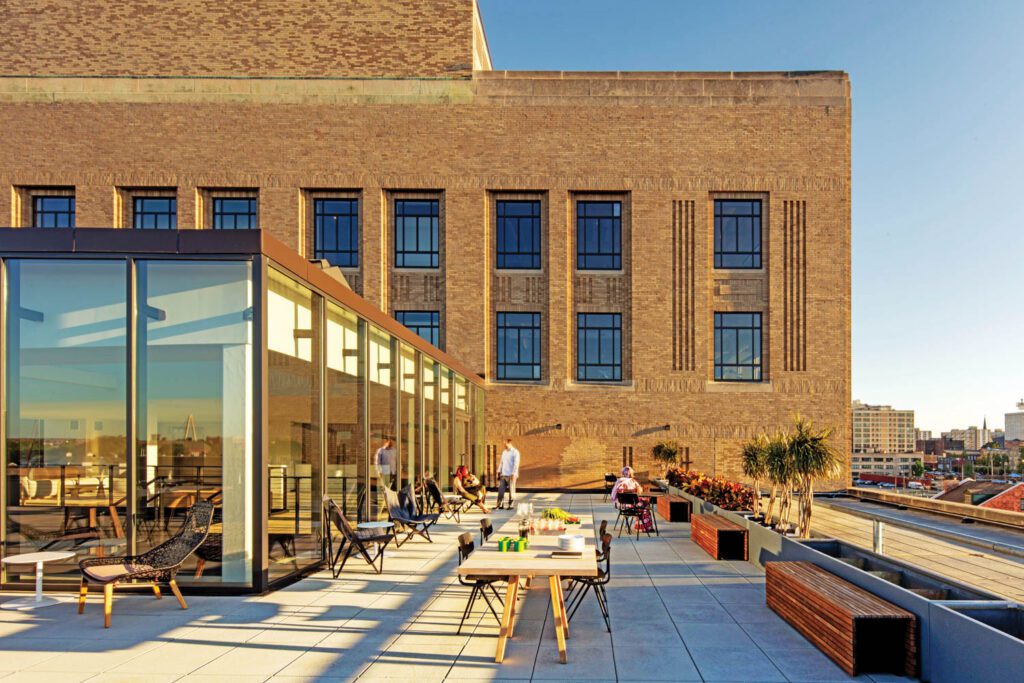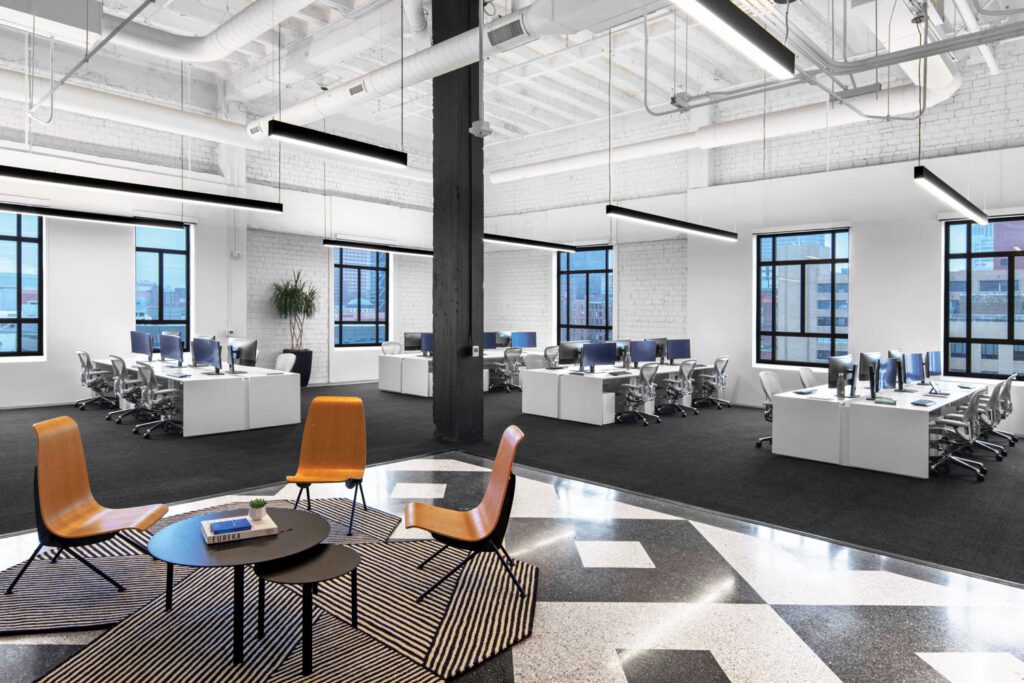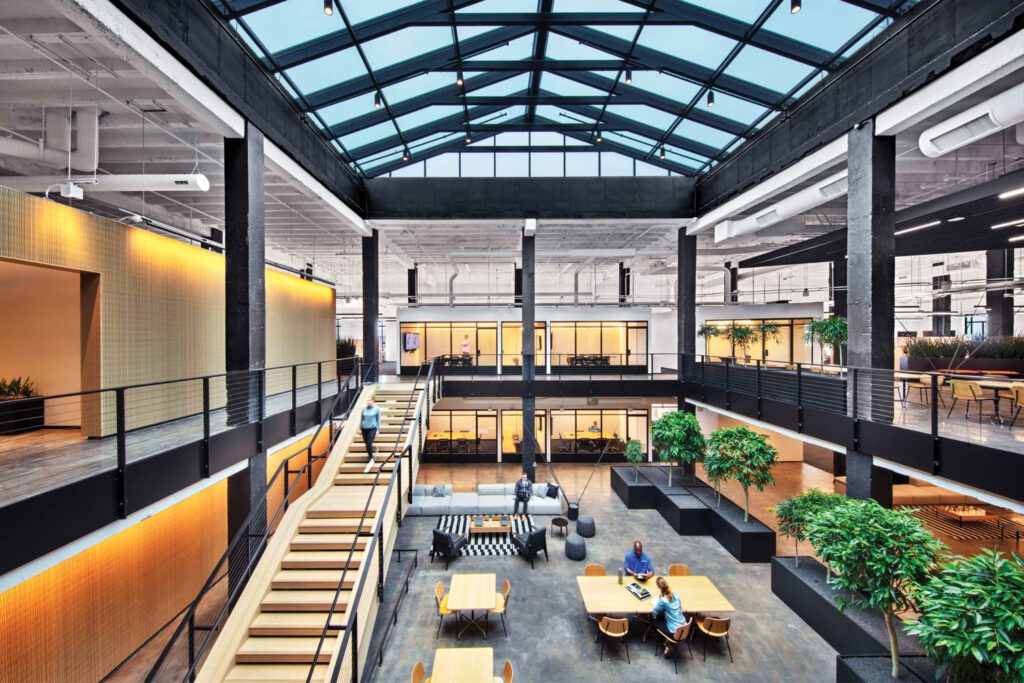 PROJECT TEAM
PRODUCT SOURCES
FROM FRONT
THROUGHOUT