CetraRuddy and Roman and Williams Renew Historic Buildings for Fotografiska New York
A for-profit photography exhibition space run by two Swedish brothers may at first seem like a longshot new cultural institution in Manhattan. Good design, however, has helped make Fotografiska New York seem not only plausible but also downright necessary. Fotografiska's third branch, after Stockholm and Tallinn, Estonia, occupies an 1894 landmarked Flemish Renaissance Revival building by architects Robert Williams Gibson and Edward Neville Stent. Grand on the outside, the former mission house for the Episcopal church next door was a hollow shell when the Interior Design Hall of Fame co-founders of CetraRuddy Architecture got to it. "It's a jewel that was a dusty old building," Nancy Ruddy begins.
Fotografiska spreads over its six floors with multiple photo exhibitions on levels three, four, and five. Amazingly, the project also includes four separate food and beverage spaces. The two most elaborate of those are by Roman and Williams Buildings and Interiors: a speakeasylike bar tucked into an adjoining 1848 building, the Calvary Church Annex—a two-story former chapel with gothic arches—and the second-floor restaurant.
But before the rebirth, the building had to be structurally reinforced, since it wasn't originally built for high traffic. The idea, however, was to let as much of the original architecture shine through. "We really wanted the building's bones to speak," John Cetra says.
Having Fotografiska founding brothers Jan Broman and Per Broman as clients helped. "We took our cues from their Stockholm branch, since they have perfected how it shows art," Ruddy says. "It's immersive and intimate." The New York exhibition spaces are tightly orchestrated, given that the original building is only 41,000 square feet, and each display floor follows the same plan of new interior walls, leading the viewer on a route that maximizes time with each picture. Chief among the client dictates was a natural light ban, to preserve the art, so CetraRuddy built a wall three feet inside the interior, which preserved the street view of the old window bays.
The commitment to welcoming design begins, naturally, in the dramatically opened-up lobby, centered on a curved reception desk. The café, wine bar, and bookshop are all part of the inviting open plan. "We try to create a sense of home in any project—that's the heart and soul of who we are," says Ruddy, who added bookshelves made of reclaimed mahogany and unfinished steel. "They're one of the only major architectural interventions in the whole building."
The firm's most ingenious less-is-more trick was in the sixth-floor attic, where it removed the low ceiling and revealed the space's original terra-cotta wall tiles, now refurbished. And then the team didn't attempt to prettify it any further. "We opened it up, and my instinct was, Let's not do a thing here," CetraRuddy principal Theresa Genovese adds. Now the lofty penthouse is used for artist residencies and events—in fact, Interior Design editor in chief Cindy Allen filmed a mini concert there with singer-songwriter Allen Stone; stay tuned.
When it came to the restaurant Veronika (after the patron saint of photography), co-founders Robin Standefer and Stephen Alesch furthered the emotional storytelling that Roman and Williams is known for. "It's experiential, that's what we're interested in," Standefer says. "And that starts with deciding for it to be on that second floor, having the bar be the entry. There's a sense of unfolding discovery."
The vibe is Bohemia-infused and "otherworldly" she says. "You can't quite put your finger on the era." A forest mural and a bar made of honed St. Laurent marble work together to set a spell. Using oak trim on the space's 16-foot-high arches emphasized the enfilade progression of the stately old space. A multi-panel stained-glass window found boarded up elsewhere in the building during renovation was restored and installed in the bar area, creating a focal point and acknowledging the religious origins of the building.
The light palette of pale reclaimed-oak flooring, white marble-topped tables, and saffron mohair barrel-back chairs is given visual ballast with dark-blue banquettes. Large chandeliers shed light on it all. "We call them Etoiles, for stars in the sky," Standefer explains. The wall separating the kitchen from the dining room adds another layer of drama: It's covered with arched, blackened-bronze panels, a nod to Andrea Palladio and Giorgio de Chirico.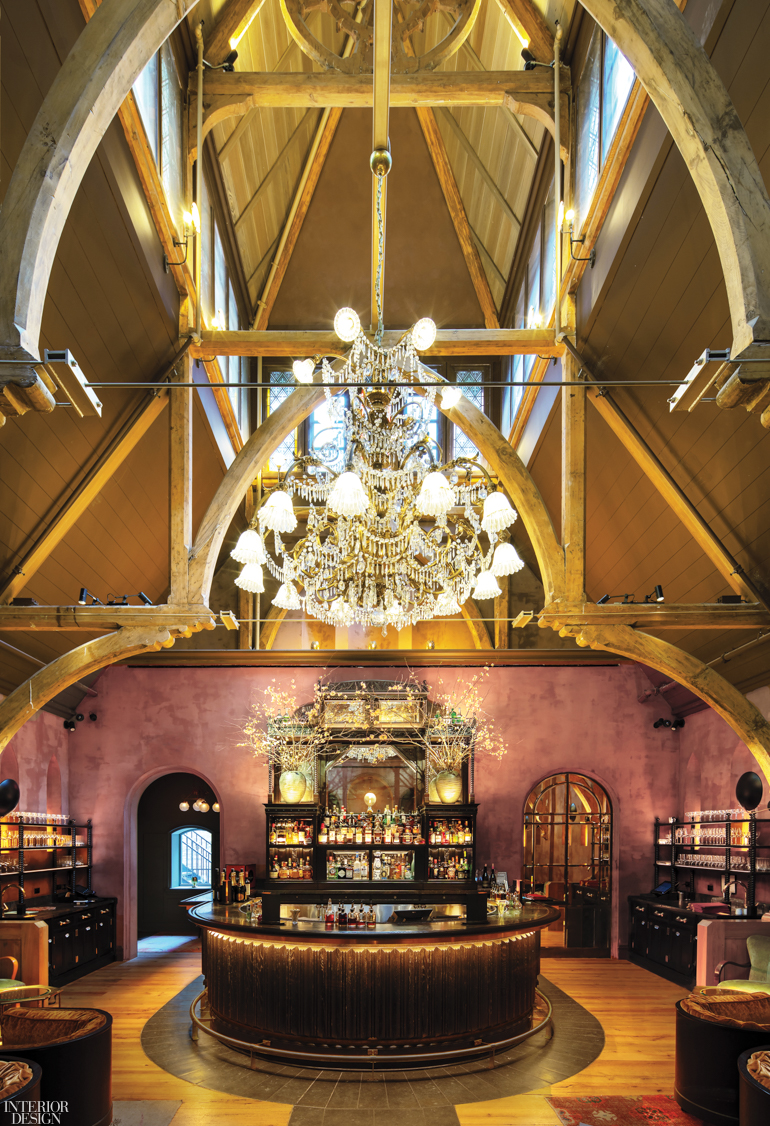 More arches appear in the V at Fotografiska bar, accessed by a semi-hidden door next to the museum's main entrance. To open up the former cathedral to its previous dimensions, Roman and Williams demolished plasterboard walls that formed a warren of classrooms, simultaneously highlighting the space's original gothic arches. Amid them, the firm installed a multi-tiered crystalline chandelier, which casts an atmospheric glow on the mauve earthen walls, central horseshoe bar, and mismatched armchairs upholstered in pastel velvets.
Both firms understood that full art saturation was the goal—even in the interstitial spaces. The grand staircase that begins in the Fotografiska lobby was rerouted and expanded, and all the way up it, photomurals connect visitors to the content of the exhibition floors. "Our clients view architecture as art," Ruddy notes, "so it was an amazing collaboration."
Keep scrolling to view more images of Fotografiska >
Project Team
Tom Graul; Maria Clironomos; Nathalie Guedes; Jared Eisenhower; Miguel De La Ossa Peinador; Satoko Narishige; Joseph Librizzi; Branko Potocnik; Akiko Uchida: CetraRuddy Architecture. BankerWessel: Graphics Consultant. Kugler Ning Lighting Design: Lighting Consultant. 6sides: Acoustical Consultant, Audiovisual Consultant. Higgins Quasebarth & Partners: Restoration Consultant. Gilsanz Murray Steficek: Structural Engineer. MGE/MG Engineering: MEP. Gala Woodworking: Wood­work. Certified Glass Corp: Glasswork, Metalwork. Tri-Star Construction: General Contractor.
Product Sources
ACDC Lighting: Lighting (Exterior). Alphenberg Leather: Desk Upholstery (Lobby). Quarra Stone Company: Counter Material. Dan Form: Barstools. Porro: Chairs. TGP: Glass Doors. Rimex: Column Covers. Terramai: Counter Material. Osted Antique & Design: Display Table. Octopus Products: Metal Laminate. Grok: Pendant Fixtures (Penthouse). Admonter: Oak Flooring. Femenella & Associates: Stained-Glass Restoration (Restaurant). Throughout: Bolon: Gallery Flooring. ETC.: Track Lighting. Sign Design Group of NY: Custom Signage. Duggal: Wall Vinyl.
Read next: