Cohesive Carpeting Unifies New Philips DACH Headquarters in Hamburg
When Philips DACH relocated its headquarters in the German city of Hamburg, the company decided to not only try out a new location, but also a new way of organizing the workplace. Philips elected a desk-sharing model that limited private offices and cubicles in favor of more open, multifunctional breakout spaces. Some employees had initial reservations about acoustics and lack of cohesion between floors but these were quickly allayed by Interface, whose modular flooring designs anchored the entire scheme of the project.
Interface approached the project using their +Positive Spaces design philosophy. Drawing inspiration from biophilic design, Interface focuses on offering flexibility and functionality through intuitive arrangements of flooring tiles that mimic the natural world's variable colors, textures, and patterns.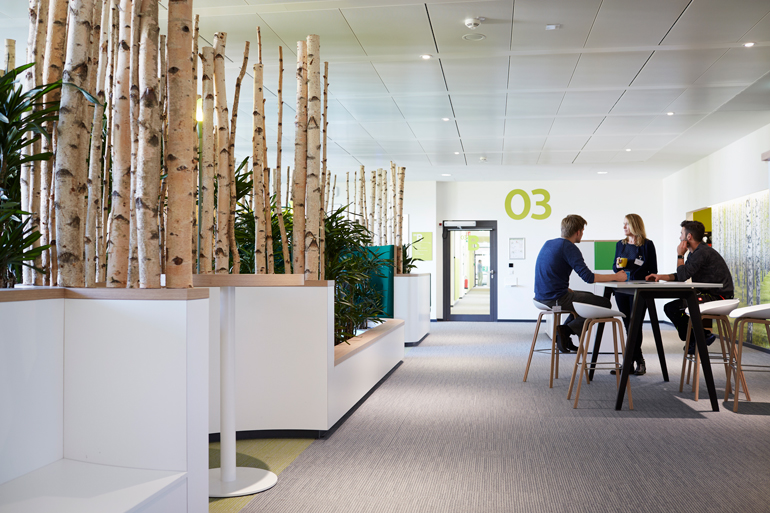 "It's about more than making people feel good or happy in their work environment, although that is obviously important too," says Chip DeGrace, Interface's chief design officer. "It's been shown that when people have freedom of movement and the ability to exert some control over their workspace, they're healthier and more productive."
With this idea in mind, Interface's Concept Design team came up with a plan to ground the thinking behind +Positive Spaces in the local language of the project. Together with project architect Kim Mark Bobsin of Seel Bobsin Partner, the team created custom colors for each floor— for example, the blue floor echoes Hamburg's status as a port city, while the green floor channels the city's lush public parks. The scheme also simplifies orientation within the building and promotes intuitive wayfinding. The team selected Interface's Equilibrium broadloom carpeting with SONE acoustical backing, which provides both impact sound reduction of up to 33db and ergonomic underfoot comfort.
"The Concept Design team made this project very cool by making universal design ideas feel familiar and comfortable with this color-coded strategy," DeGrace says. "They exemplified the purpose of their service with this project: to help designers and customers fulfill their program by offering bespoke options that solve challenges and elevate their creator's original vision."