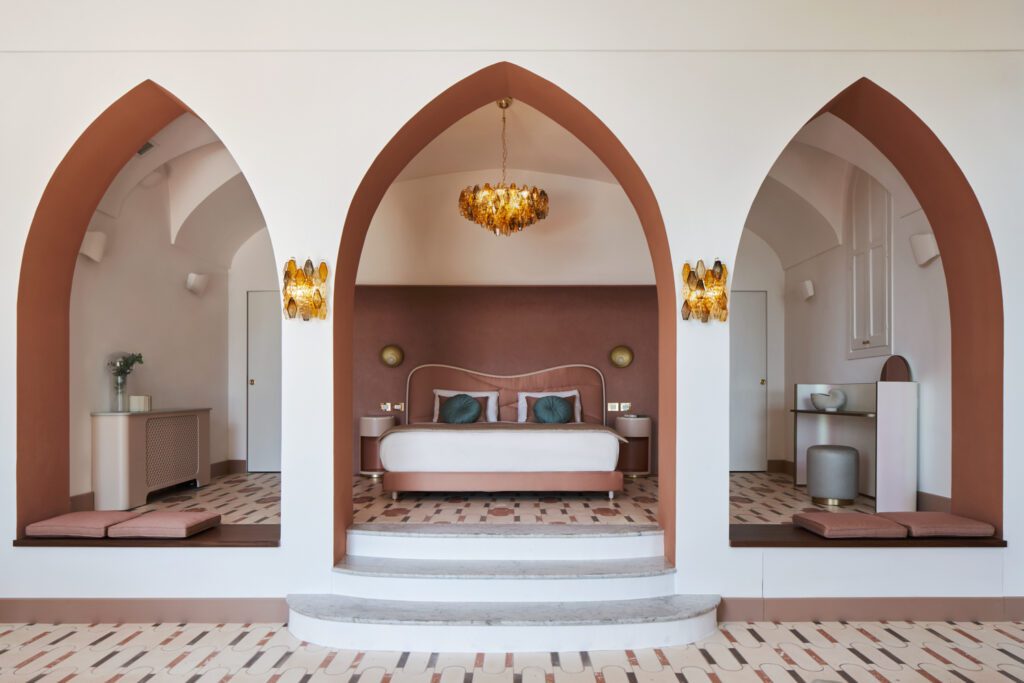 Color and Custom Details Enliven This 12th-Century Italian Hotel
Inspired by the wonders of Ravello's lush gardens and the alluring mystique of the tales of the Tyrrhenian Sea, the seven newly designed rooms at the five-star Palazzo Avino showcase Moorish accents, a nature-inspired color palette and organic, textured materials. Set amid olive trees and citrus groves, the hotel, built within a 12th-century private villa, captures both the beauty of the Amalfi Coast and its storied traditions.
Architect Cristina Celestino set the mood through aquamarine, sand, and coral, as well as two key concepts: the inner garden and mermaid refuge, the first fusing terracotta flooring with patterned onyx and marble and the latter achieved through iridescent mother-of-pearl finishes, embossed headboards and brass castings. "In my works, I mix elements born from heritage with contemporary aesthetics, [plus] forms from nature and art," she says. "The light, the colors, and the choice of materials are fundamental in my projects to evoke this magical atmosphere."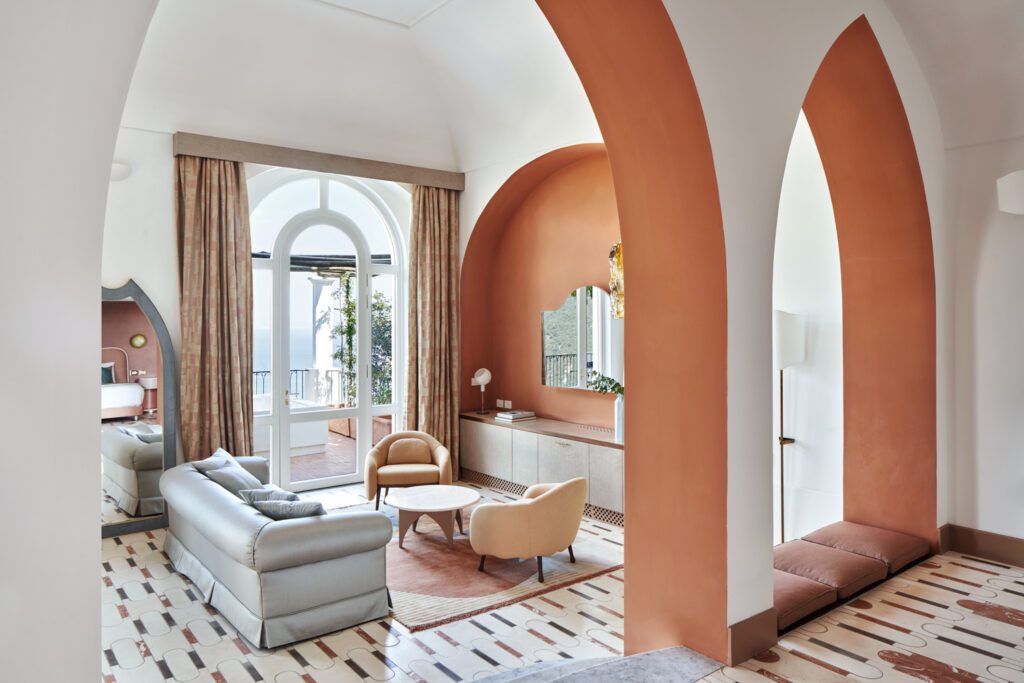 Before Celestino was brought on, the rooms were clean and classic with glazed ceramics, white walls and Persian carpets, as well as select antique pieces from the early 1900s, but her vision brings forth unique personalities, which further connects the design with the views of the gardens and the sea beyond. Terracotta flooring from her Giardino all'Italiana collection for Fornace Brioni acts as an interconnecting carpet through the rooms and takes inspiration from the Boboli and Tivoli gardens, while CC-tapis textiles, which are now a part of the Avino collection, feature oversized flowers and fruits native to the Italian coast. Beds are placed in center of the rooms for maximum visual interest, while the bedding, and curvature of the frames plays off the dramatic arches in the architecture.
"The greatest challenge was to keep the identity and the current image of Palazzo Avino (and the expectations of an established clientele), with my design vision and last, but not least, the desire to make these wonderful spaces more contemporary and at the same time more rooted in the coastal landscape," she says.