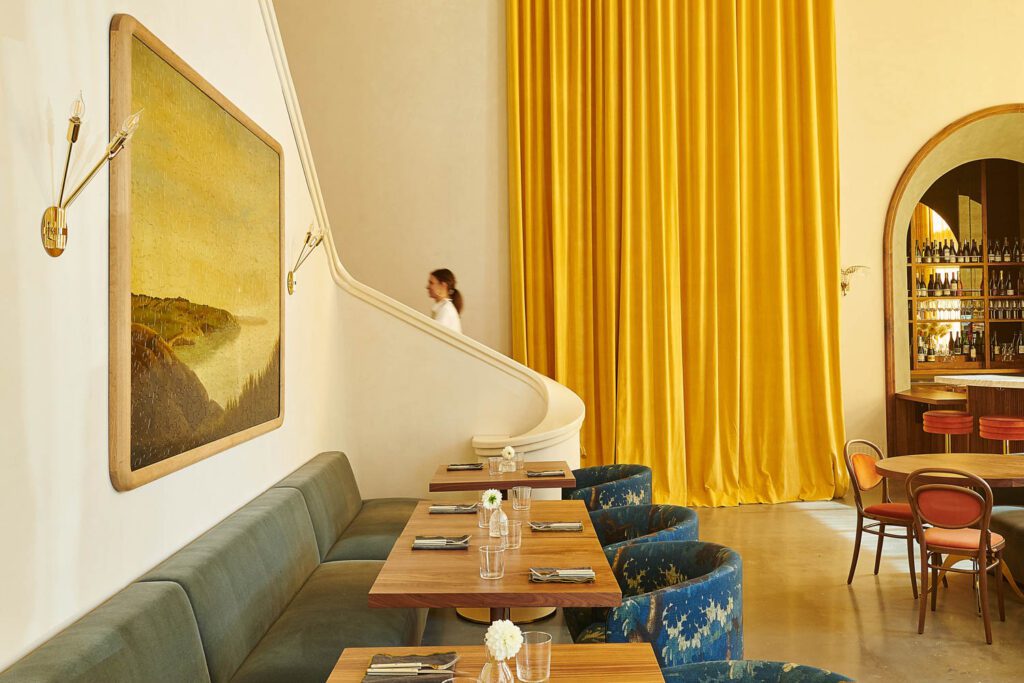 Commune Design Makes an Unforgettable New Restaurant from a Chef's Memories in Atlanta
Chef and Le Bon Nosh founder Forough Vakili grew up in Iran, studied in France, and is now raising a family in Atlanta. When she sat down with Interior Design Best of Year winners and Los Angeles-based hospitality powerhouse Commune Design to dream up a design for a new restaurant, she told the team all those locales should be present.
The result is Le Bon Nosh, a 6,500-square-foot space across two floors, a patio, and sidewalk seating area in Atlanta's bustling Buckhead neighborhood. "Our main source of inspiration was the vivid memories of our client," says principal Roman Alonso. From her memories of her family farm, Commune Design sourced a palette of pomegranate that crops up on seating upholstery, and saffron for grand curtains that define dining areas. The pale blues of Brittany return in a custom painting by Tyler Hayes. And European plaster traditions are deployed deftly as custom concrete baseboards recessed in the plaster walls. "The forms of the concrete evoke classical fluting on columns and the color blends beautifully with the Portola plaster above," Alonso says. "As a material, the concrete is decidedly modern and belongs to the existing concrete floor and shell of the space, but references the refinement of older construction techniques." A blend of old and new, then, to embody Vakili's memories in a space designed to create new ones for Buckhead.