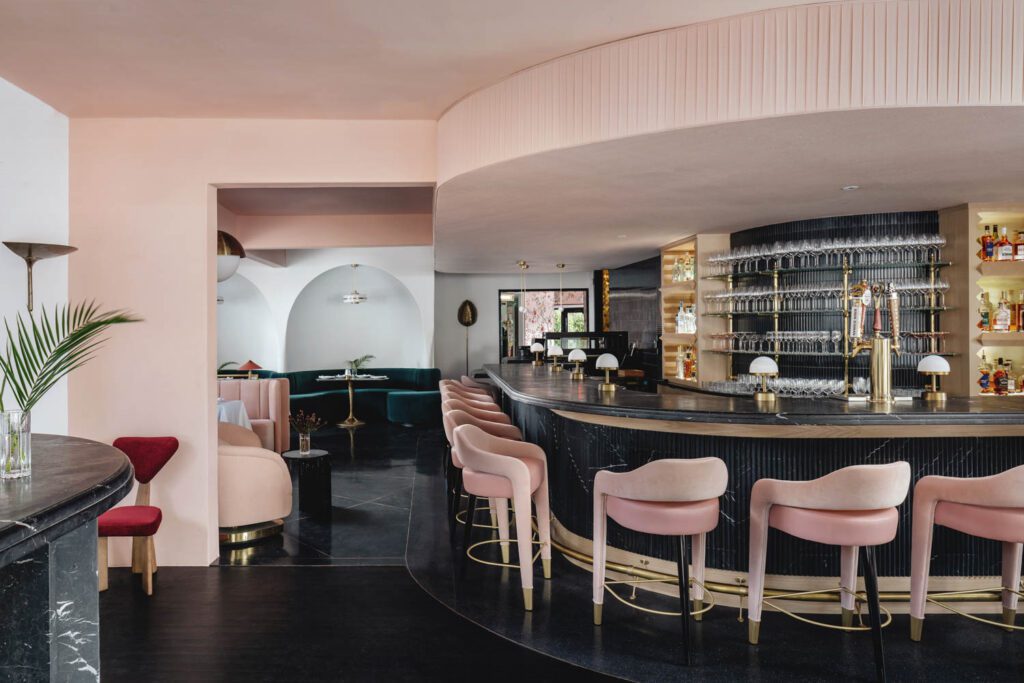 Crystal Sinclair Designs Transforms a Historic San Antonio Building into a Chic Restaurant
Located in the historic yet buzzing neighborhood of King William in San Antonio, Texas, the restaurant Up Scale opened its doors last October in a storied building. First used as a single family home in 1884 before going through several owners and renovations, New York-based interior designer Crystal Sinclair went back to her roots to bring its new phase to life. 
"In my late 20s and early 30s, I frequented the space when it was another restaurant," she remembers. "How could I not turn down the opportunity to redesign a place I understood and loved so much?"
Spread over 2,500 square feet, with a layout created by Voges Design, Up Scale comprises a front room lounge, a large open main dining room, and a garden room in the back. 
"The owners love pink and their first restaurant also has a strong pink presence," says Sinclair. "Then we brought in a deep green, a throwback to the Art Deco era, and bright reds for a strong pop." Brass touches, marble and velvet, as well as crystal chandeliers and custom chinoiserie silk paper in the garden room complement the glamorous atmosphere while natural white oak finishes add warmth. 
"Up Scale provides an elevated experience from its food to cocktails to décor," says Sinclair who had interior designer Delia Kenza contribute a few sources. "This restaurant really lives up its name."