Curves and Curated Art Define Henry Cobb- and Bill Rooney-Designed Four Seasons Hotel One Dalton Street, Boston
With its elliptical "guitar pick" shape, the new 215-room Four Seasons Hotel One Dalton Street, Boston makes a striking statement in the city's skyline—at 724 feet tall the 61-story glass tower designed by Henry Cobb of Pei Cobb Freed & Partners (in collaboration with Gary Johnson of CambridgeSeven Associates) also houses 160 Four Seasons Private Residences, making it the city's third tallest building and New England's tallest residential tower—while its subdued interior décor in neutral hues by Bill Rooney Studio exemplifies contemporary luxury hospitality design.
Yet guests checking in are also in for an artistic treat: They are greeted by Boston-born artist Duke Riley's mosaic They Say, On a Really Hot Day (depicting the city's Great Molasses Flood of 1919) behind reception and an even bolder artistic display in the Lobby Rotunda. In this cozy space, British-born Nigerian artist Yinka Shonibare's Great American Library: Dancers, Musicians and Actors, a colorful and captivating bookshelf installation, creates visual focal points for guests enjoying cocktails and conversation.
Located in Back Bay near Christian Science Plaza, and the second Four Seasons hotel in Boston, One Dalton is further distinguished by an art collection curated by renowned art consultants Kate Chertavian and Lucy Rosenburgh of Kate Chertavian Fine Art. Works range from small photos of Boston in every guest bathroom shot by photographer Alexander Coster Scott from the tower while it was under construction to LA Exuberance, 15 hand-drawn lithographs by Tacita Dean on the ground floor.
Other artists whose works are on display include Jennie C. Jones, Julian Lethbridge, Alex Katz, Louise Nevelson, Terry Winters, and James Stroud. And each of the hotel's suites is decorated with artwork of a more folkloric theme that still manages to feel modern: unique vintage quilts, sourced in New England and featured as wall hangings.
Asked to describe the hotel's interiors, Rooney refers to his design as "a uniquely modern experience that captures the spirit one of America's most historic cities…contextual materiality and pattern, balanced, refined, intimate scale, graceful and unexpected room geometry."
Context, he says, was important. "We chose to do this through materials such as Chelmsford granite," Rooney notes. "But also materials that have been used contextually yet are not regional. Polished mahogany and jet mist stone." These materials, he says, naturally evolved both color selection (soft and soothing muted tones) and pattern and texture (herringbone, window pane grid, and contrasting geometric stone patterns).
A key element of the design was the building itself. "The shape was very challenging, but also a gift at the same time," Rooney says. "Geometries are very radial, but if embraced offer very exciting spaces." He cites the elliptical Rotunda, the circulation areas on the first, third, and sixth floors, and the ballrooms spaces. Also unique: a 64-foot curved indoor pool on the 7th floor.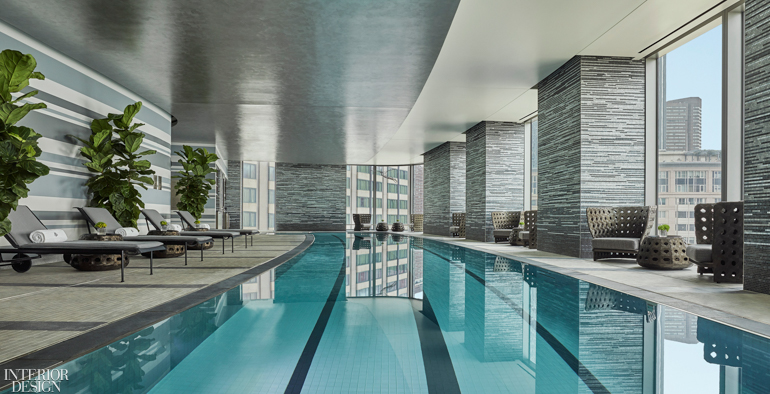 In addition, he says, the guestroom architecture and furniture placement has been crafted to maximize the large window. "The plan is widened by the subtle wedge shape of the room," Rooney notes. "The room breaks awaythe boundaries that would otherwise impede view. Through well-placed marble walls and retractable partitioning, the room achieves flexibility that is expansive and filled with light."
The hotel also features three restaurants, including the elegant One + One serving breakfast and brunch and the latest eatery in the portfolio of Japanese izakaya-style restaurant Zuma, where the dramatic interiors were designed by Noriyoshi Muramatsu of Tokyo-based Studio Glitt.
Read more: Orms, Shawn Hausman Design, and Archer Humphryes Architects Transform a 1970s Office Building into the Standard London