Department of Architecture Draws Geothermal Inspiration for China's Mist Hot Spring Hotel
Xuchang, in eastern China, is renowned for its geothermal hot springs, which generate a misty steam conferring a soft focus to their surroundings. Department of Architecture Co. principal Amata Luphaiboon built upon that phenomenon for the city's aptly named Mist Hot Spring Hotel.
A complex of four buildings totaling 400,000 square feet, the public spaces are unified by a series of glass installations suggesting light and water. In the cocktail lounge, thousands of crystal beads hang from the ceiling like a suspended rain shower. In the ballroom, a matrix of acrylic rings lit by color-changing LEDs hover above wool-nylon carpet in a complementary pattern; the result is like being surrounded by clouds.
Some of those hues are first seen on the hotel facades, where clear tempered glazing alternates with panes sandwiching blue or magenta translucent vinyl. Natural light casts the colors throughout the interior, including in each of the 51 guest rooms. "The idea," Luphaiboon explains, "came from the colorized films of the early 1900's, when artists painted transparent colors onto black-and-white films, frame by frame." Looking from the inside out, into all that mist, the panes impart additional drama to the oft-moody sky.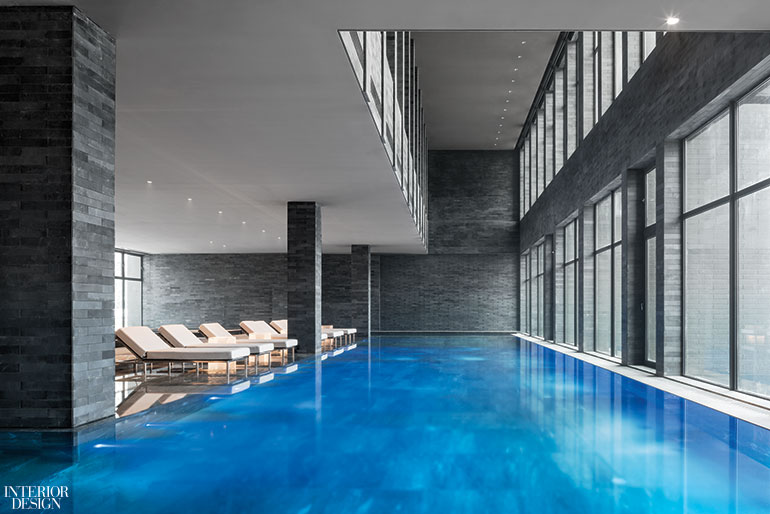 Project Team: Twitee Vajrabhaya Teparkum; Chaiyapat Mirasena; Chanlika Boonpha; Waraphan Watanakaroon; Waraluk Kuiprasert; Passawee Vongcharoen; Penlada Somjaldee; Kawisara Anansaringkarn; Yada Pianpanit; Thunchanok Sirichayaporn; San-Ming Chou.
> See more from the May 2018 issue of Interior Design