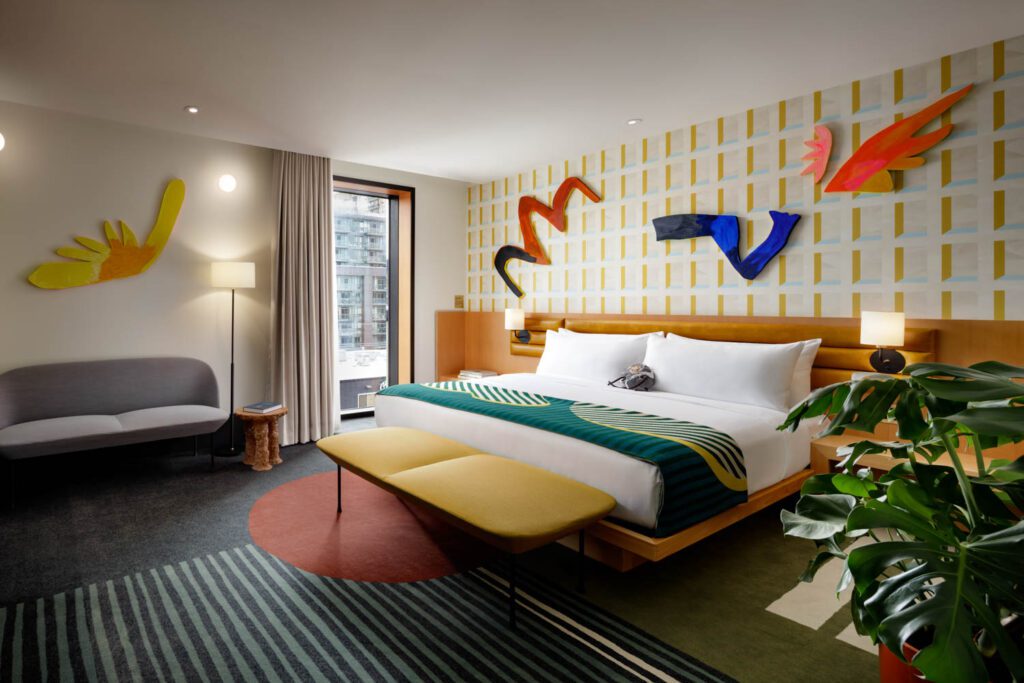 DesignAgency Conjures a Spirited and Idiosyncratic Addition to Toronto's Drake Hotel
Toronto's Drake Hotel opened 17 years ago with interiors by +tongtong and became an instant "art hotel classic": playful, creative, and deeply contextual to its West Queen West neighborhood that's rife with indie galleries, graffiti murals, and vintage stores. The new Modern Wing at the Drake—a five-story addition to the original nineteenth-century Classic Wing—is just as rooted in place. "Everyone came to the project with a deep knowledge of the brand, the fabric of the neighbourhood and the cultural momentum of the area and the city at large," says Anwar Mekhayech, a founding partner at DesignAgency, which spearheaded the new interiors. "In fact, all our team both lives and works in the neighbourhood." That stood the firm, which also has offices in Washington, D.C., Los Angeles, and Barcelona, in good stead when ideating the hotel's new lobby lounge and bar, meeting and event spaces, rooftop penthouse suite, and standard guest suites (32 additional rooms for a total of 51 overall).
Working with original Drake hotel designer John Tong of +tongtong, the Drake's in-house design team and building architect Diamond Schmitt Architects, DesignAgency drew inspiration from Art Deco, Hollywood glam, and Mid-Century Modern. "This intentional clashing is what gives a sense of fun and a luxuriously eclectic feeling," says Mekhayech. In the lobby, which sits at the intersection of the new building with the old, a walnut tambour banquette juxtaposes the organic roughness of a white-painted brick fireplace. Vintage furniture and lighting, contemporary art (much of it site specific), and terrazzo flooring composed of sweeping swirls fosters a lively, curated sensibility. "An important goal for this project was to make the Modern Wing feel exciting and new yet also as though it had always been there—and will always be there," the designer explains.
DesignAgency's team consists of avid travelers who understand the elements of a great hotel stay, which informed the multi-year design of the guest suites. Bold colors, intriguing wallpapers ranging from traditional Arts and Crafts to geometrics, and featured artists and artisans change from floor to floor. In each guest room, a built-in bed-bench-desk plays tribute to the original railcar-inspired rooms in the Drake Classic Wing. Topping it all off, quite literally, is the two-bedroom 1,000-square-foot rooftop suite, with wall-to-wall glass doors overlooking a large terrace and sartorial finishes, like a silver-gray wallcovering, that recall classic men's suiting fabrics.