DVDV Studio Architects Goes Next-Level for a Milan Apartment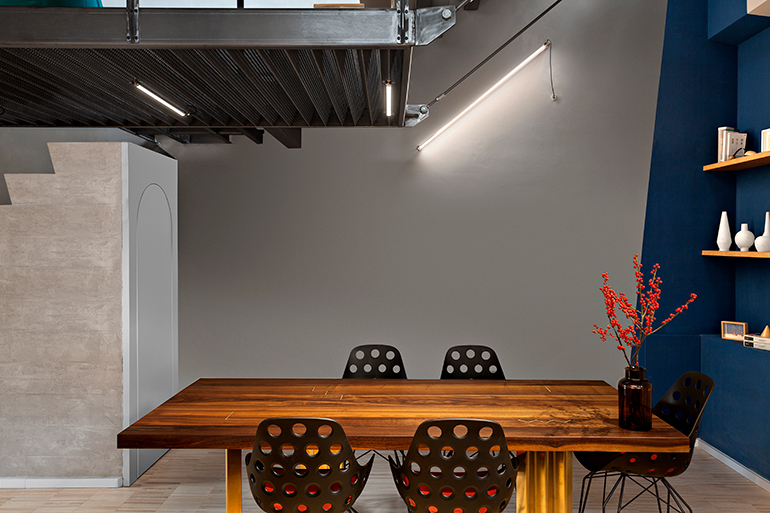 A young businessman in south Milan needed to make a connection between his studio with a terrace on the ground floor and a three-room apartment above. Davide Vizzini, principal of Milan-based DVDV Studio Architects, had a tasteful idea: splitting the distance between the two levels. First, a concrete podium on the ground floor offers steps up, then reaches cantilevered quadrangular profiles of corrugated iron.
"It becomes the axis of symmetry," Vizzini says. "As a result, the plan seems to be squeezed in the middle like a butterfly shaped pasta."
The apartment's owner will be able to cook the Italian staple in its industrial-style kitchen, with aluminum fronts and pegboard storage, and serve it on the dining room's dramatic custom black walnut table. Above runs the footbridge. "The spaces, volumes, and functions are gently intertwined to enable the flow of light, air, and sight," he says of the gray concrete interiors accented by a bold blue.
Once across the footbridge, spaces are defined by glazed, vertical partitions. "At eleven o'clock," Vizzini says, "sun rays pass through the stairs and through the perforated metal sheets, reaching the floor. And the client is happy!" And that, of course, is the highest achievement.
Keep scrolling to view more images from the project > >