Eero Saarinen's TWA Flight Center and Bell Laboratories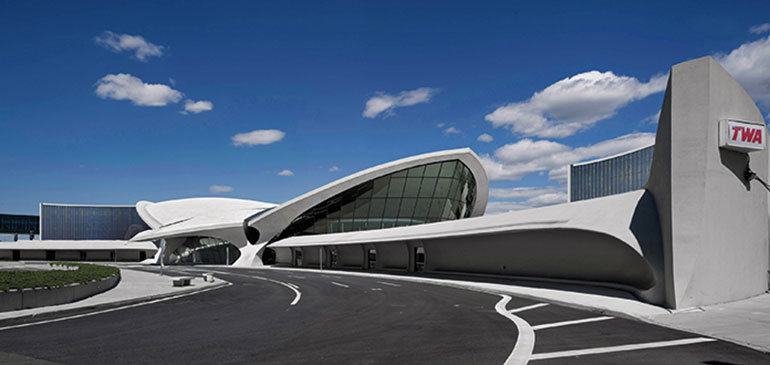 One of the hottest designers today died in 1961. Eero Saarinen's illustrious career in architecture and furniture design is again in the limelight, as two of the most admired buildings by Eero Saarinen and Associates are being buffed and put to new uses.
At John F. Kennedy International Airport, the TWA Flight Center, beloved for swooping forms that capture the spirit of the jet age and listed on the National Register of Historic Places, has been shuttered since 2001. Finally, MCR Development has enlisted Beyer Blinder Belle, Inc Architecture & Design, Lubrano Ciavarra Architects, and Stonehill & Taylor Architects to restore the 129,000-square-foot concrete-shell structure and add a 505-room hotel behind.
Moving from planes to phones, Bell Laboratories in Holmdel, New Jersey, is where cellular and laser technologies were invented—and where Somerset Development has spearheaded a mixed-use conversion called Bell Works. Alexander Gorlin Architects, Interior Architects, Mancini Duffy, and NPZ Style + Decor are all taking part in the 2 million-square-foot project, to feature offices for start-ups, a public library, a hotel, a fitness club, retail, and restaurants. Live music will soon join the art exhibitions and film screenings currently taking place in the skylit central atrium, a stupendous 1,100 feet long by 100 feet wide. It already boasts floor patterns that Alexander Gorlin based on paintings by Josef Albers.