Elementary School Outside Prague by SOA Architekti Celebrates Learning, Community, and Passive Architecture
Many schools throughout the Czech Republic bear the grim mark of endgame Eastern Bloc architecture, their design stuck in the 1980s. Not very inspiring to the young students passing through them. Elementary School Amos, however, in the small Bohemian town of Psáry, is unlike any of them. Seven years ago, a national architecture competition
called for proposals for Amos. SOA Architekti, a small studio based in Prague that had been focused on interior-design and residential projects, beat out the 62 other firms that entered. At that time, Czechia didn't really have a system in place for institutional biddings, so everyone gave it a shot. "That might have been our advantage," SOA prin­cipal Ondrej Píhrt begins. "School design in the Czech Republic had not been anything anyone really bothered about. There wasn't much to learn from, and we couldn't use our own school experience from the '80s as a good starting point."
So, along with co-principals Ondrej Laciga and Štefan Šulek, Píhrt started fresh, drawing on the progressive 21st-century school models in Germany, the Baltic countries, Switzerland, Austria, and, especially, Scandinavia. "We realized it had to be designed from the inside out, around the kids, to create a microworld for them to explore," Píhrt says. "Not the other way around, like had mostly been the case."
The resulting 41,000-square-foot, three-building complex reimagines the elementary school as the center of a small city with a distinct civic identity. Not only does it feel and look unique and exciting but SOA also conceived of it as a place that the entire town of Psáry can use and enjoy. That concept was part of the original competition brief. "Schools have been quite walled-off from the community, and not for security reasons," Píhrt notes. "Allowing everyone to use the building makes perfect sense." The town even established a special civic association to organize nonschool activities there, such as cooking workshops and author readings.
The two-level connecter building centers on an open-plan cafeteria that functions like a town square, with educational wings resembling lively streets full of activity. Bright, fluid space defines what Píhrt refers to as the "learning landscape," organized in clusters around wide staircases. Each cluster consists of two or three classrooms and a central hall, with access to outdoor areas and its own color-coded identity. The classrooms are infinitely adaptable. Students can write on the classroom walls and use them as magnetic surfaces. Píhrt says giving kids that opportunity allows them to feel ownership. "Space you can partly style and shape yourself will become yours more naturally."
The cafeteria on its own is dynamic—airy and double-height, with a square ceiling grid interspersed with LED fixtures in the same shape, rem­iniscent of an oversize tic-tac-toe board. But the room can also combine with an adjacent gymnasium via a wall of folding doors to become a spacious auditorium with a stage. An outdoor terrace connects with a grassy slope and a playground for younger kids, part of the one-acre grounds that can be used by locals organizations for outside workshops or relaxing. The public library next door further enhances the community vibe. In other words, it's a nice place to hang out, which is not something that can be said about a lot of schools, in any country.
Although the exteriors of the reinforced-concrete buildings are stark white, color is fully present inside. Student lockers and the linoleum flooring running underneath them are canary yellow. Chairs in the cafeteria are cherry red. Changing rooms off the gym are sky blue for boys, salmon pink for girls. Throughout, graphics based on child drawings create a warm, homey environment.
Abundant woodwork—on stair balustrades, fronting balconies, paneling the gym—glued trusses supporting the flat roof of the connecting building, and larch slats on portions of that facade temper the bold pops. Exterior and interior walls are made from sand limestone bricks. The natural materials synchronize with SOA's employment of passive architecture practices for the school. Heat is provided by pumps combined with gas boilers to cover peak hours. Hot-water floor heating is supported by radiators in classrooms. Ventilation-system units are decentralized on the roofs and attics of each building, and the intensity of ventilation is controlled automatically. In summer, the system is used for nighttime pre-cooling. A rainwater system collects water for irrigation and toilet flushing.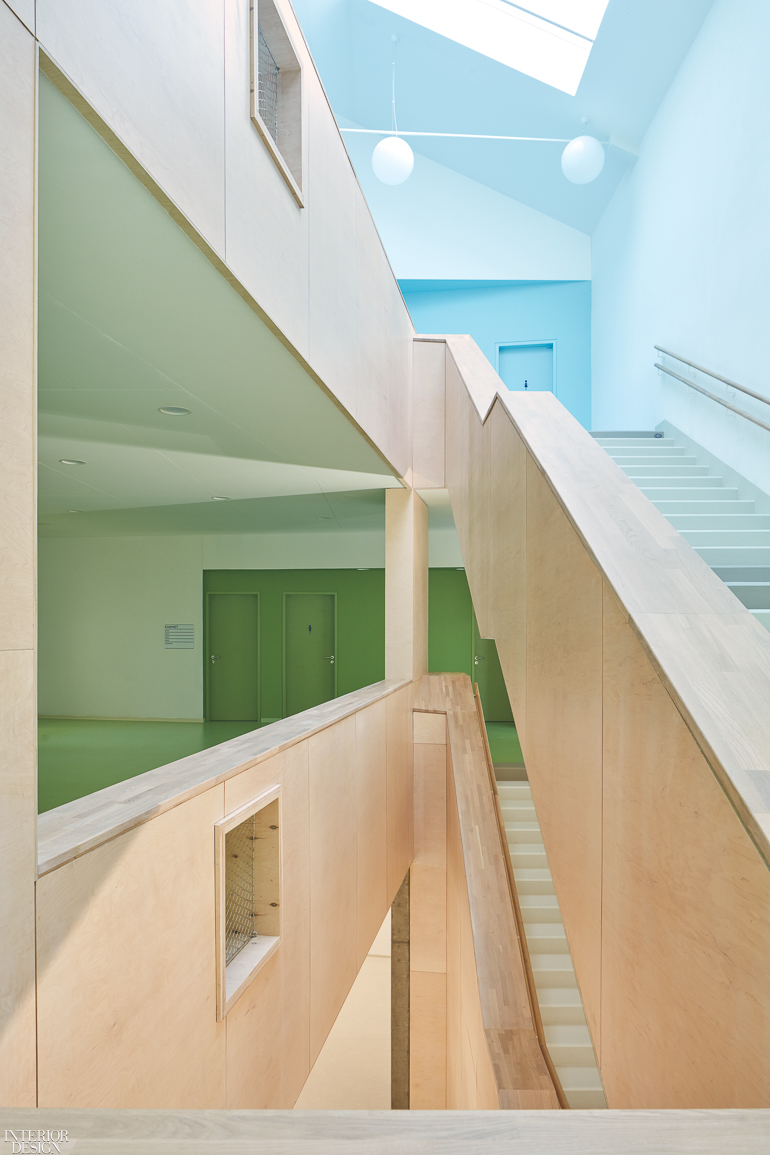 "The built environment can support and trigger good pedagogical practice," Píhrt explains, "and helps the kids form their sense of space and quality. They spend a lot of time in the building at an age when they perceive things more or less intuitively." The students love it and the teachers are getting used to it. "Amos," he says, "is a school I would like my children to attend."
Project Team:
Irena Vojtová; Pavel Smetak: SOA Architekti. Dspsn Barbora Zachovalová: Graphics Consultant. Profi Lighting: Lighting Consultant. SLK Statika: Structural Engineer. Projekt Centrum: MEP, Civil Engineer. Lekon TSK: Woodwork. PKS Stavby: General Contractor.
Product Sources: Seca Wood Profiles through Lekon Tsk: Wood Cladding (Entry, Gym). Pedrali through DVD Jaromerice: Chairs (Cafeteria). Through PKS Stavby: Custom Pendant Fixtures. Tomo Služby: Stage Partition. PKS Okna: Class­room Door (Hall). Haro Sports Flooring through Hyka Podlahy: Paneling (Gym). Playrite through Precol: Play­ground Surface (Exterior). Throughout: DVD Jaromerice: Custom Furniture. Janošík: Windows, Exterior Doors. Sapeli: Interior Doors. Sto through Rival Floor: Epoxy Flooring. Tarkett: Linoleum Flooring. Knauf Amf through J.S. & J.S. Jaromír Semotán: Acoustic Ceiling Panels. Kareja: Wall Panels. Solara: Custom Skylights.