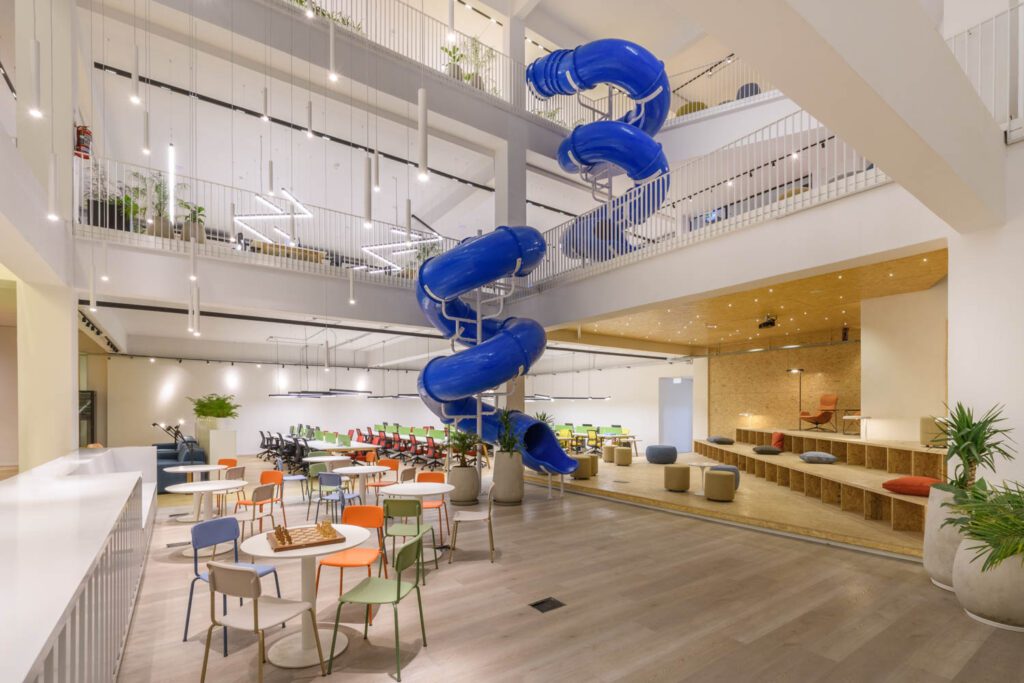 Encode Slides a New Office into a Former Cultural Center in Córdoba, Argentina 
When Encode commissioned the creation of a new headquarters in Cordóba, Argentina they gave architecture group Avendaño-Boffi-Ferreyra two challenges. The first was to retain the artistic cache of the building, formerly the Cocine des Culturas cultural center, while building in flexible work and recreation spaces for its 150 or so employees. The second was to do it, from planning to finishing, in six months.
To make it happen, the firm looked to other art spaces. "One of them was the Szczecin Philharmonic by the architects Barozzi Veiga," says architect Diego Avendaño. "Observing its multiple heights with circulation going through the space was what motivated us to generate the void and the ramp." A speedy demolishing of a small section of the ground floor created a spatial connection between the three levels of the 16,000-square-foot building, each of which boasts open working areas united by recreation zones. A coffee bar and kitchen on the ground floor connects to a garden, as does a multipurpose terrace above.
A palette of primary colors enlivens the industrial feel, brightened up even further by a 3,100-square-foot mural by Elian Chalí. While the best way to view is taking the central ramp up, a greater thrill is offered by the quickest way back down: a pair of slides, spiraling out into the void of the old theatre.