Ensemble Design Cast Outfits Frankfurt's Museum Angewandte Kunst With Jil Sander Retrospective
Architecture changes over time by the things placed inside it. A Parisian hôtel particulier, for example, can become home to a fashion label's flagship boutique, while a Milanese 19th-century villa can be transformed into that same brand's sleek showroom. Then there are museums, stages specifically designed to serve as a backdrop to the exhibitions that come and go. All of these scenarios apply to Jil Sander, both the brand of minimalist men's and women's apparel and accessories and the designer herself.
Michael Gabellini designed the Jil Sander Paris flagship housed in that hôtel particulier in 1993. The Interior Design Hall of Fame member completed the Milan showroom in 2001. In fact, he and Gabellini Sheppard Associates partner Kimberly Sheppard have gone on to finish more than 70 additional retail projects for the German designer, who, after completing studies in textile engineering, actually began her fashion career as an editor at women's magazines. So it makes sense that for her retrospective "Jil Sander Present Tense," at the Museum Angewandte Kunst in Frankfurt, she called on her long-time collaborators to help her design it.
Another contributor that falls into this decades-long relationship category is Frédéric Sanchez, a sound artist that has been composing music for Sander's runway shows since 1991. He was joined by filmmaker Norbert Schoerner, who created video installations of runway footage. "We turned the museum into a Jil Sander space," the fashion designer begins.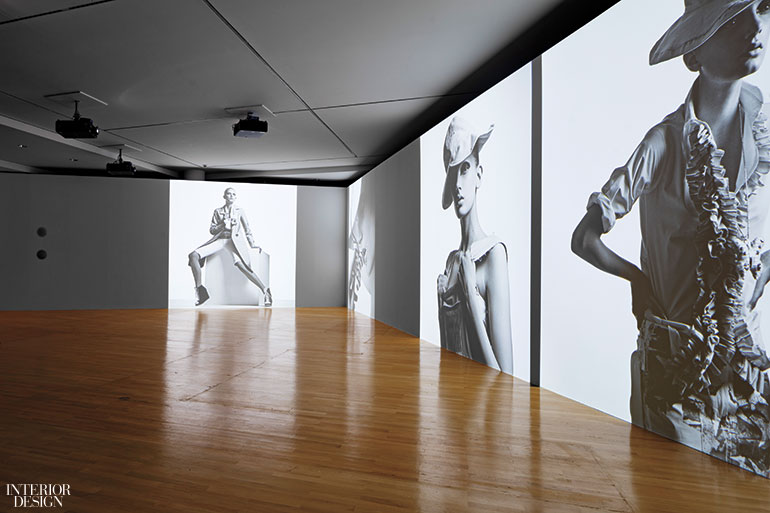 Indeed, the 30,000-square-foot institution morphed into a fashion-design microcosm, thanks to additional work by the museum's art director Jasmin Kress and director Matthias Wagner K, along with architect Mario Lorenz, owner of DESERVE. There were the expected elements—mannequins dressed in Jil Sander samples and production pieces, oversize photographs of ad campaigns—but also the unexpected.
The way the team developed its plan broke from typical convention. There are fewer items of clothing on display; instead, the focus is on specific cuts and silhouettes. "It was never overcrowded," Sander continues. Over the 2-year-plus planning period, the retrospective evolved into a series of thematic moments—fashion, atelier, architecture, and products beauty among them—each with its own soundtrack comprised of what Sanchez calls "poetic textures." Lighting throughout the museum's three mazelike levels, which are connected by ramps that were painted Jil Sander white for the show, ranged from graphic spotlights to inky black video chambers. The result was what Wagner K calls an "aesthetic occasion."
Dark and moody, a fashion section was among the unexpected elements. Perhaps because it exhibited the men and women's spring-summer 2014 collection, which boasted animated prints not often seen in the label's usually austere aesthetic. Mannequins donned garments in vibrant yellows, reds, and blues, their patterns inspired by arte povera master Alighiero Boetti. For total immersion, vinyl floor covering boasted a Boetti-style pattern.
Sander's interest in the rigor of patternmaking was showcased in the atelier section, an all-white environment more characteristic of the brand. (The museum's website states that her aesthetics go back to the Bauhaus vision of joining craftsmanship and industrial production.) White PVC foam versions hung on the walls, and sketches and mood boards were lined up in orderly rows on shelves below.
The section devoted to Jil Sander fragrances and beauty products was equally spare and bright, almost laboratorylike, the glass perfume bottles providing just small doses of color. "The goal was to present the brand's vision as an attitude, which encompasses more aspects than the design of clothes and accessories," Sander states.
She could be referring to the brand's architectural aspect. In an exhibition that layered many elements upon one another, the evocation of Sander's history with Gabellini Sheppard illustrates the intersection of architecture and her work. "I always felt closer to architecture than to fashion in general," she says. Drawing from a love of historical and contemporary architecture, the trio has developed a signature vocabulary of interconnected spatial sequences, floating forms, and indirect lighting—architecture, much like her clothing, designed to reflect all the hinges and joints that allow the fluidity of the body (or a space). "It was a diverse and animated ecosystem that is Jil Sander," Gabellini recalls of the show.
The exhibition spotlighted their work together in a life-size maquette of the initial Paris flagship. Turned at a 45-degree angle to the grid of the room surrounding it, the area "affirms the beauty of proportion," Sheppard notes. Its rigorously minimalist appearance nodded to the store's, employing some of the iconic furniture pieces there and from other Jil Sander shops, such as a black granite–topped table, a copper-nickel ladder, a Donald Judd-esque sconce, and webbed walnut stools.
"It has been said that clothes are people's first house," Sander says. "Both need to adapt to our needs and feel comfortable. Structure is paramount in both." The Bauhaus would be proud.
Product Sources: Bonaveri: Custom Mannequins.