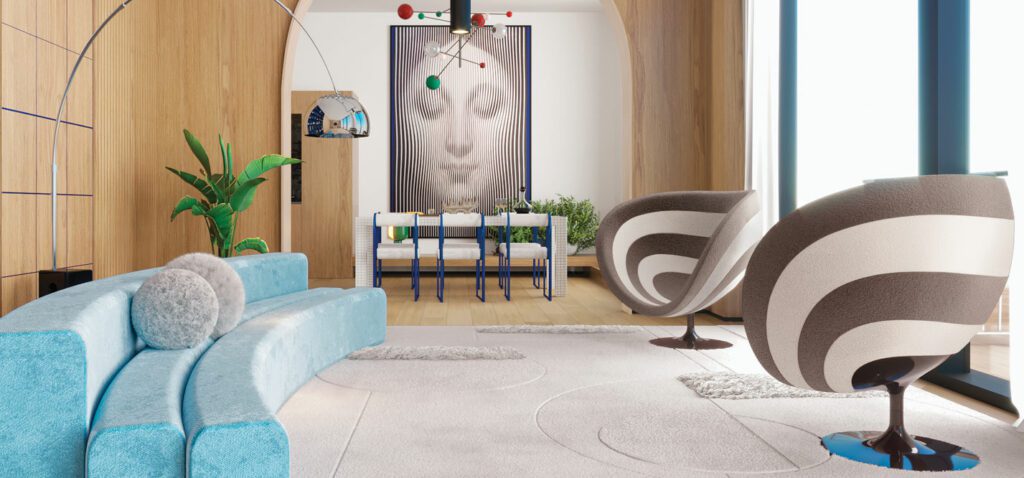 Enze Architects Weaves a Narrative Starring Milan and Manhattan in a TriBeCa Apartment
Natalia Enze took a circuitous route to get to New York. Regardless, it was successful. Actually, make that award-winning. The native Muscovite, who earned a PhD in architecture and design from the Moscow State University of Architecture before relocating to Milan to establish her studio, Enze Architects, now 30 strong, took home this year's NYCxDesign prize in the small apartment category. Although a tidy 980 square feet, the one-bedroom residence on the 17th floor of a new TriBeCa tower is a multicultural minestrone, its ingredients an airy, savory blend of Italy and New York, contemporary art and furniture, detailed architecture and high design.
"He's Milanese, and we agreed the apartment should have a Milano touch," Enze introduces the backbone of the program and the owner, a 30-something multi-hyphenate she met by referral who's immersed in the financial and film sectors. He's also "a guy who likes everything tailor-made, his clothes and even his shoes." The same would go for his secondary residence, a place for him to live, work, and entertain while enjoying archetypal New York views of the financial district, Hudson River, and skyline from full-height window walls and a balcony.
The architecture came first. Completely re-vamping the interiors, Enze created the open loftlike environment that's associated with downtown living. The entry hall, treated as a lively anteroom of its own, leads to an L-shape expanse containing the conjoined living, kitchen, and dining areas, with sliding doors accessing the balcony off the latter. On the other side of the hall are the private quarters, similarly contiguous: Adjoining the bedroom, the bathroom and walk-in closet merge as a chic and spacious dressing area. Yes, men too, especially the Milanese, can opt for well-appointed environs for prepping and primping.
But here, open space means neither bland nor unarticulated. Between rooms, Enze formed arched porticoes to suggest divisions without disrupting spatial flow. "They're in keeping with the spirit of Italy in a modern New York space," the architect comments on the rounded apertures. Providing cohesion, on the other hand, is the abundant millwork. Produced in Italy to layer on texture, it's tinted pale oak throughout. That goes for the entry hall's wainscotting, the living area's paneling, every archway's trim, and all the flooring. In fact, these treatments, Enze notes, "were one of the starting points of the project."
With an envelope of classical luxe, albeit one that's been filtered through a contemporary lens, intact, it was time to work in color via surfaces and furnishings, but in subtle yet impactful ways. One is right at the entry, where a nearly full-height glass partition sandwiches red film with a wavelike pattern. "It's meant to suggest movement," Enze explains of the pane's halogen effect. Across from it stands a sinuous chair in Indian pink molded polypropylene by Nipa Doshi and Jonathan Levien. Ahead, the dining area appears, at first glance, to be mostly appointed in white, since that's the shade of the generous eight-seat table designed in 1970 by Superstudio. But closer inspection reveals the cobalt trim on Lara Bohinc's tubular chairs and the red, green, and pink glass globes of the tiered pendant fixture, fittingly handmade in New York.
That blue reappears in the living room, which, too, at first look, reads pure Italian. That's because standing before a wall fitted with royal-lacquered built-ins is Achille and Pier Giacomo Castiglioni's iconic Arco floor lamp. And overhead is a triangular chandelier by Alberto and Paolo Sala and Federico Ferrari. But there are other stunners of non-Italian origin. Across from a curving turquoise sofa by French designer Pierre Paulin is a pair of super-groovy striped lounge chairs by Ghanian-Swiss interior architect Kurt Merki Jr. Altogether, the room feels undeniably futuristic, whether it's nodding to the Italian art movement of the early 20th century or forward facing from today is anyone's call.
Speaking of art, the project's showstopper is an immense female portrait in the dining area by Egor Ostrov, who's Russian like Enze. In a sense, it's classical: a print on canvas made from a painting in Ostrov's Madonna series. But the Leningrad-born artist rendered it avant-garde, incorporating his now famous raster technique involving scanning technology to impart a quality of undulation. There's actually a second portrait in this room, but it's of a man, namely Vincent Van Gogh, and it's fronting a sideboard. It's from Enze's Van Gogh collection, launched three years ago. In fact, much of the cabinetry—in the entry, kitchen, and bedroom—is by her. In the latter, she also designed the bed and commissioned a wall sculpture composition in Carrara marble, mahogany, and oak. Those strong, sturdy materials juxtapose a second colored glass panel, in the walk-in closet—this time a swirl of pink and Montepulciano maroon.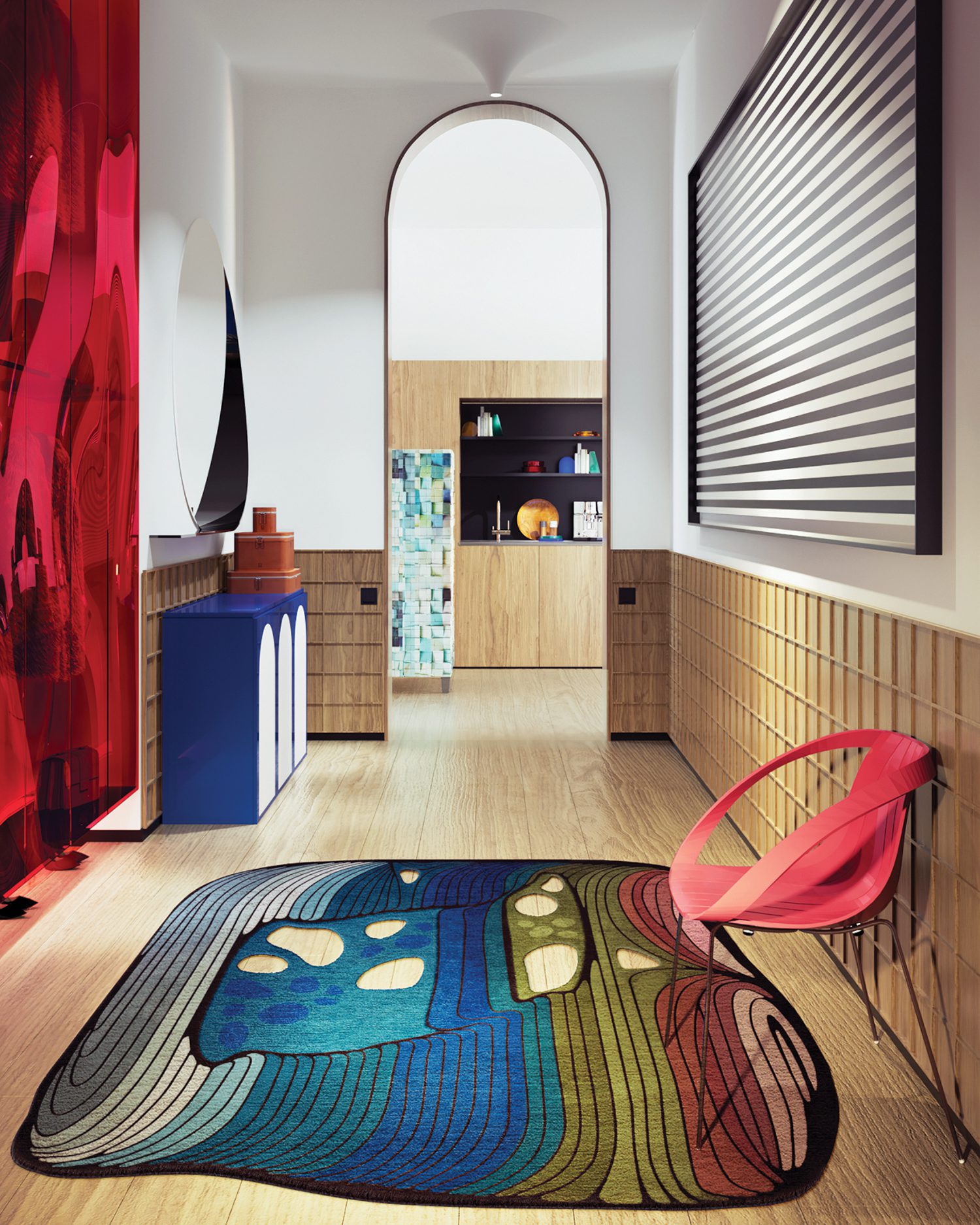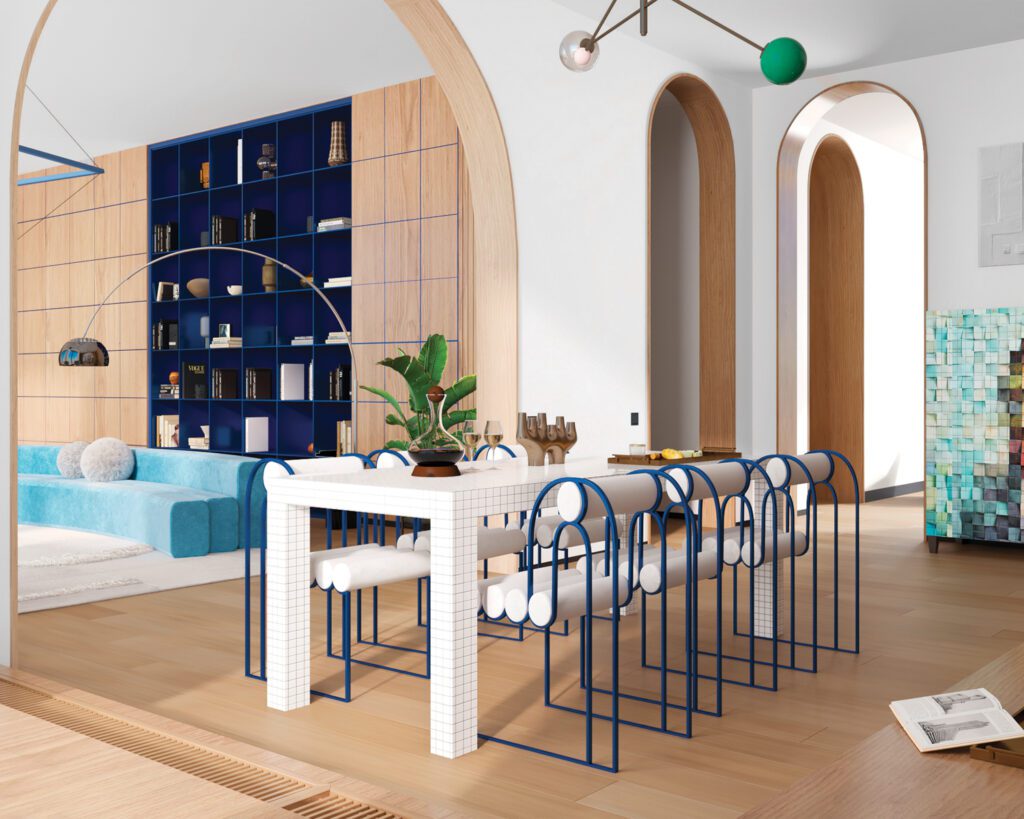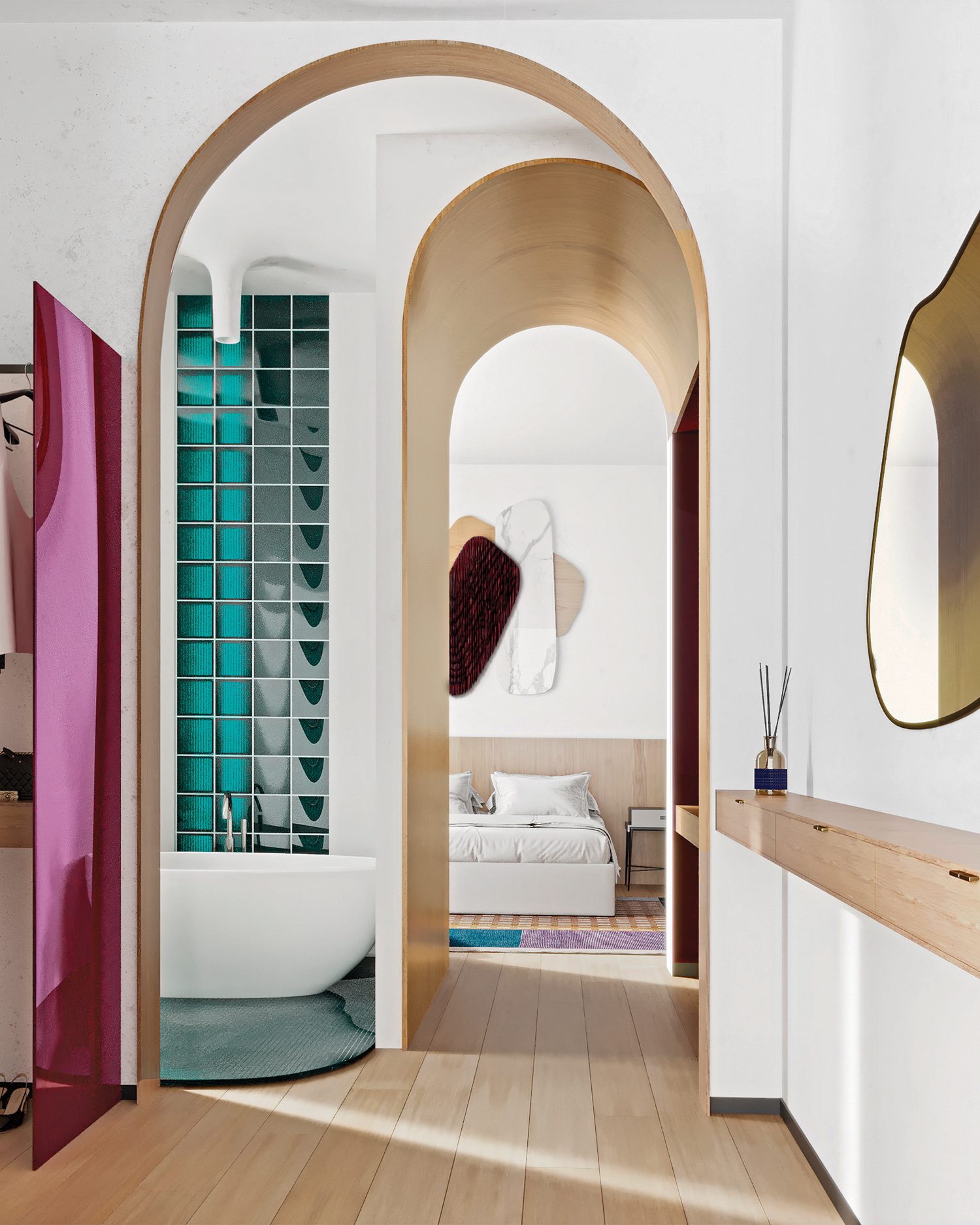 product sources from front
throughout