Estudio Vilablanch and TDB Arquitectura Take Barcelona's Casa Burés from Art Nouveau to Right Now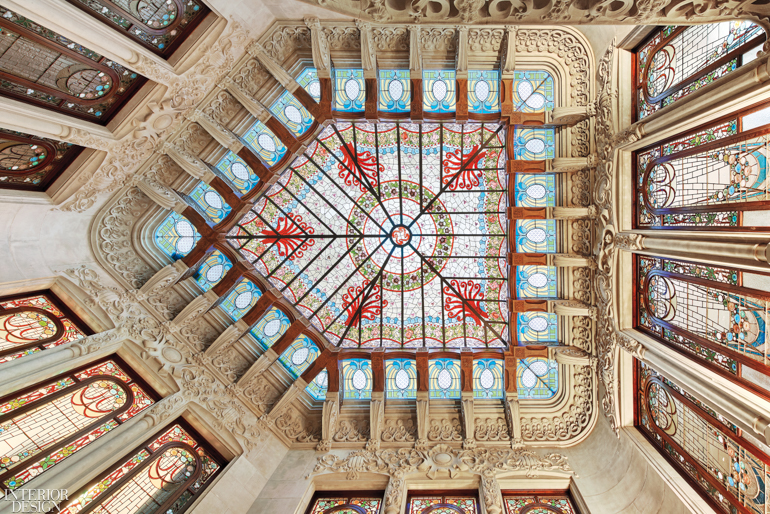 The Eixample neighborhood in Barcelona, Spain, lays claim to the highest concentration of Art Nouveau architecture in Europe. The district, which sprawls northwards from the medieval town, was laid out in the late 19th century as a perfectly calculated grid of avenues with wide pavements and distinctive chamfered corners. Within that matrix, architects and artists were awarded a blank slate in which to work from the ground up. As the Eixample progressed, so did Modernisme, the Catalan term for Art Nouveau.
Modernisme was much more than an artistic style in Catalonia. It was a cultural movement that involved, among other things, Catalan nationalism; a love of Wagner operas; a respect for nature; an interest in medieval history; a renaissance in Catalan music and literature; and a high appreciation of artisanal skills, which were considered under threat from the encroaching industrial age.
Ironically, it was the industrialists of the period—owners of the machinery and technology pushing Spain into the modern age—who were the most interested in expressing the values of Modernisme through arts and crafts. One such was Francesc Burés i Borràs, who, like many of his class, made a fortune in Catalonia's textile industry. In 1900, Burés commissioned the architect Francesc Berenguer i Mestres—a collaborator with Antoni Gaudí, Modernisme's most celebrated son—to build a house for his family in the most fashionable part of the Eixample.
While unusually large, the five-story Casa Burés is not as flamboyant as many of its neighbors, though it does exhibit neo-Gothic flourishes then in vogue. The overall plan is standard for the period: ground-floor offices for the Burés business; a grand, first-floor pis noble where the family lived; rental apartments on the three upper floors; and attic spaces for servants. The design, however, was far from ordinary, even by the standards of Catalan Art Nouveau with its more is more philosophy and love of representation and fantasy. Berenguer i Mestres never completed his architectural degree since his real passion was decoration and the applied arts. Unlike Gaudí, who was more interested in bending structural norms to create his famously fluid buildings, Berenguer i Mestres used arts and crafts to drive form.
"When we visited Casa Burés for the first time, the impression was that we were standing inside an enormous work of art," Bonavista Developments founding partner Jacinto Roqueta says. His company, which specializes in acquiring historic mansions and converting them to modern, luxury apartments, bought Casa Burés in 2014. At that point the building was more than four years abandoned and in a lamentable state, with most of its stained glass, sculptural figures, hand-painted murals, florid mosaics, and countless other decorative elements damaged or ransacked. Thieves had taken off with the copper pipes, leadlight lamps, and an elevator motor. And a giant stone bear guarding the main staircase had lost its front legs. "We were aware of the difficulties the project presented," Roqueta continues. "But also knew that it was a once-in-a-lifetime opportunity.
The transformation of Casa Burés required two firms. Despite being shuttered for so long, the building has been landmarked since 1979, so every piece of both the exterior and 80,000-square-foot interior had to be documented and the historic elements categorized. TDB Arquitectura, led by founder Juan Trias de Bes, then devised plans to carve 26 apartments out of the original 10, including the pis noble; added a rooftop terrace with a pool; and put a gym and private club area in the basement. The firm also installed heating and cooling systems behind the exquisite hand-painted and hand-carved original walls and ceilings, which were painstakingly restored. "One of the most important aspects of the project for us was witnessing the experience and knowledge the artisans brought to their restoration work," Trias de Bes says. "We loved the opportunity of being able to make full use of those skills."
A second firm, Estudio Vilablanch, took care of the interior design throughout, including the kitchens, bathrooms, and lighting. They also furnished the model apartment in their "timeless" signature style, which emphasizes clean, modern lines and textures (think Charlotte Perriand, Finn Juhl, and Vincent Van Duysen): "That allows the period details in the building to 'breathe,'" co-founder Agnès Vilablanch says. "We wanted to be very honest with what we found but avoid making it look like a museum." Adds co-founder Elina Vilá: "With so much color and ornamentation already there, we aimed at serenity."
Only a decade or so after Casa Burés was completed, Art Nouveau fell out of favor in most of Europe to be replaced first by Art Deco and then International Style Modernism. More than a century later, the transformation of Casa Burés is a reminder of a time when the decorative arts were at one of their highest plateaus, and excess was a sign not of decadence but of imaginative energy and renewal.
Keep scrolling to view more images of the project >
Project Team:
Vanessa Surís, Jesper Puchades, David Blanqué, Anna Güell, Anna Soret, Maite Pérez, Maria Forteza, Dana Ulea, Jowita Bartosz, Edu Covelo, Leonardo Vallejo Y Irene Pérez: Estudio Vilablanch. Marta Pascual, Fernando Herrero, Ricardo Villoria, Jordi Perramón, Mireia Figueras, Macià Pares: TDB Arquitectura. JM Bonet Vitralls: Restoration Work, Glasswork. Lledó Iluminación: Lighting Consultant. BIS Structures: Structural Engineer. Arau Acústica: Acoustical Engineer. JG Ingenieros: MEP. Deco Group 35; D'epoca Restoration; Llorens; Rutgers Max Hernan Lazlo: Woodwork. Francisca Izquierdo Canas; Jordi Gual Rafecas: Glasswork. Arcovaleno Restauro; Canteras Valsan; Marmoles Y Granitos Tijeras; Mármoles Hnos Moratonas; Sorrejats Huracà: Stonework. Cerámiques Est; Proartis Restauración Conservación: Tilework. Mape Montajes Metálicos: Metalwork. Masters Pintors Industrials: Painting Contractor. Construcciones Deportivas Condal: Pool Contractor. Teules 2001: Roof Contractor. Oproler; Urcotex: General Contractor.
Product Sources: From Top: Living Divani: Cocktail Table (Living Room). Tato: Floor Lamp. Serge Mouille: Sconce. Cassina: Sofa, Shelving, Rectangular Side Tables (Living Room), Table (Bedroom). Moooi: Chandelier (Living Room), Table Lamp (Bedroom). One Collection: Chairs (Living Room, Dining Area), Table (Dining Area). Bulthaup: Custom Cabinetry (Kitchen). Antonio Lupi: Sinks, Sink Fittings, Tub Fittings, Shelving (Bathrooms). Zanotta: Bed, Chair (Bedroom). De La Espada: Bookshelf. Ivano Redaelli: Bedding. Alba De Oluce: Pendant Fixture. Davide Groppi: Table Lamp. Goffi: Floor
Lamp. Iittala: Vases (Dining Room). E15: Stool (Bathroom). Molteni & C: Bed (Bedroom). Tato: Pendant Fixture. Poltrona Frau: Valet Stand.
> See more from the Fall 2019 issue of Interior Design Homes