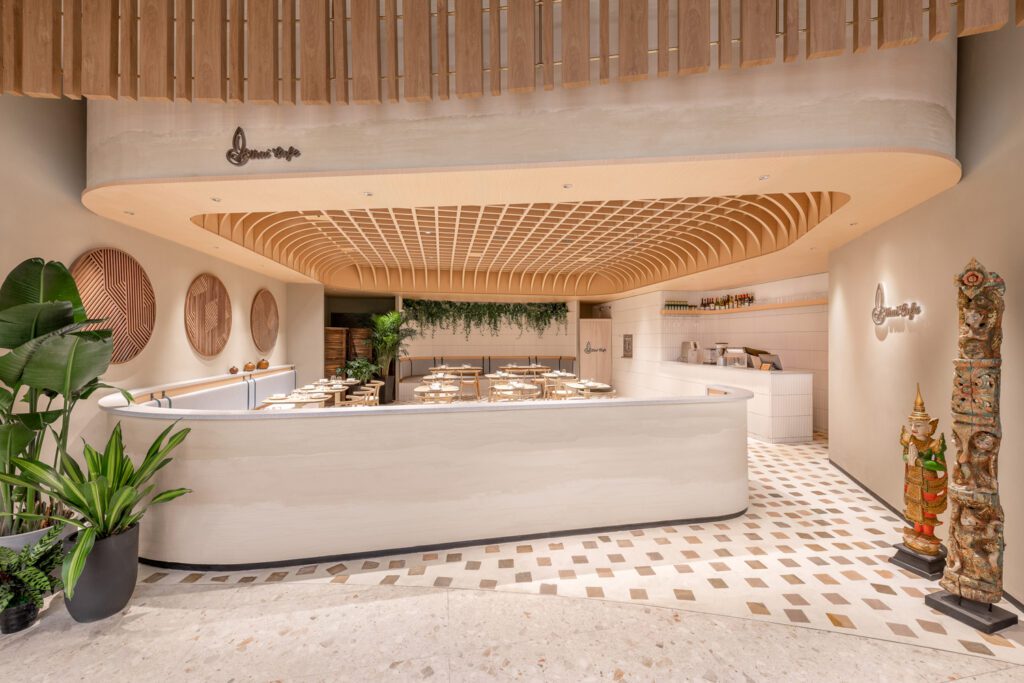 Ethai Café in Shanghai by Quarta & Armando Offers a Fresh Take on Traditional Thai Cuisine
When envisioning Ethai Café, a restaurant that reflects the rich flavors of Thai cuisine, Quarta & Armando Architecture Design Research took a cue from the country's landscape. The resulting space, which is tucked in Shanghai's Kerry Center, immediately transports visitors far beyond the busy commercial hub. A striking domed ceiling, formed by a grid of wooden beams, reflects the architecture of traditional bamboo huts throughout Southeast Asia. "These structures usually work as outdoor dining areas and provide shelter from the rain or sun to multiple tables," shares firm cofounder Gianmaria Quarta. "We found the association to be fitting our intent to create a space which is both private and open, providing shelter from the busy commercial space in which it is located." The ceiling also conceals the lighting, creating a warm ambiance.
Seating nooks throughout appear carved out of rammed earth, encouraging guests to linger over their meals before returning to the bustling city beyond the mall doors. "We wanted to convey a certain degree of privacy, removing that impression of 'dining in a corridor,'" she adds, noting the complexities of working within the confines of a shopping center. To achieve this, a circular loop surrounds the dining area, creating a striking focal point as well as a space within a space—one that captures the essence of Thai textures through subtle colors and textures.