Every Color of the Rainbow: Profiling Five Young Talents
Talent comes in myriad forms at five fresh-faced firms.
Text by Mairi Beautyman, Winifred Bird, Craig Kellogg, and C.C. Sullivan.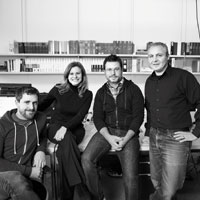 1. Firm: TackArchitects
Featured Project: Phenomblue, Omaha
Though the partners who formed this firm are all Omaha natives, they left to complete their studies at different schools. (Jeff Dolezal at the University of Nebraska–Lincoln, Rebecca Harding at Cornell University, and Chris Houston at the University of Oregon.) The three met after coming home, when they were all working at the same firm, and formed an additional bond through shared interests in sustainability, craft, and travel. Forming a firm was the next step. The trio settled on the name Tack as a sailing metaphor: adjusting the sails depending on what lies ahead, in other words "staying nimble" when determining design solutions, Dolezal says. Now on the boards are a ground-up mansion and two major corporate offices. Nebraska's AIA has already recognized Tack's 7,500-square-foot office for Phenomblue, a boutique branding and Web design start-up.
2. Firm: ADOFF–Associated Architects and Atelier Zurcatnas
Featured Project:Controlar, Alfena, Portugal.
Though the names ADOFF and Zurcatnas sound mysterious, even fictional, the explanation behind them is entirely logical. The former derives from the initials of António do Fundo Ferreira, and the latter is?the surname of Paulo Santa Cruz spelled backward. They met as architecture students at Portugal's Lusíada University of Porto but, realizing they have trouble agreeing, set up separate studios thereafter. Both carry on the tradition of the modernist Porto school. From pared-down volumes to industrial-strength graphics, each makes interiors pop while keeping costs down. So perhaps collaboration was inevitable. The pair's first joint effort was for Controlar, a developer of hardware and software for the automobile industry. Reinventing a 9,700-square-foot warehouse, long vacant, they employed a simple materials palette of epoxy, polycarbonate, drywall, and steel.
3. Emmanuelle Moureaux Architecture + Design
Featured Project: 100 Colors, Tokyo.
A week-long trip to Tokyo as an architecture student is what gave Emmanuelle Moureaux her passion for color. "I felt a lot of emotions, seeing all these colors in the city," she recalls. "In France, due to regulations, cities are mostly colorless." Moureaux moved from Bordeaux to Tokyo a year later. Since establishing her firm there, her signature rainbow palette has enlivened such Projects as four Sugamo Shinkin Bank branches and two Issey Miyake pop-up shops. "I use colors as three-dimensional elements, layers to create a space rather than finishing touches," she explains. Her recent installation 100 Colors transformed the lobby of an office tower—specifically selected as a location where the people passing through are not likely to be close followers of design or art. Visitors were asked to contemplate the suspended sheets of colored paper, then pick a favorite shade.
4. Firm: Moriyuki Ochiai Architects
Featured Project:Dream Dairy Farm, Chiba, Japan.
Simple, full of subtle variations, and quintessentially Japanese in a creative use of limited ingredients, tofu is the central design metaphor for Moriyuki Ochiai. The Tokyo native opened an architecture firm in the heart of the city, straight out of Waseda University. Since then, he and his staff of three have been designing sleekly playful shop, office, and school interiors that fit seamlessly into hyper-contemporary urban settings. It's nature, though, that provides him with ideas. Landscapes reflecting off water and mist shimmering in the mountains were the sources of a series of sculptures, the latest of which appears in nearby Chiba, suspended from the ceiling at the high-end retail outlet for Dream Dairy Farm. Contributing to the farm-fresh theme of the 925-square-foot space, the milk-white main counter ripples like pudding.
5. Firm: Rafael de Cárdenas/Architecture at Large
Featured Project: Black Ocean, New York.
After initially studying fashion at the Rhode Island School of Design, then designing Calvin Klein menswear, Rafael de Cárdenas says, he found himself desiring "total envel-opment and immersion." So he went back to school, this time for his master's in architecture at the University of California, Los Angeles, before returning to New York to found his firm. Fashion still figures in his work—Nike and Nordstrom are among his clients—but he's designing the environments instead of what's sold there. In addition to retail, his portfolio encompasses restaurant, office, and residential Projects, plus furniture. When the tech and media company Black Ocean acquired a four-story, 6,500-square-foot firehouse, he responded with a slick industrial envelope, pops of color, and lots of zigzags, which have become the firm's signature.