Expensify by ZGF Architects: 2018 Best of Year Winner for Midsize Tech Office Project
From the outside, the First National Bank Building in Portland, Oregon, seems an unlikely home for a 21st-century technology company. The neoclassical structure, listed on the National Register of Historic Places, dates to 1916. But inside, where 50 employees work for expense-report software company Expensify, is a different story.
It centers on a decidedly of-the-moment trend: no workstations. Instead, staffers are invited to operate from anywhere in the 17,300-square-foot space, aka a free-address workplace. Options range from lounge chairs and overstuffed ottomans to a custom hanging chaise longue. For ZGF Architects principal Alan Gerencer, it was one of the tactics that helped him conceive an energetic environment without permanently altering anything existing and noteworthy. "We used the historic structure as our canvas," he says, "going with clean, simple lines that do not compete with it and modern materials that highlight its ornate detailing," including the original gold-leafed wall clock.
The main intervention is in the four-story atrium, where a pair of floating conference rooms made of more than 100 tons of steel and brass were assembled on-site. Wide oak stairs, the same wood used for the lobby's new floor planks, encourage exercise, leading up to mezzanine work areas, usable space ZGF created where there previously was none. Over the course of a workday, employees can be found hustling from place to unique place, laptops in tow. Dogs are welcome, too.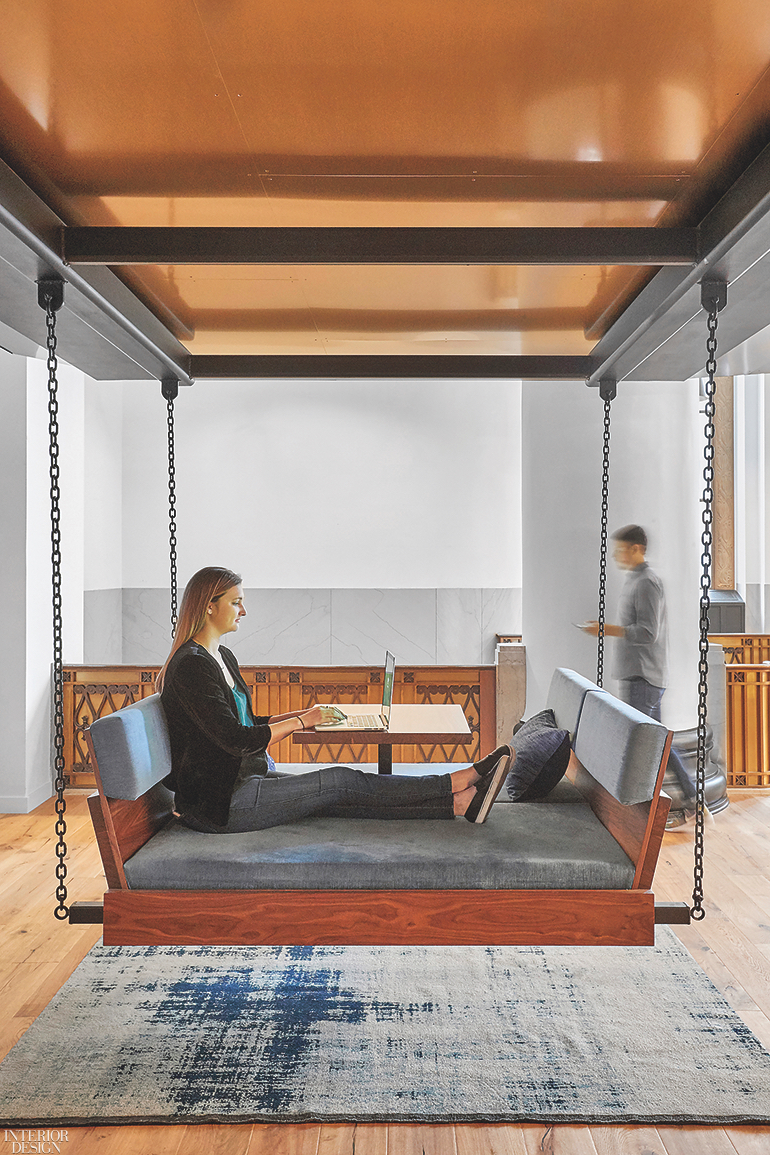 Project Team: Franco Rosete; Gabriella Caldwell; Jan Willemse; Kirsten Justice;
Jeanne Jameson; Chardonnay Cintron.
> See more Best of Year Project Winners from the December 2018 issue of Interior Design