FÖDA and Hufft Collaborate on a Social Club in Bentonville, Arkansas
A recent urban renaissance in Bentonville, Arkansas, has made its downtown a destination for seekers of culture, cuisine, and community. Now, wellness can be added to the list. Recognizing an opportunity to create a gathering place that connects healthy lifestyles with the local spirit of hospitality, Ropeswing Hospitality Group has turned the site of an historic farmhouse into BlakeSt., a 22,000-square-foot private club named after Bentonville sheriff Thomas Taylor Blake, who built the house in the 1880s, that features both social and fitness venues, including carbon-free dining, in a craft-inspired building by regional firm Hufft, with interior design by FÖDA of Austin, Texas.
Hufft rebuilt the farmhouse to include many of its original details, such as trim profiles and porch columns. Members enter the club through the house, and then a glass bridge leads them to the modern addition. Although two stories and 20,500 square feet, its massing has been broken up to maintain a residential scale, with a gabled roof resembling those found on the homes in the surrounding neighborhood. "We looked at the precedents of the region before the advent of master crafts," architect and Hufft principal Brad Kingsley explains. "We wanted to reference the housing typologies of the Ozarks, which could inform the redevelopment of Bentonville, while building on the social histories and local traditions."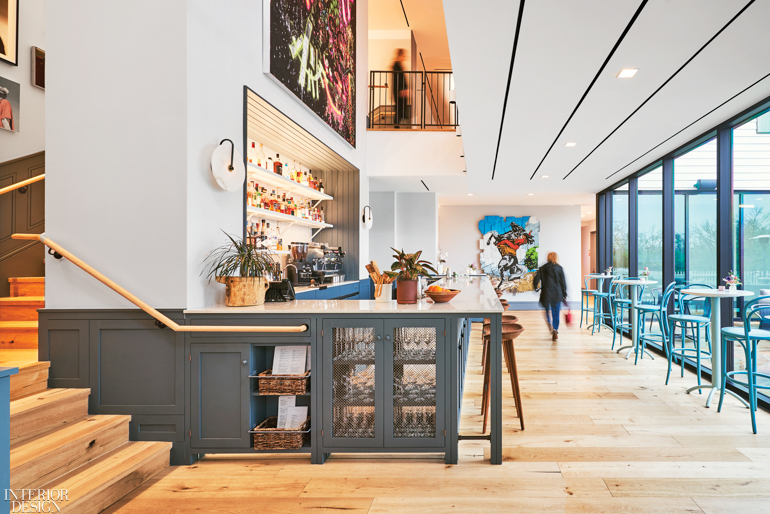 BlakeSt. offers a range of amenities; the team describes it like a hotel without rooms. Shared spaces—dining room, library, terrace bar, which opens to the outdoor pool area—are connected in an open plan, while a grand stair leads to the second floor's more private massage rooms, exercise studios, gym, and lounges. (Steam and locker rooms are on the ground floor.) The analogy for the project was that of a veil. "There is a soft line between public social and private wellness spaces, between revealed and concealed," FÖDA founder and creative director Jett Butler says. "The idea was see, be seen, then get a reprieve."
Details connect with and are inspired by midwestern architectural traditions and rural communities like the Amish. Furnishings, paint colors, and objects were selected to evoke a sense of place and the craftsman spirit. Flooring throughout is rustic wire-scraped white oak. Wainscoting with digitally routed grooves update the farmhouse's ornate carved paneling. Hufft's brawny oak table in the library, where books on health and wellness fill the floor-to-ceiling built-ins, spans 11 feet in length.
Elsewhere, furniture and artwork mix handmade and contemporary, local and global. In the stairwell, an enormous blue bear that appears to be climbing the wall is by Italian artist Paola Pivi, while the club lounge's gallery of barn paintings is by Arkansas watercolorist George Dombek. Similarly, in the high-fidelity sound lounge, members can kick back on a sinuous Vladimir Kagan sofa while listening to music from the club's 300-record vinyl collection, curated by Waterloo Records in Austin and Block Street
Records in Bentonville.
Project Sources: Object Interface: Pendant Fixtures (Stairwell). Bassam Fellows: Wood Stools (Bar). Allied Maker: Sconce. Grand Rapids Chair Co.: Tables. TON: Stools (Bar), Chairs (Library). De La Espada: Armchairs (Club Lounge). Camira: Armchair Fabric. Anthom Design House: Sofa. Mater: Black Oval Coffee Table. Moses Nadel: Ottoman. RH Modern: Console. Maharam: Rugs (Lounges). Holly Hunt: Sofa (Sound Lounge). Designtex: Curtain Fabric. Sitskie: Credenza. Rejuvenation: Floor Lamp. Voutsa: Ceiling Fabric. Axolight: Ceiling Fixture. Mosa: Floor Tile (Locker Room). Gandiablasco: Benches. Bert Frank: Table Lamps (Library). Cloward H2O: Pool (Pool Area). Teak Warehouse: Chaise Longues, Benches. Frankford Umbrellas: Umbrellas. Zandur: Flooring (Gym). Throughout: PID Floors: Floor Planks. Benjamin Moore & Co.; Sherwin-Williams Company: Paint. Petersen Aluminum Corporation: Roof. Renfro De­sign Group: Lighting Consultant. 40NORTH: Landscaping Consultant. PMA Engineering: Structural Engineer. HP Engineering: MEP. Ecological Design Group: Civil Engineer. Hollywood Woodwork: Woodwork. Flintco: General Contractor.