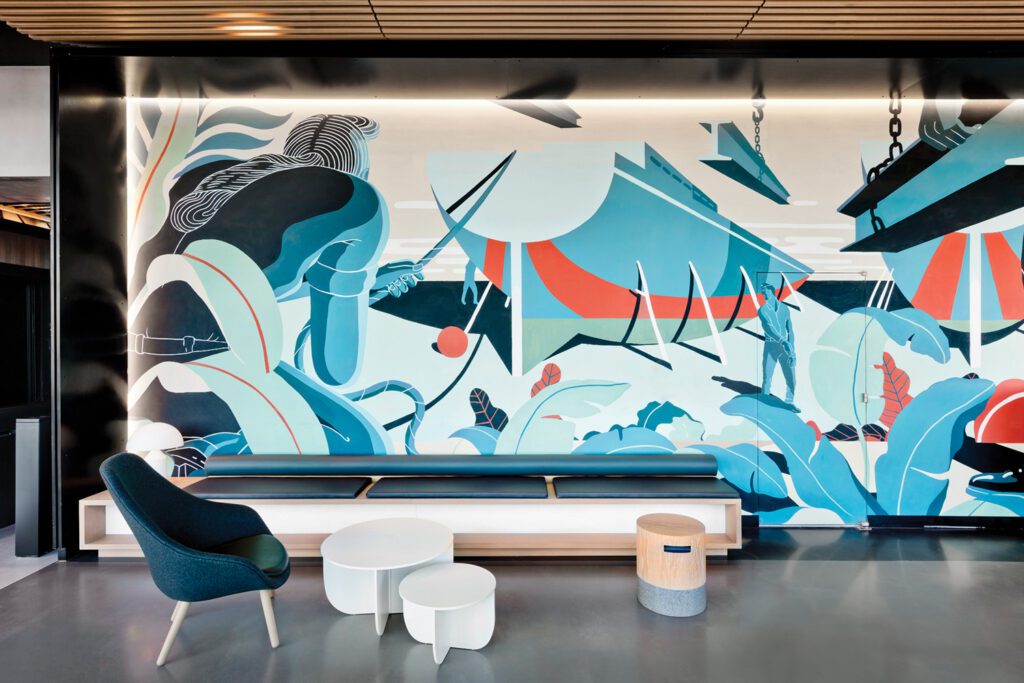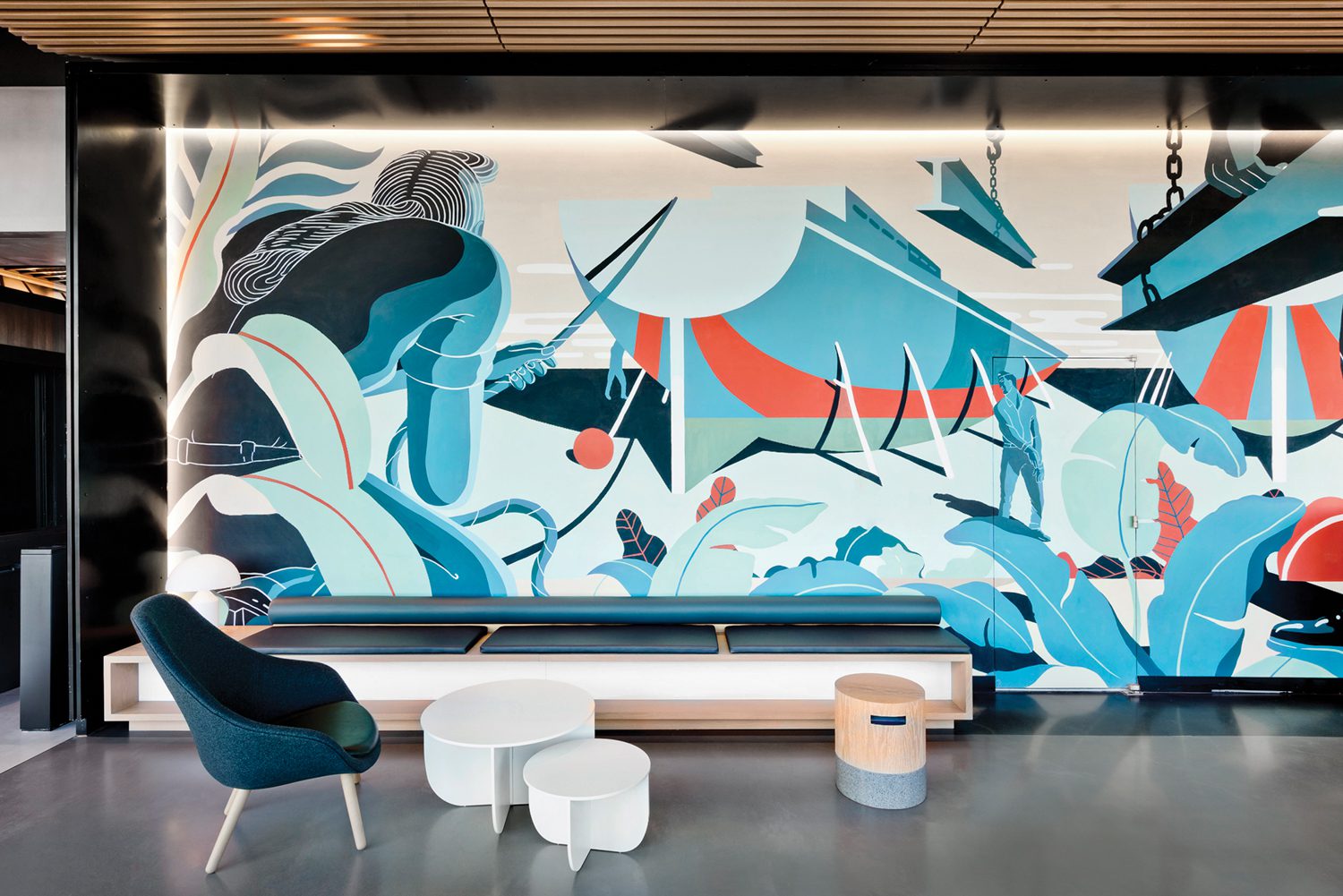 Fogarty Finger Charts a New Course in the Brooklyn Navy Yard With Dock 72
Across the East River from the Lower East Side, the Brooklyn-side shoreline zigzags inward to form Wallabout Bay. This funky stretch of waterfront, once home to Lenape tribespeople and early Dutch settlers, began its modern life as an innovation hub in 1801, when President Adams designated it one of the country's first Navy yards; during its World War II heyday, it operated six dry docks and employed 70,000 workers. More recently, the since-decommissioned site has been reborn as a hotbed of tech companies and creatives, the home address of healthcare incubators, furniture startups, small-batch juice purveyors, cutting-edge military-gear makers, film sound stages, and the country's largest rooftop soil farm.
Until now, the majority of redevelopment in the Brooklyn Navy Yard has entailed adaptive reuse of its industrial warehouses. Enter Dock 72, the first ground-up commercial office building to be erected right on the waterfront (and, in fact, one of the largest such structures to be built in the city's outer boroughs in many decades). The 16-story volume, with base building design by S9 Architecture, sits prowlike on a skinny pier sandwiched between two former dry docks and culminating in a new ferry terminal. In 2015, as construction documents were being drawn up, codevelopers Boston Properties and Rudin Management tapped Fogarty Finger to start conceptualizing interior architecture—from FF&E to art curation—for the entry-level lobby and commissary, second-floor fitness center, and penthouse-level conference center, totaling some 60,000 square feet of amenities. WeWork had already signed on as anchor tenant and the Brooklyn Navy Yard Development Corporation was naturally involved, too, meaning there were many stakeholders to please—and to align. "Those many players had so many different opinions, which is so New York, right?" says Fogarty Finger director Alexandra Cuber, who led the project with associate director Candace Rimes. "From that delightfully tangled knot of ideas and individual preferences, we had to come up with a strong concept that had enough nuance and depth that everyone could see themselves in it and find a piece they'd contributed to."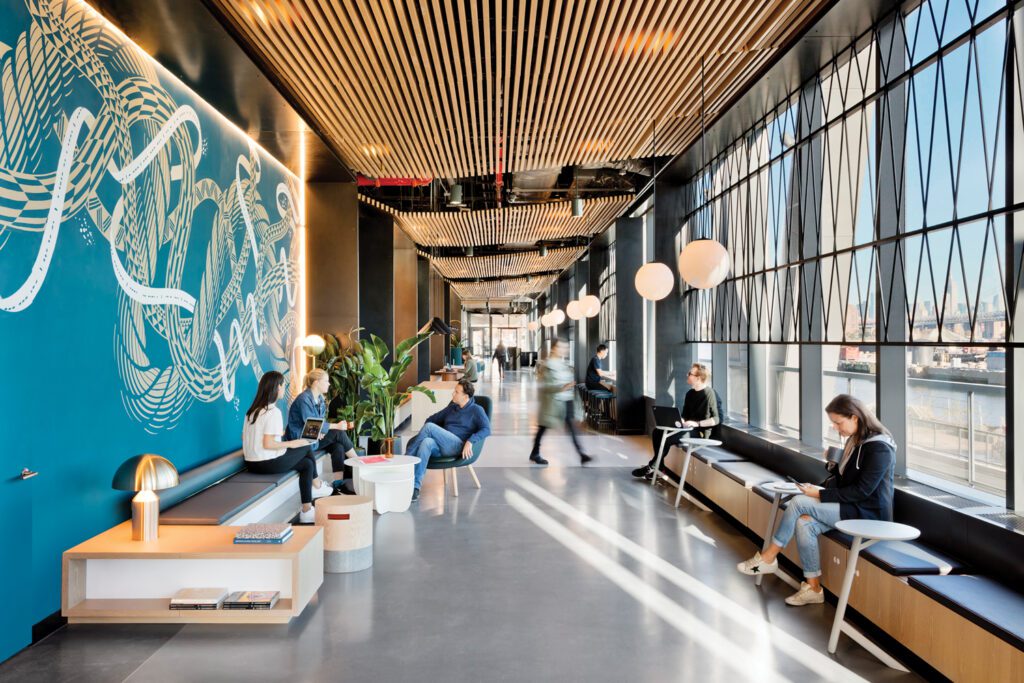 Ultimately, the design team sought to channel both the can-do spirit of the 300-acre industrial park and what Cuber calls its "nautical messaging": the unique sun-bleached, rust-tinged palette and omnipresent visual language of ship details and graphics. As a guiding narrative, she and Rimes homed in on the Plimsoll Line, a technical symbol on every ship's hull that denotes the proper immersion level given its load and the density of the water it's traveling through. FF commissioned a rendering of Plimsoll markings in yellow neon, which now glows beaconlike at the Dock 72 entry—setting the stage for the subsequent journey.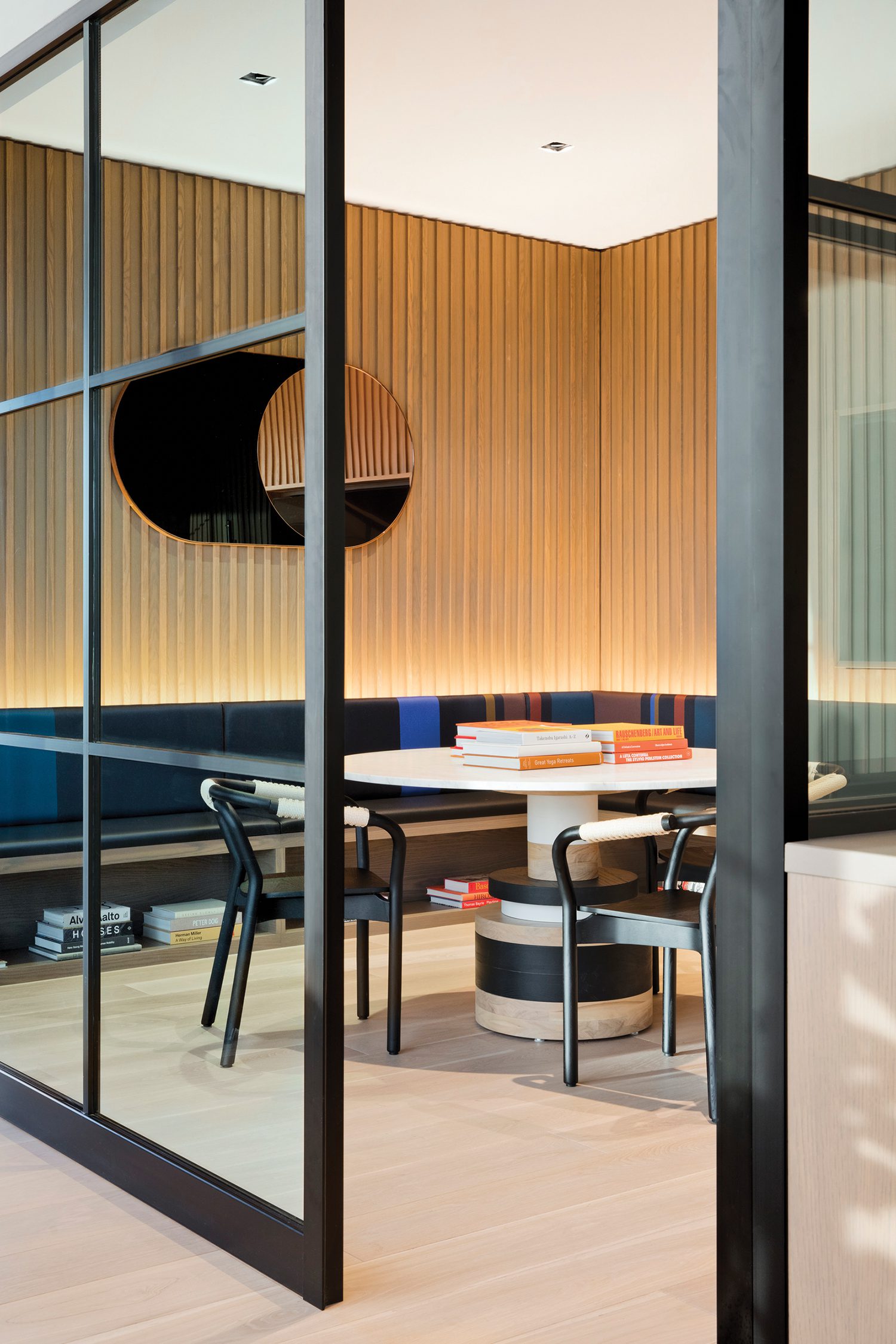 It's quite a journey indeed from the front door to reception at the far end of the building, accessed via a 170-foot-long corridor with a glass wall directing eyeballs to the active adjacent dock. "To make that lengthy pathway an enjoyable process required breaking it up into 'rooms' that could be occupied and experienced," Cuber explains. Changes in ancillary seating (from low- to high-back) and flooring (dark- to light-gray terrazzo) demarcate a series of vignettes along this promenade. So do blackened-steel screens and portals that cast a spirited shadow play and reflect the linearity of ship cables, sails, and razzle-dazzle camouflage.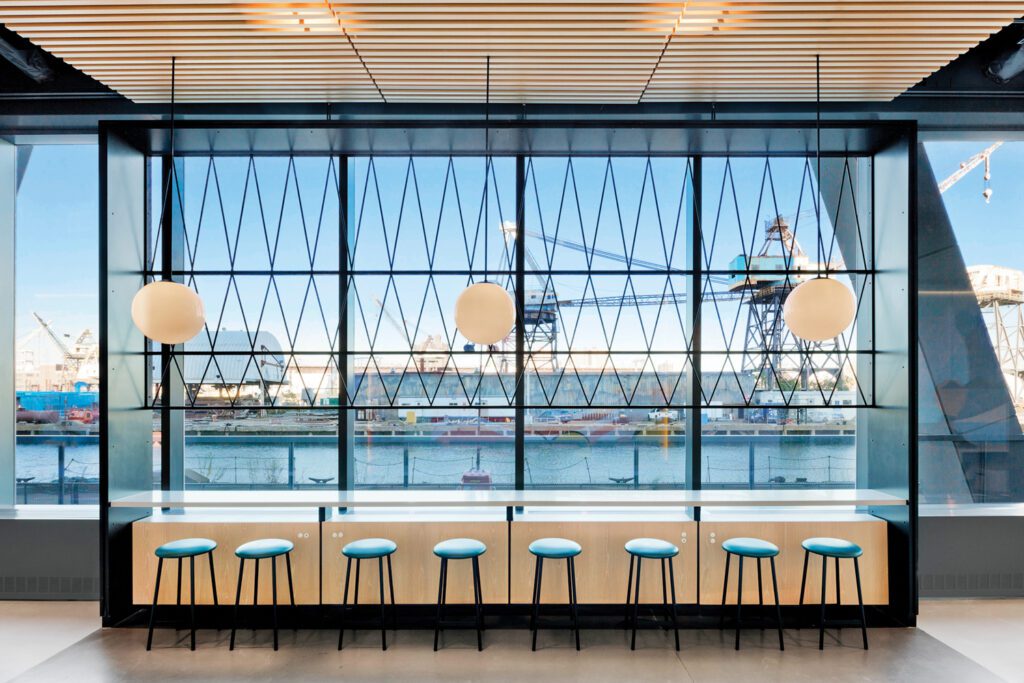 In addition to subdividing space, the steel portals also frame wall murals by area artists who were given free rein to devise compositions that spoke to the context, but assigned a specific color palette reflecting a different type of water from the Plimsoll Line. Bryce Wymer's depiction of ship-wrangling in a tropical storm pays homage to women who worked in the yard during wartime; an abstract color field by Kristin Texeira, who has a studio in the complex, is painted in summer-water hues.
The murals reflect another guiding principal of the project: a commitment to
locally made design. All art and much of the custom furniture were produced in or near the Navy Yard. "We were passionate about finding the right partners and a diverse group of collaborators," Rimes notes. "It pushed us to go the extra mile: We walked all around Crown Heights, Bushwick, Greenpoint, and throughout the Navy Yard to find who can make what or submit an idea."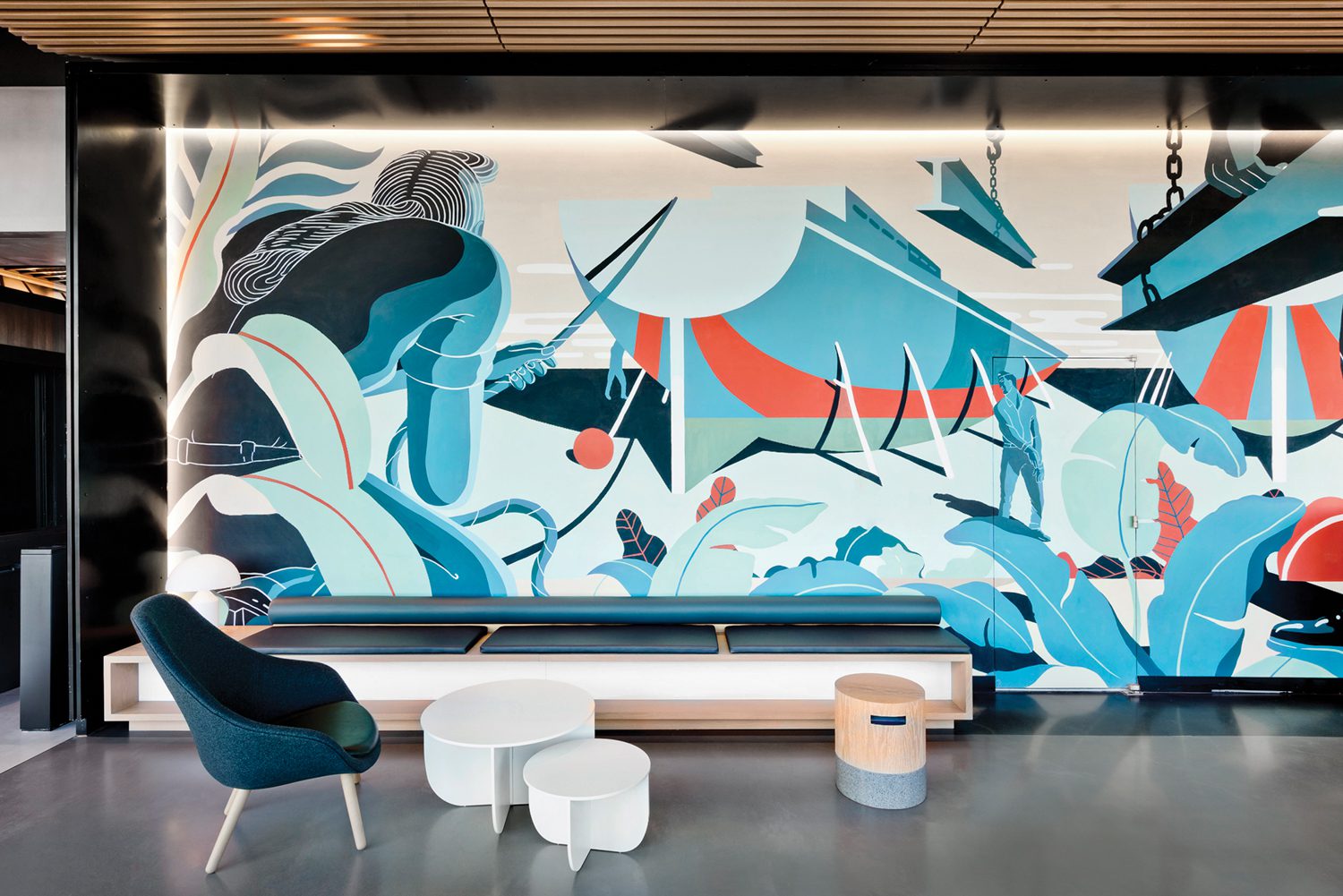 Amenities feature a veritable roll call—er, ship's manifest—of Big Apple talent. For the ground-floor café, Concrete Collaborative crafted tiles in custom colorways derived from photographs of the yard. Dan Funderburgh contributed a lobby mural as well as a nautical-print wallpaper for the second-floor lounge and juice bar. IceStone fabricated recycled-glass table bases in the lobby. And elevator cabs function as intimate viewing rooms for large-scale Navy Yard photographs by Harrison Boyce.
The 16th-floor conference center, with a subdividable 200-capacity town hall space, plus various lounge and meeting areas, is no exception to the city-made mandate, with shapely mirrors by Bower Studios and stacked-stone tables by Souda. What's different up here is a shift in vibe and materiality, from the pre­dominant white-oak millwork of the lower levels to warmer walnut tones and a darker palette. "The colors become saturated and inky, as if they've been soaked in water," Rimes says. "It's like being on the deck of a vintage yacht." A perfect launching point for next-gen captains of industry.
project team
product sources from front
throughout