Four Bold and Eccentric Homes Across the Globe
Eye-catching residences across the globe beguile with bold and eccentric forms.
Firm: Cloud 9
Site: Aigua Blava, Spain
Recap: Olive-glazed clay roof tiles blend architect Enric Ruiz-Geli's new-build near Girona into the surrounding treetops. The complex's swooping shaped-fiberglass forms, with intricate vaulted-brick ceilings handmade by a Catalan artisan, loosely follow the shape of the coastline—at times cheekily reminiscent of the female body.
Firm: R2K Architectes
Site: Espoo, Finland
Recap: A radio chat in which Finnish filmmaker Aki Kaurismäki posited that storytelling originated with humans gathering around the fire to eat, drink, and share tales inspired architect Olavi Koponen's spiraling house, which winds around a central concrete fireplace—the heart and hearth of the home. Aspen shingles clad the interior, larch the exterior; and the whole
is dubbed Kotilo, which translates to "conch shell."
Firm: McBride Charles Ryan
Site: Blairgowrie, Australia
Recap: A wood veranda is an Australian design classic, but the trope is refreshed at this suburban beach house, becoming part of a faceted volume that renders the facade like a frozen wave. Inside, a raked box-beam wall painted cerise is a receptacle for much-leafed books, family snapshots, and beloved bric-a-brac accumulated during vacations.
Firm: Iroje KHM Architects
Site: Goyang, South Korea
Recap: Nineteen buildings spearheaded by architect HyoMan Kim bloom like flowers in the Stella Fiore residential complex, 90 minutes northwest of Seoul. Constructed from steel and concrete, they're embellished with aluminum sheeting painted a cornucopia of colors. Four possible volume shapes and three possible zigzagging split-level floor plans add an element of organic variation.
Keep scrolling to view more images of the projects >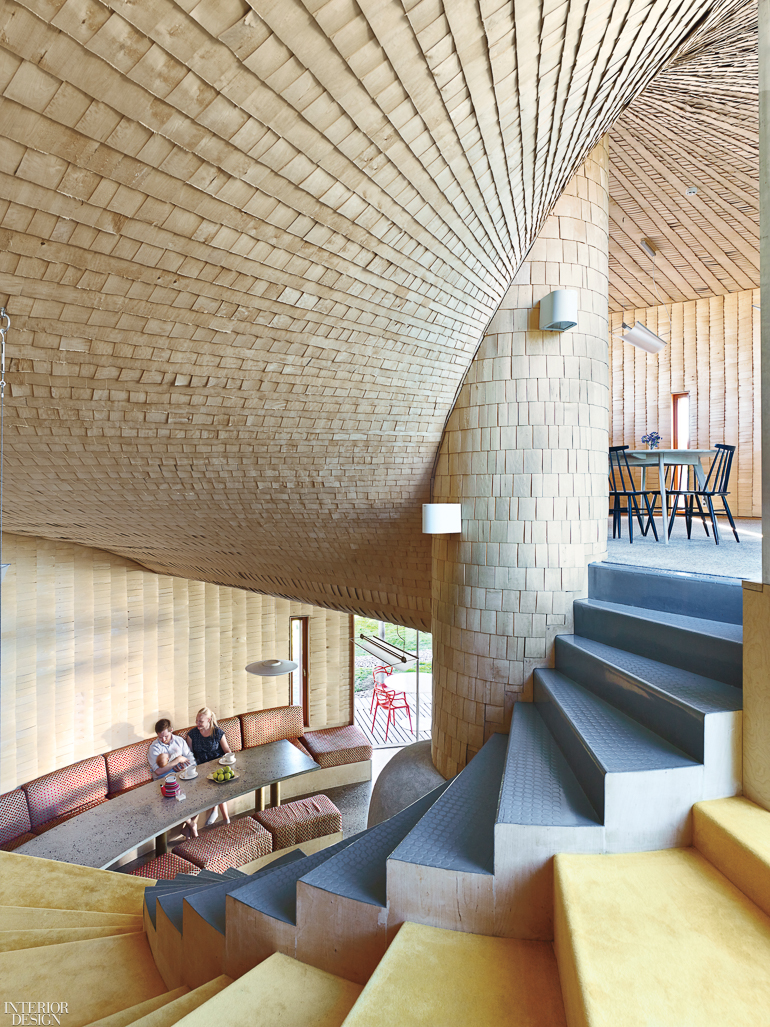 > See more from the Winter 2019 issue of Interior Design Homes