Four Chic Kitchen & Bath Designs
We open the door to some of the chicest residential kitchen & bath settings.
Firm: O'Neill Rose Architects
Location: New York
Standout: Isamu Noguchi-inspired skylights usher natural light into the brownstone's heart, where generous panels of Italian marble, its veining coordinated via AutoCAD, preside over the kitchen and its stained white-oak floor planks.
Firm: Richards Stanisich
Location: Sydney, Australia
Standout: The colors of Rick Amor's artwork hanging above the built-in banquette and custom table informed firm director Jonathan Richards's palette for his own kitchen, with painted plaster walls, oak-veneered cabinetry, and a quartzite backsplash.
Firm: Towodesign
Location: Shanghai
Standout: In the 520-square-foot apartment, flooring of glossy self-leveling concrete gives the sense of more space, while ample built-ins or "function boxes" in lacquered HDF or cherry veneer actually provide it.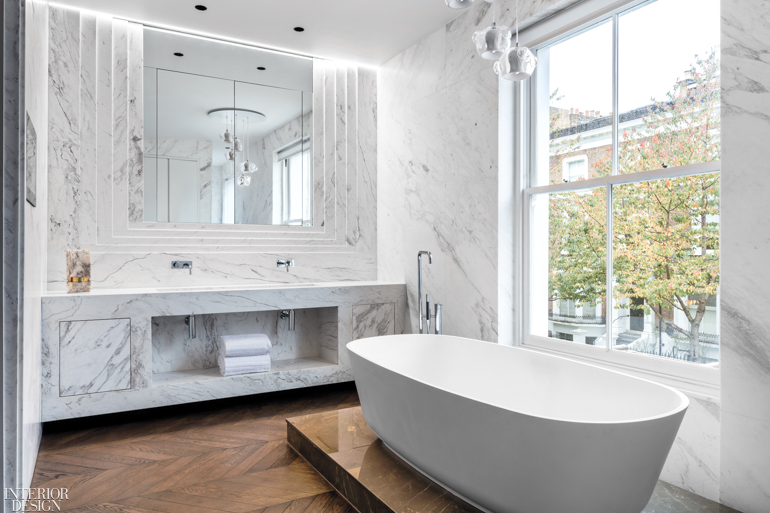 Firm: Alexander Purcell Rodrigues Design
Location: London
Standout: Dramatic stonework distinguishes the town house, from veined tawny, black, and white Italian and Spanish marble in bathrooms to the kitchen's Angola granite on the 13-foot-long island and around the ceiling boxes housing ventilation and lighting.
Keep scrolling to view more images of the projects >