Four Culture and Commerce Giants Defining Hudson Yards
Peruse a visual narrative of the culture and commerce giants defining Hudson Yards.
Firm: AvroKO
Project: Zodiac Room, 20 Hudson Yards
Standout: After shopping at Neiman Marcus, visitors can also eat there in style, immersed in a shapely environment of rounded apertures, circular screens of laser-cut brass, and an oval coffered ceiling.
"It's a study in new formalism—traditional materials in nontraditional forms."
Resources: Lucy Tupu: Rugs. Taffard Fabrics: Floral Wall Covering. Andrew Franz: Pendant Fixtures. Allied Maker: Sconces, Ceiling Fixtures. Stel­lar­ Works Through Design Within Reach: Chairs. Vitra: Armchairs. Goodshop Manufac­turies: Custom Tables, Custom Banquettes. Daniel DeMarco & Associates: Woodwork, Metalwork.
See more images of the Zodiac Room at the end of this article.
Firm: 5G Studio
Collaborative and Snarkitecture
Project: Forty Five Ten, 20 Hudson Yards
Standout: The New York debut of the Dallas-based department store channels the eclectic fashion it offers with such trompe l'oeils as a "fractured" glass-block storefront and a rocklike display of carved and painted high-density foam.
"The progressively smaller doorways reference Francesco Borromini's forced architectural perspectives."
Resources: Concrete Collaborative: Custom Cash Wrap. Atlas Concorde: Floor Tile. Bartco; Birchwood; Contech; Juniper; LF Illumination: LEDs. Sherwin-Williams Company: Paint. Friends x Family: Woodwork.
Project Team: Shawmut Design and Construction: General Contractor.
See more images of Forty Five Ten at the end of this article.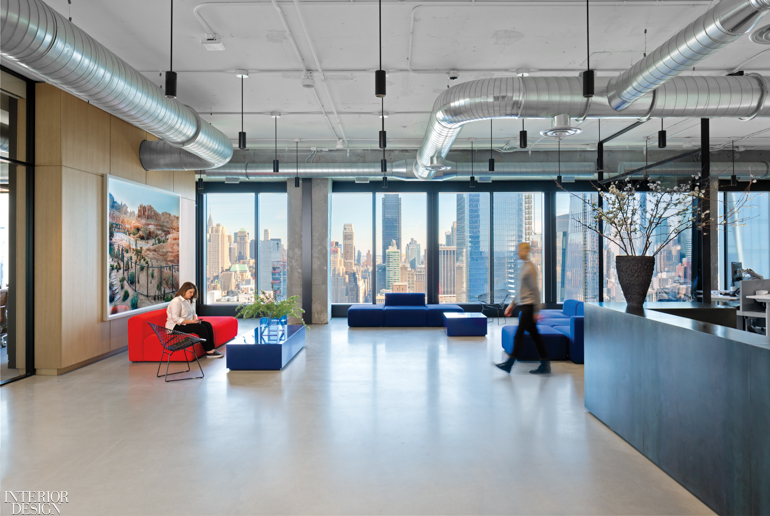 Firm: Studios Architecture
Project: Investment firm, 55 Hudson Yards
Standout: Art and finance merge in this 25,000-square-foot open plan via Sarah Morris's digitally printed mural, vibrant wool wall covering, primary colored sofa upholstery, and a Donald Judd-esque reception desk in hot-rolled steel.
"As one travels around the floor, the subtle changes transport you."
Resources: Herman Miller: Task Chairs. Stylex: Turquoise Ottomans. Fritz Hansen: Side Tables. Clarus: Whiteboard. Maharam: Wall Covering, Reception Sofa Fabric. Knoll: Desk, Black Reception Chairs. Vitra: Conference Chairs. Hay: Reception Sofas. Usai Lighting: Pendant Fixtures. Svend Nielsen: Custom Reception Desk, Custom Conference Room Table. Surface Solutions: Concrete Flooring. Armstrong; Lindner: Ceiling Systems. Adotta: Storefront System. Four Daughters Architectural Woodwork: Woodwork.
See more images of the investment firm at the end of this article.
Firm: Rockwell Group and Joyce Wang Studio
Project: Equinox Hotel, 33 Hudson Yards
Standout: Jaume Plensa's stainless-steel sculpture stands amid a Zenlike reflecting pool on the travertine restaurant terrace at the upscale gym giant's hospitality debut, a wellness-oriented establishment overlooking the Hudson River.
"It's a redefinition of the luxury hotel experience as a seamless extension of a high-performance lifestyle."
Resources: Minotti: Armchairs. Sutherland Furniture: Café Chairs. Menu: Table Lamps. Stellar Hearth Products: Fireplace.
Project Team: Ken Smith Workshop: Landscape Design. Skidmore, Owings & Merrill: Building Architect.
Keep scrolling to view more images of the projects >