Fritz Hansen and Jaime Hayon Unveil Their Newest Collaboration: the Fred™ Lounge Chair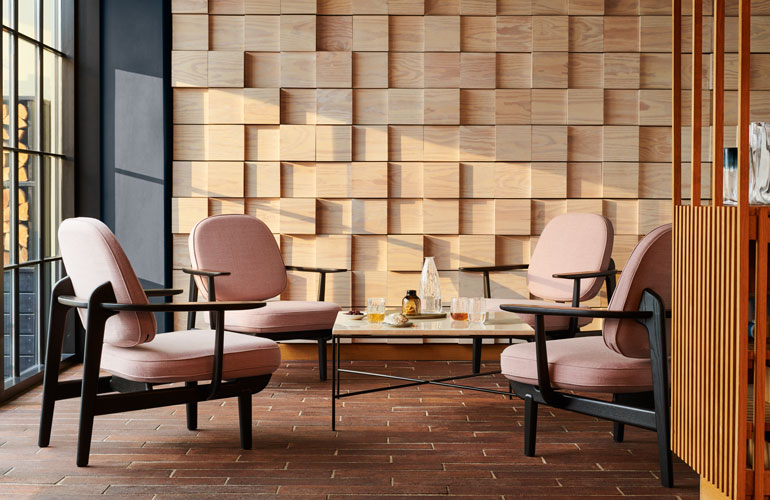 Designers often draw inspiration from nature, but it's less common for one animal—a bird so elegant and resourceful that it's instantly recognizable—to serve as a muse for an entire seating collection. The pelican, a stoic bird built to glide through air and water, is the architectural inspiration for Fritz Hansen's newest lounge chair—Fred™.
The Danish design firm, known for its unique, eco-friendly furnishings, created Fred™ in collaboration with designer, Jaime Hayon, crafting the chair to mimic the curved shape of the pelican's beak and body. Hayon, born in Spain, often blurs the lines between art and design in his work. The versatile chair melds Hayon's innovative creative vision with Fritz Hansen's legacy craftsmanship techniques, creating a one-of-a-kind piece. "We wanted to create a modern lounge chair that was light and sculptural in its expression; fusing Fritz Hansen's expertise with Jaime Hayon's sculptural design language," says Christian Andresen, head of design at Fritz Hansen.
The chair, initially introduced as JH97 earlier this year, took on the name Fred™ in advance of its in-store debut this fall. The Danish word means peaceful, which suits the elegant furnishing made for relaxing. The playful name aligns with other pieces designed by Hayon that carry Danish names, including Ro™, Fri™, Favn,™ and Plenum™.
Fred™ features a low, open silhouette with cushions that seem to float within the chair's airy skeleton. The sculpted frame is crafted from digitally-cut wood, certified by the Forest Stewardship Council, in four finishes: black painted ash, walnut stained oak, clear lacquered oak, and oiled oak. Designers can further customize the piece by choosing a range of upholstery textiles for the cushions, including deep green velvets, subtle neutral hues, and brown and black leathers.
"To be honest, I'm not really a traditional industrial designer. It's probably this—not being so industrial—which brings in something refreshing," Hayon tells Interior Design in a 2018 interview. Fred™ exemplifies this attitude, elevating commercial and residential interiors with its classic style and modern edge.