Garcia Tamjidi Architecture Design Takes on a California Brewery
There's a first time for everything. For Michael Garcia and Farid Tamjidi, co-principals of their eponymous studio Garcia Tamjidi Architecture Design based in San Francisco, it was a brewery. Specifically, Wondrous Brewing Company housed in an erstwhile warehouse in Emeryville, about 20 minutes away and near the University of California, Berkeley campus where the two met. "But we're problem solvers," begins Tamjidi. "We do a deep dive into research." As did their client, Wynn Whisenhunt, who realized his life-long ambition to become a brewmeister by studying the craft in Germany.
Actually, the architects faced two sets of problems. One entailed seismic upgrades and infrastructure for the 5,500-square-foot facility. That included replacing the concrete floor and enhancing it structurally to support the weight of the brewing tanks. The other, notes Garcia, "was learning about the entire process: from grinding grains to brewing, and then dealing with the spent grains." So, along these lines they planned the space to include rooms for those tanks, grain, barrels, and refrigeration as well as the brewery's public face, its tap room. This is just 700 square feet, and they opted to keep seating at 30, below the California code maximum of 49.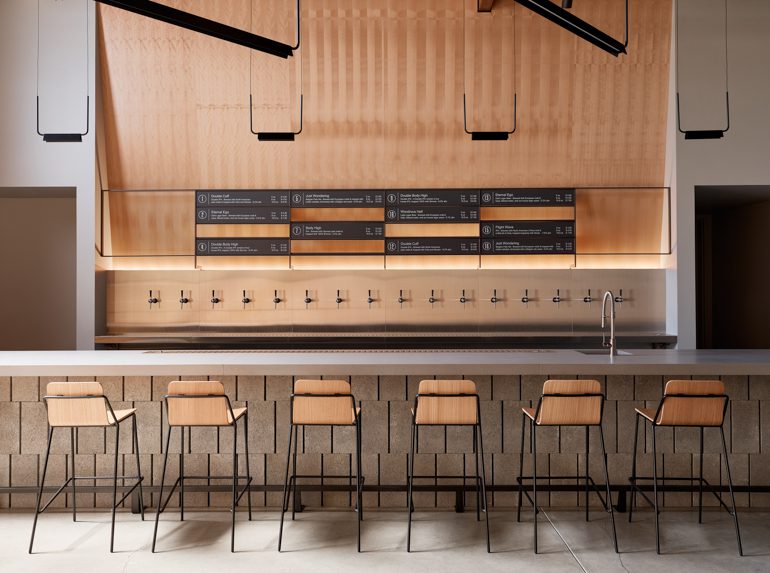 After much discussion, they determined that the public tasting room would embrace "a reductive approach designed to let the product shine," Tamjidi notes. "Spare, simple spaces like you might see in Japan." Adds Garcia, "We wanted to avoid anything that looked like a pub or bar."
Ergo, the palette is limited and strictly contemporary. Concrete, aside from flooring, is a solid slab for the bar's counter and dry-stacked units for its face. White birch plywood veneer clads walls and forms the bench seating. Steel is painted for the signage frame, and stainless for the custom trays. Meanwhile signage is cool and flexible, merely magnetic panels printed by a local to showcase the brewery's 16 (at current count) brands, many designated for retail outlets.
Sparse furnishings adhere to the aesthetic with M.A.D. plywood-seat stools and chairs and Blu Dot tables of powder-coated steel for indoor and outdoor use. Lighting was a careful consideration. By day, painted steel fixtures, oriented on the diagonal, illuminate most of the tap room while smaller versions light up the bar. Evening is another story. The room glows. Continuous LED's mounted behind the banquette and the tap wall make it happen. Maybe best of all, especially for beer lovers, is the signature lager. Who wouldn't want to try an adult beverage called Wondrous Hell?