Gensler Designs Spectacular Seoul Conference Center for Hyundai
After 20 varied projects, in a half dozen countries, over the last decade, Gensler design director and principal Philippe Paré and Hyundai Capital Services and Hyundai Card Co.'s superstar CEO, Ted Chung, have indisputably attained a meeting of minds. "Our relationship has evolved to where Mr. Chung is more patron than client. He presents a clear vision, then gives us free rein," Paré explains. Their first project was the Hyundai Capital America headquarters in Irvine, California. Their latest collaboration is a conference center at the Seoul headquarters of the South Korean financial giant, which handles everything from auto leasing to home mortgages and of course credit cards.
When Paré first saw the 6,250-square-foot double-height interior, it had the feel of a tired high-school auditorium, a vibe not exactly befitting the brand's futuristic aesthetic. His goal was therefore to take something prosaic and make it spectacular, doing that "via very few gestures," he says, to create "a highly experiential space with no boundaries." The inspired result—winner of one of Gensler's Design Excellence Awards for a small built project, a single space in a workplace setting—is part theater, part light-and-space installation in the James Turrell or Robert Irwin vein.

Enveloping the lofty oblong volume is an expanse of pristine white acoustical plaster that recalls the seamless backgrounds used in photo shoots. "It's a blank canvas that wouldn't overpower a speaker," Paré notes. Slim apertures in the plaster not only accommodate HVAC needs but also house recessed LEDs that conjure the effect of glowing arches, adding visual interest. Darker touches "with a certain rawness," he adds, act as a counterpoint to the white shell and establish spatial definition. Charcoal-gray needle-punched carpet, an industrial-grade floor covering more typically used for trade shows and airports, demarcates the audience zone—the super-affordable material taking on a surprising richness in this context. And sound-dampening gray felt, affixed with perfectly aligned brass buttons, sheathes the rear wall.
Related:
Hyundai Conference Center by Gensler: 2016 Best of Year Winner for Small Corporate Office
Gensler Masterminds 5 Projects for Hyundai
While the illusion of a raked floor elongates perspective to put emphasis on the front of the room, the stage itself is so minimalist as to seem almost an abstraction. In lieu of a traditional platform, glossy white epoxy floor paint simply replaces the carpet. He also eschewed a drop-down projection screen in favor of an integral feature: a recessed rectangle of wall framed by cove lighting. Beneath it, a slim strip of light delineates the floor and wall planes.

Chung had requested a space flexible enough to support many different kinds of functions. When it's in party mode for corporate events, round tables are arrayed on the carpeted expanse. Stacking chairs can be lined up behind long tables for staff training sessions. For company-wide meetings and guest speakers, those chairs form rows close to the stage. Behind them, benches roll out from their hiding place, a tall blackened-steel structure that runs almost the entire width of the back wall. Nicknamed the Machine, it's an impressive multitasker, housing audiovisual equipment and a small pantry in addition to the retractable seating. On top of the structure, a mezzanine hosts a state-of-the-art seminar space, a spooky-dramatic setting with black felt wall covering, dark-stained oak flooring, and edge-lit tiered seating.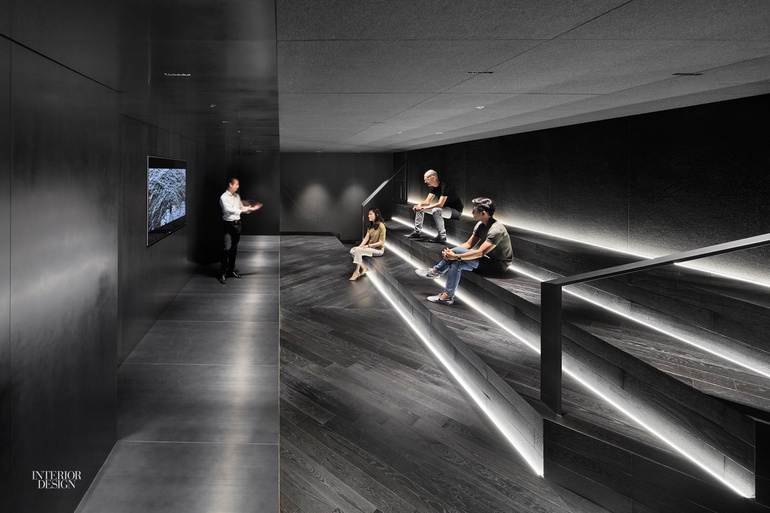 The pared-down palette of black, white, and light is entirely in keeping with the Hyundai brand, which Paré has interpreted so often and so well. In fact, his projects for the client are a significant part of the reason he won Gensler's Don Brinkmann Award, bestowed on an exemplary design talent and staff leader in memory of a firm vice president, a member of Interior Design's Hall of Fame.