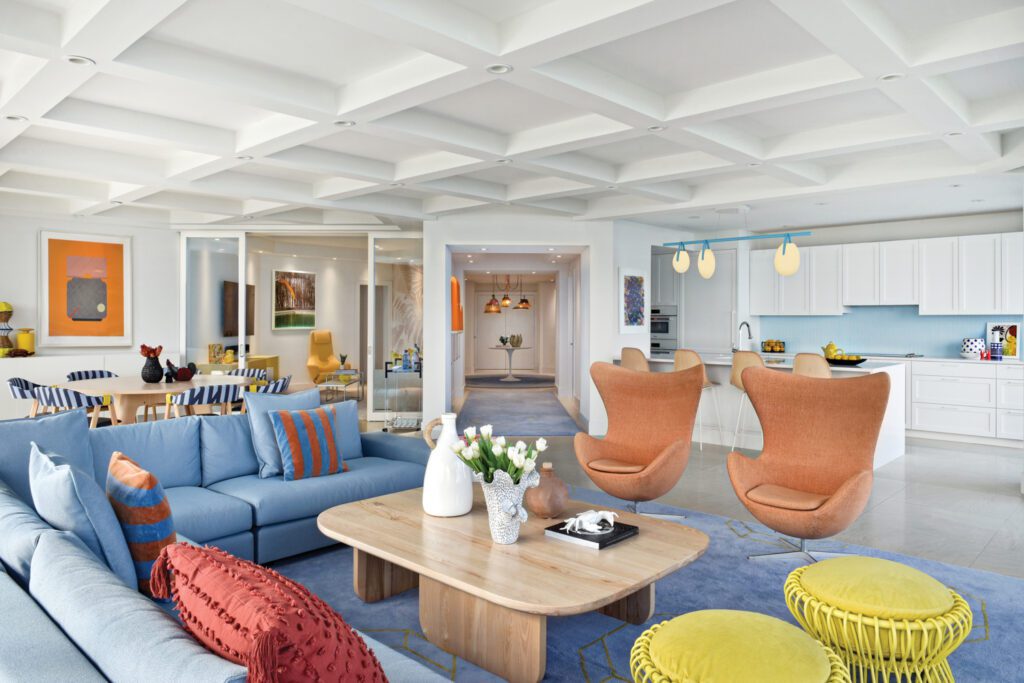 Ghislaine Viñas Creates a Calm Yet Vibrant Getaway in Palm Beach, Florida
With the constant drama of crashing waves right outside, creating a beachfront home that feels restful can prove surprisingly challenging. But New York–based interior designer Ghislaine Viñas ran with that sense of theater at this 3,900-square-foot ground-floor condo in Palm Beach, Florida, artfully drawing in the colors and movement of the water visible at every turn through floor-to-ceiling windows.
This is Viñas's second project for the clients, the first being their Manhattan apartment. (A third project is also underway.) The owners, a married couple with two teenagers, wanted a getaway where they could relax and spend time with relatives, many of whom live in the area. Because of their past collaboration, Viñas was able to nail the brief right out of the gate. "They wanted a feeling of joyfulness and relaxation—but in an energetic sort of way," the designer says. Comfort, she adds, was paramount. She also knows the clients to be modernists with an abiding love of midcentury furniture; the wife grew up with Arne Jacobsen Egg chairs, Eero Saarinen Womb chairs, and many other iconic pieces in her childhood home. And because this is a beach house, everything had to be easy to upkeep. "It's supposed to be a stress-free living environment—it's not supposed to be fussy!" Viñas says.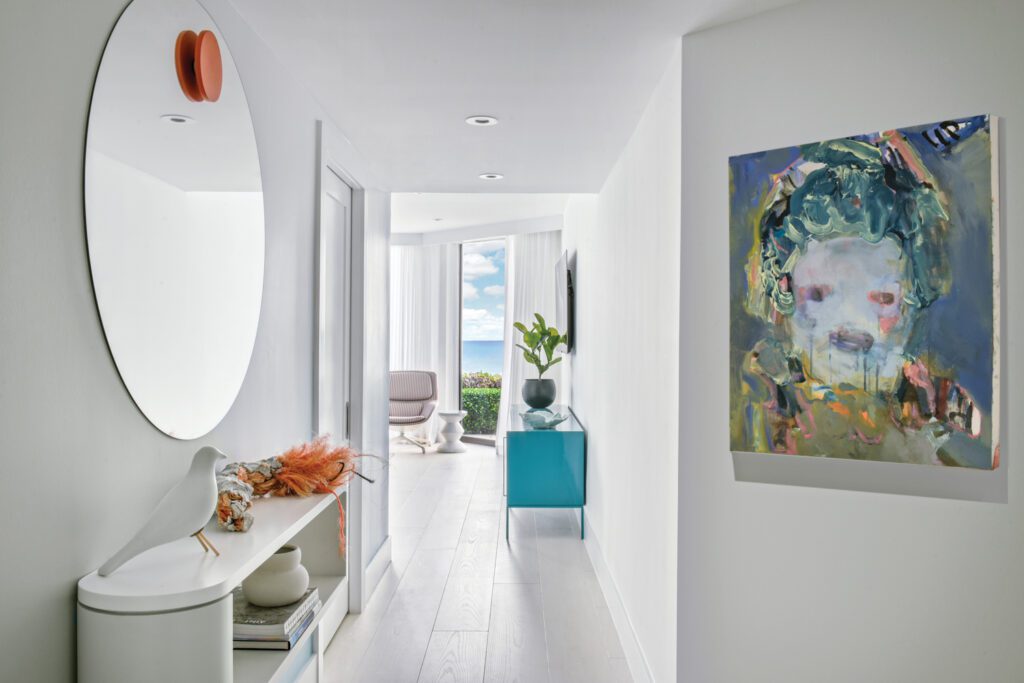 Although the living area's coffered ceiling was deemed worthy of preservation, one element original to the 1980s condominium that absolutely needed to go was the "hideous" dark-cherry woodwork in the kitchen and bathrooms, which felt very heavy and contrary to the open and airy atmosphere Viñas was aiming for: "We cleaned out everything and created a fresh, white, invigorating space." She left stonelike ceramic-tile floors in some rooms, including the living area, but specified white-ash planks for the three bedrooms and installed new baseboards and architectural lighting throughout. She also opened up the kitchen to the public areas and added an eating bar with high stools—perfect for breakfasting, lunching, and general hanging out. Shaker detailing on the cabinetry doors echoes the gridlike coffers overhead. "It's not a look-at-me kind of project, so the little details are important," Viñas explains.
As for the palette, the clean white base is spiked with serene oceanic blues, soft corals, and moments of terra-cotta, plus Viñas judiciously placed more intense accents throughout. The wife loves bold hues, especially when they jump from warm to cold tones. Viñas accomplished this chromatic sleight of hand by letting artwork and a few carefully chosen pieces do the heavy lifting. For example, the custom-colored yellow poufs in the living room and a series of hanging lamps in the octagonal entryway, the rainbow shades of which were woven using recycled soda bottles as a sort of armature.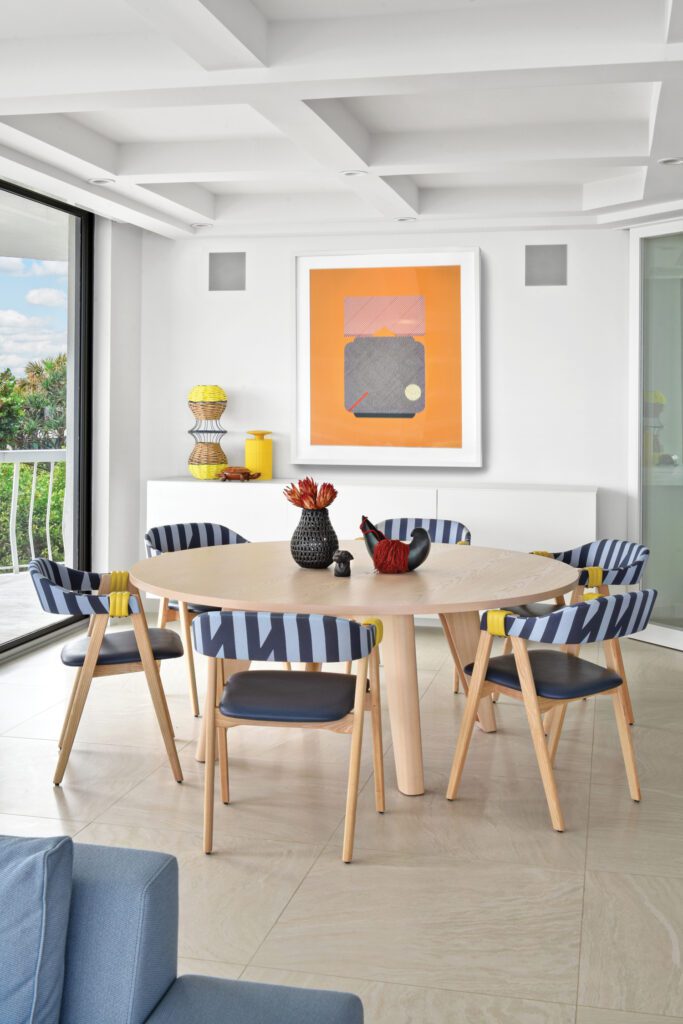 Just below that fixture, the classic Saarinen laminate-top pedestal table was a natural choice given the wife's love of the classics. It softens the room's hard edges, as do the round ombré rug and custom crescent-shape wall-mounted consoles. "The repetition of circular forms is very pleasing and relaxing," the designer observes. Ditto the pair of paintings by Ludwig Favre that Viñas describes as "other-worldly underwater-y": fantastical compositions of tropical leaves mixed with flashes of bright color.
Comfort was taken to what some might call an extreme: The clients asked to test-drive every chair and sofa before they agreed to live with it. (The Egg chairs, of course, didn't need to interview for the position.) Wherever possible, Viñas used performance fabrics for seating upholstery, many from her own line for HBF Textiles. The L-shape sectional in the living room—substantial and deep enough to provide plenty of room for family gatherings—is clad in her Sister Solid polyester-acrylic, while dining room chairs sport her Sir Stripe-a-lot Sunbrella.
In the middle of the apartment, Viñas created a cozy media room, which can be shut off with glass doors to provide privacy without skewing cavelike. Two walls are dressed in another of her designs, Wild Thing for Flavor Paper, a tropical-leaf motif that can, in certain colorways, be quite wild indeed. Here, though, Viñas specified a custom shade—a subdued sand—which allowed her to introduce riotous pattern without overwhelming the smallish space.
The primary bedroom started with the view; namely, "how the color of the ocean changes all the time as the sun hits it," Viñas reports. "And how, when the sun goes down, it transforms from green to blue in a really beautiful way." She pulled those hues into the carpet (Vestry Street, one of her designs for Aronson's) and lounge chairs (upholstered in a blue-and-coral stripe) and even the ombré walls, which transition from soft blue to white. "The room has a beautiful tranquil feeling," she says, stating the obvious.
Although everything is done with great subtlety, the overall effect is quite striking, a sophisticated yet unpretentious take on the prototypical beach house. "It is definitely the kind of place," she notes, "where, when you walk in, you say, 'Oh my gosh, I'm so glad I'm here; it makes me feel good.'"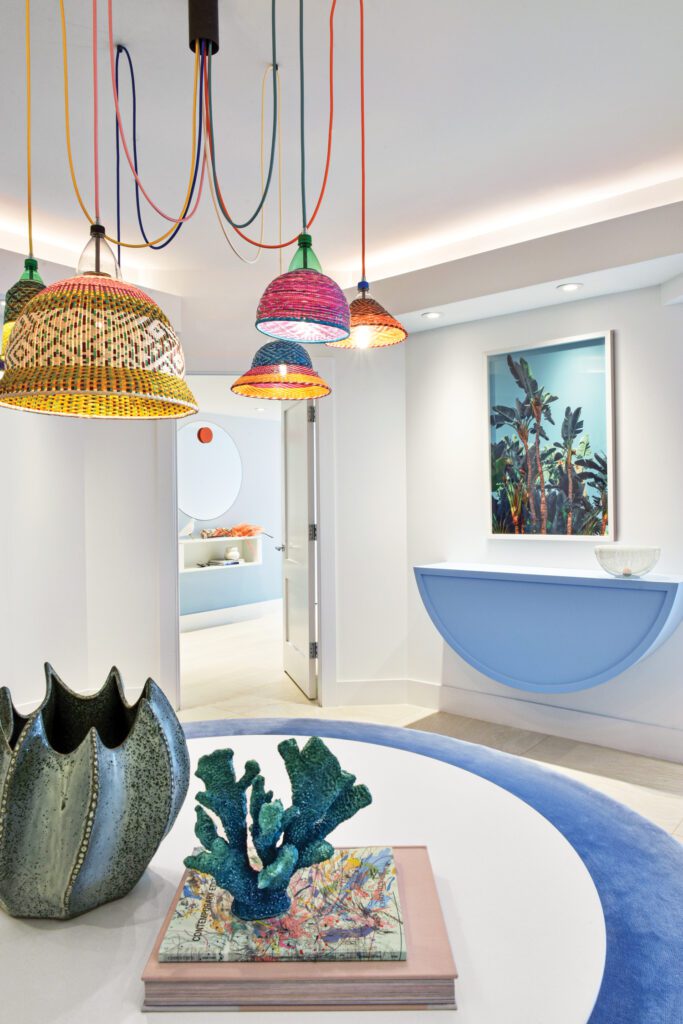 project Team
Product sources
THROUGHOUT