Gluckman Tang Architects Designs Artful Walter De Maria Pavilion in Bridgehampton
Most art lovers have to travel to see works by the minimalist Walter De Maria, best known for The Lightning Field, his site-specific installation in the New Mexico desert. Another trove of De Maria work is housed in Tadao Ando Architect & Associates's underground Chichu Art Museum on an island in Japan's Inland Sea. But Leonard and Louise Riggio have a gallery of De Marias right in their backyard in Bridgehampton, New York. The works, which the Riggios bought at Gagosian, the gallery that represents De Maria's estate, range from a series of pencil drawings to a black granite globe that's 9 feet in diameter and weighs 30 tons. To display the pieces, the couple envisioned a setting free of distractions—including work by other artists.
To design a building to house everything except the huge granite globe, the Riggios turned to Interior Design Hall of Fame member Richard Gluckman. Now at the helm of Gluckman Tang Architects, he is known for designing commercial galleries, including a New York location of Gagosian, as well as private spaces conceived around specific collections. He's been described as a "maker of precisely silent frames" by the critic Wilfried Wang, chair of the architecture department at the University of Texas at Austin. "We try to create the appropriate frame for the art that's going to occupy a space," Gluckman says. "We understand proportion, scale, light, and the way the visitor encounters the art object."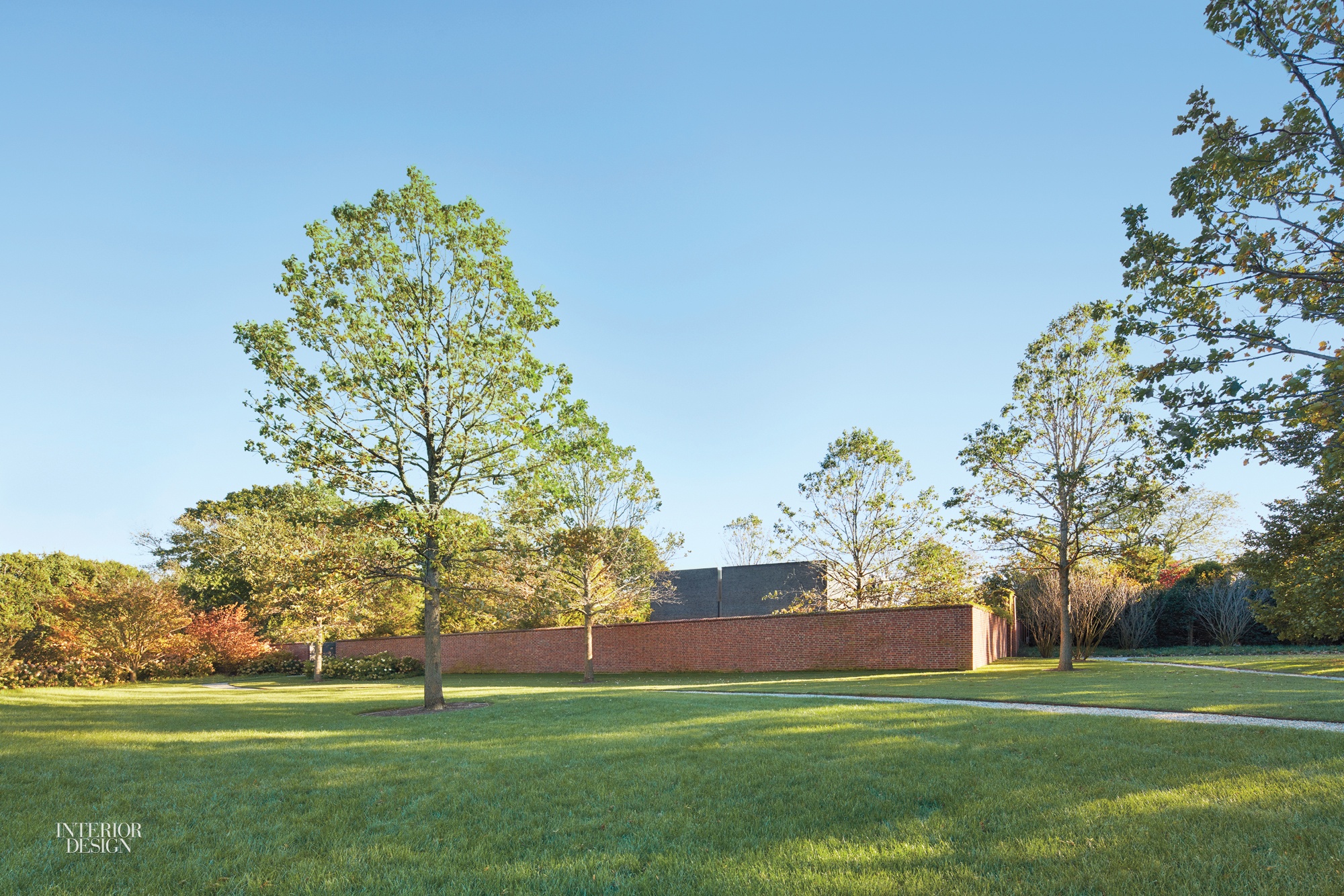 There are further reasons that he was the right architect to design a De Maria pavilion. In the 1970's, Gluckman worked with the Dia Art Foundation on two permanent installations by De Maria: The New York Earth Room, which contains 140 tons of soil, and nearby The Broken Kilometer, consisting of 500 polished brass rods each measuring 2 meters in length. Gluckman got to know the artist at that time and calls him "a lovely man, incredibly well read—everything from Popular Mechanics to the New Republic—who also had a wonderful perspective on architecture. He gave me a cocktail-napkin lecture about the beauty of a nine-square grid and suggested that I consider AstroTurf as an exterior finish on a building." (Gluckman reports he has used the grid, not the AstroTurf.)
He went on to design galleries for Dia, where Leonard Riggio, the founder, executive chairman, and CEO of Barnes & Noble Booksellers, served as chairman of the board. During Riggio's tenure, he and his wife decided to devote part of their Bridgehampton property to a Japanese garden featuring sculptures by Isamu Noguchi. Edwina von Gal + Co. designed the landscaping, and it was Edwina von Gal herself who suggested that the commission for a viewing pavilion go to Gluckman. His firm, then known as Gluckman Mayner Architects, conceived a simple structure of Alaskan yellow cedar.
Farther back from the main house than the Noguchi pavilion, in a corner of the 11-acre estate, century-old brick walls surrounded what had originally been a cutting garden, gone to seed in recent years. The Riggios told Gluckman that this would be the site for the De Maria pavilion. While the garden was replanted—it's now a lovely mélange of moss, ferns, and ginkgo trees—Gluckman and project architect Andrew Weigand designed the building. At 1,600 square feet, it's more than double the size of the Noguchi pavilion, yet kept relatively low to be respectful of the neighbors.
The newer pavilion is sheathed in narrow, irregular clinker brick, which Gluckman and Weigand opted to use conventionally on the front and back facades and to split open and use inside out, creating a nubby surface, on the sidewalls. For the interior, the architects returned to materials from the Noguchi pavilion, most notably Alaskan yellow cedar for the rafters that help support the De Maria pavilion's long skylight. Because the wood would be indoors, it was "weathered" for months under timed sprinklers at the carpenter's yard. Buff-colored concrete flooring from the Noguchi pavilion likewise reappears.
For the walls, Gluckman and Weigand went in an entirely different direction. They're concrete poured into formwork of Douglas fir boards measuring 18 feet by 4 inches. "What we noticed, looking at the De Marias, is that they almost all have highly polished, reflective surfaces," Weigand says. "The roughness of the concrete enhances that by providing a contrast." He and Gluckman believe De Maria would approve.
Project Team: Robert White; Augustine Savage: Gluckman Tang Architects. LaGuardia Design Group: Landscaping Consultant. Reg Hough Associates: Concrete Consultant. Arup: Lighting Consultant, Structural Engineer, MEP. Thomas Matthews Woodworking: Woodwork. Ruttura & Sons: Concrete Contractor. Wright & Co. Construction: General Contractor.