Google's New LA Office Takes Flight Thanks to Hangar Transformation by ZGF Architects
It was inevitable. Google, which we like to call the first stop for everything, would one day expand its presence in Los Angeles. When that time came, not just any venue would do.
The company alit at the hangar built in 1943 to house Hughes Aircraft Company's Spruce Goose. A virtually all-birch behemoth meant for transporting troops and warfare matériel, the enormous "flying boat" made but a single minute-long journey in 1947, as it turns out, with Howard Hughes himself at the helm. Intervening years saw the hangar host film sets for "Independence Day" and "Titanic." For a period, UCLA's department of architecture and urban design operated an incubator there. Then it was a derelict warehouse, despite being listed as significant in the California Register of Historical Resources.
Google and ZGF Architects had already worked together on six projects, but this would be the largest effort that either had ever undertaken in the realm of adaptive reuse. "The outcome was unknown when we embarked on the project," Google project executive R.G. Kahoe says.
"But we knew we could do something amazing,
a moon-shot idea, as well as being the correct stewards for the building."
It's certainly sui generis, rising to double peaks 73 feet high. Where the peaks descend to meet in the center is the spine, which is flanked by two bays. Historic status mandated keeping the spine and maintaining the integrity of the volume. Otherwise, ZGF principal Kristi Paulson and partner James Woolum had free rein to tame the beast, celebrating its grandeur and simultaneously creating human-scaled work and lounge spaces for Googlers.
"I'm fast at ideation, but this pushed me to the end," Paulson says. "We modeled multiple iterations, so there would be no surprises. For some areas, we went into VR."
The main move was clear from the start. Paulson and her team erected a building-within-a-building with three levels that bring total square footage to over 450,000. "It steps back from the perimeter and the spine to stand on its own yet interact with the existing architecture," she explains. As for that historic spine, all its Douglas fir paneling was removed, cataloged, and restored, then re-installed on a rebuilt fireproof structure.
Organizational strategy dedicates the new construction primarily to office areas. Micro-kitchens appear both here and inside the spine, the latter also housing the coffee bar and meeting rooms. Circulation between new and old sectors, crucial in a space this size, is anything but orthogonal. Bridges angle across, connecting the spine to the sides. Staircases weave through. And everything is daylit, thanks to new skylights.
Kahoe cites a "sense of discovery with the freedom to get lost." He's referring to unexpected encounters with small spaces that hark back to the heyday of flying. Woolum, who took charge of furnishings, chose Arne Jacobsen's turquoise Egg chairs and Eero Saarinen's white Pedestal table—standout pieces associated with the golden age of aviation—for a glamorous lounge, anchored by a fabulous plaid carpet. Think Emilio Pucci's uniforms for Braniff Airlines. Meanwhile, a cloud installation dominates a micro-kitchen, and wallpaper gives one of the meeting rooms its sky theme.
Other visual cues come from color coding. Each zone is designated by a subtle variation on the blue, red, yellow, and green from Google's logo—Woolum was careful not to over-brand. Way-finding devices, painted on the polished concrete floor, are quietly mandala-esque.
Commissioned artwork entered the picture midway through the three-and-a-half-year process, courtesy of Sean Madden of SPMDesign. He tapped a group of artists, most of them Angelenos, for original works in varying scales and mediums. Spanning three walls, a swirling, kinetic mural called Flight is a standout, no doubt, as is a black-and-white mural of vectors with three forced perspectives. Another composition derives from L.A. architecture and signage.
Moving from sight to smell, by the way, the aroma of coffee is pervasive—not just in the coffee bar and micro-kitchens but also emanating from the fully staffed cafeteria. Called 320 Café, it's immediately visible from the entry, at the top of a wide staircase with bleacher seating.
We leave you with two final words—make that buzzwords. Biophilia figured into the equation with plants in strategic places, flourishing in the abundant daylight. Then there's CAVU, pilot-speak for Ceiling and Visibility Unlimited.
Keep scrolling to view more images from this project >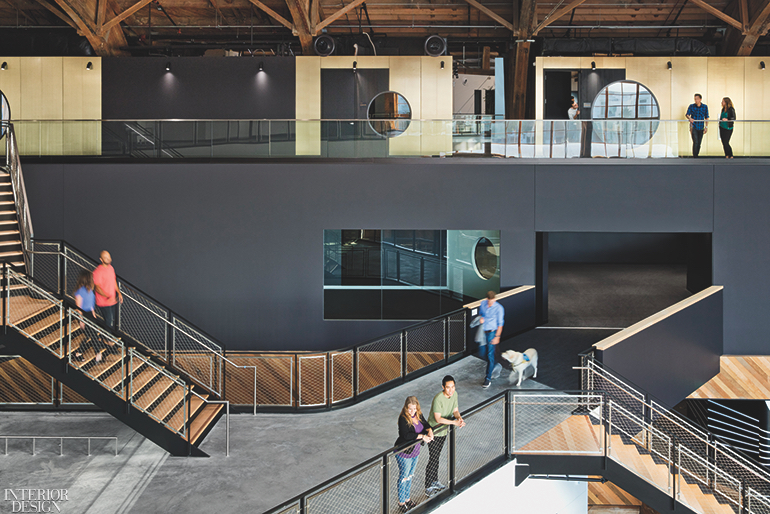 Project Team: Ted Hyman; Chris Conaway; Matthew Tribe; Hieu Phan; Claus Best; Chulho Woo; Amir Hamed; Sasan Norouzi; Binh Nguyen; Antony Tavlian; Buzz Poltorak; Jill Edel­Man; Jenny Apostol; Jerry Bryant; Jack Poulin; Anycia Lee; Tony Gonzalez; Sharon Turek; Giovanni Spreafico; Jesung Park; Sandra Duval; Kesha Shantiyeva; Brian Maguire: ZGF Architects. TLS Landscape Architecture: Landscaping Consultant. Volume: Custom Graphics. Arup: Lighting, Leed, Acoustical Consultant; Structural, MEP, Civil Engineer. GPA Consulting: Historic Preservation Consultant. Matt Construction Corporation: General Contractor.