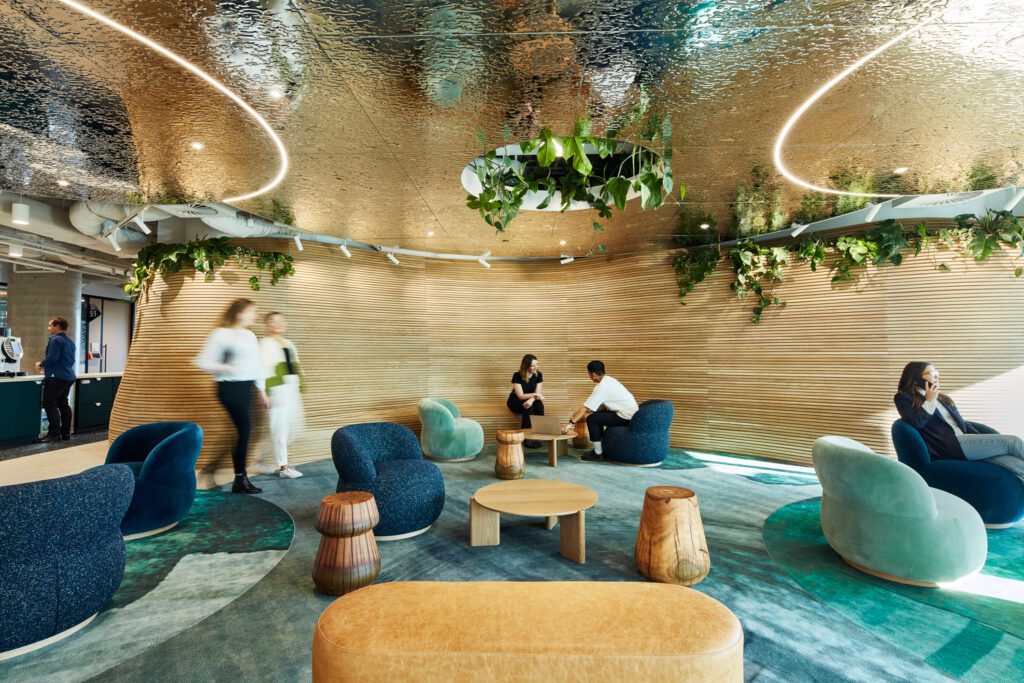 GroupGSA Draws on the Local Landscape to Create a Headquarters for Microsoft Australia
Employees at Microsoft Australia's new flagship in north Sydney are in for an adventure. Within some 100,000 square feet across seven levels of a tower at 1 Denison Street, the office designed by GroupGSA trades standard expanses of workstations and breakout areas for tributes to the country's iconic landscapes.
"The concept for each floor reflects Australian landmarks that imbue awe and wonder," says lead designer Jessica Margiotta. "As people walk in, we want them to be fully immersed in the brand and in the environment. There is a pleasant surprise every time you turn a corner."
A monolithic, curved staircase connects floors devoted to Western Australia's famed Wave Rock (Level 24) up to Victoria's 12 Apostles limestone stacks on (Level 29). "The stair's built-in LEDs can be programed to change color for themed events," notes project manager and principal Pablo Albani. "It can also react to weather conditions, so if there's a thunderstorm it can reflect what's happening in the environment."
Level 26 includes wayfinding cues inspired by the Blue Mountains, while timber floor linings and feature ceilings pay tribute to the traditional verandahs common in Australian architecture. Level 28's parametrically-designed timber wall—"a nod to the nearby Royal National Park," says Margiotta—organizes a variety of amenities including live streaming and gaming rooms, meditation and yoga spaces, parents and prayer rooms, and two nap suites.
"Unlike conventional workplaces where areas of work are automatically given away," says Albani, "you have to traverse different elements, like enclosed and semi-enclosed spaces, cave-like environments, and tunnels of greenery." Beats the average commute, any day.