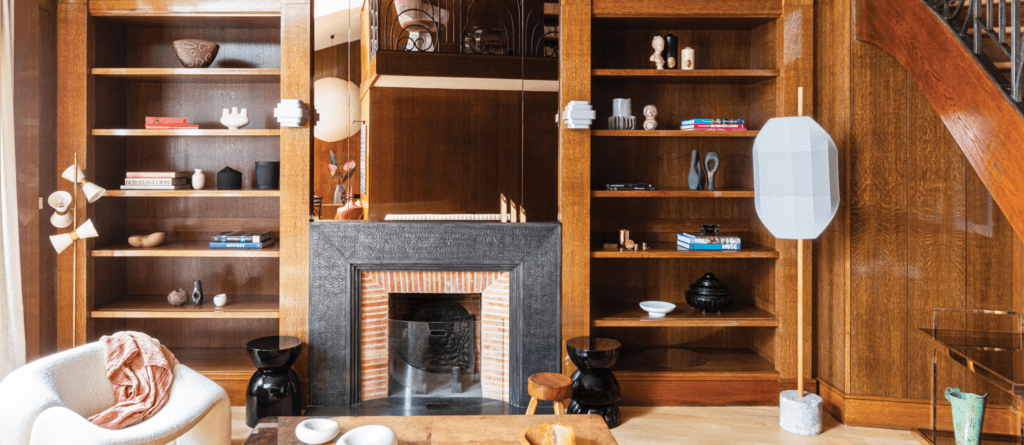 Hauvette & Madani Updates a 1980s Paris Apartment With Eclectic Accents
If there is one material the Parisian interior design duo Samantha Hauvette and Lucas Madani loves more than any other, it is wood. "Each time we do a new project, we always try to find a new type," Madani says. In recent times, they have developed a particular passion for stained, varnished maple. "It reminds us of walnut burl," Hauvette explains. Whatever the variety, they are mostly drawn to the interesting forms of the grain. "We don't use many colors or patterns in our work, and wood allows us to create interiors that sing," she adds.
Thus, in many ways, this 1,720-square-foot duplex apartment for repeat clients, a young family, in Paris's tony 16th arrondissement was something of a godsend. Located on the top two floors of a rather commonplace 1980s building, it was decorated by its original owners in a distinctly Art Deco style and clad almost entirely in oak paneling. The lower level is home to not only the public spaces but also two bedrooms and two bathrooms; up above is a reading space on a mezzanine and a parental suite that opens directly onto a 215-square-foot terrace.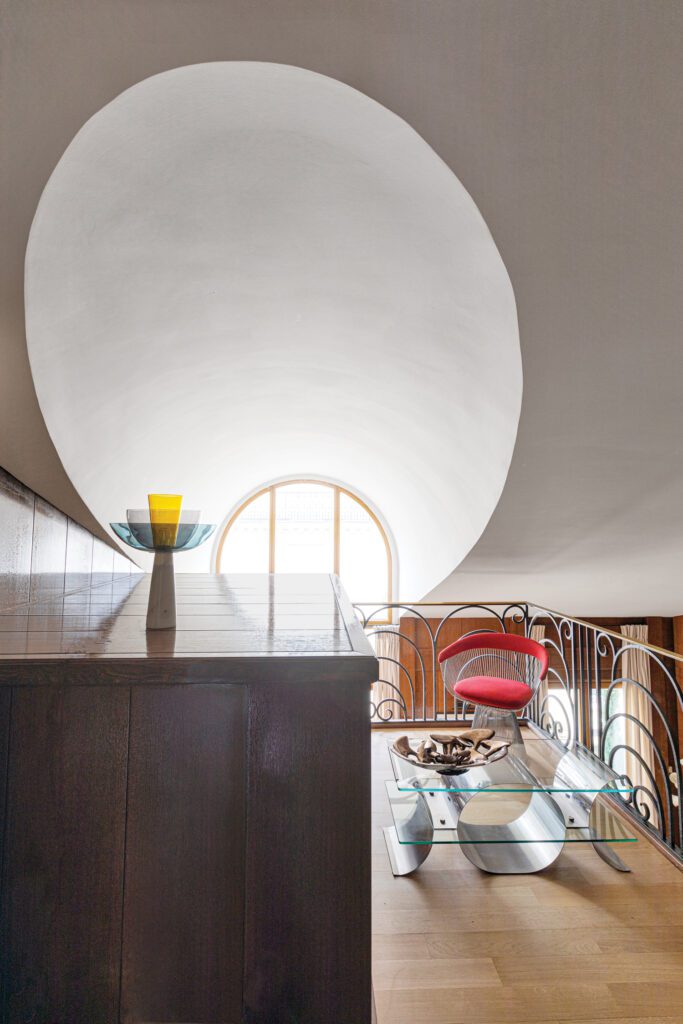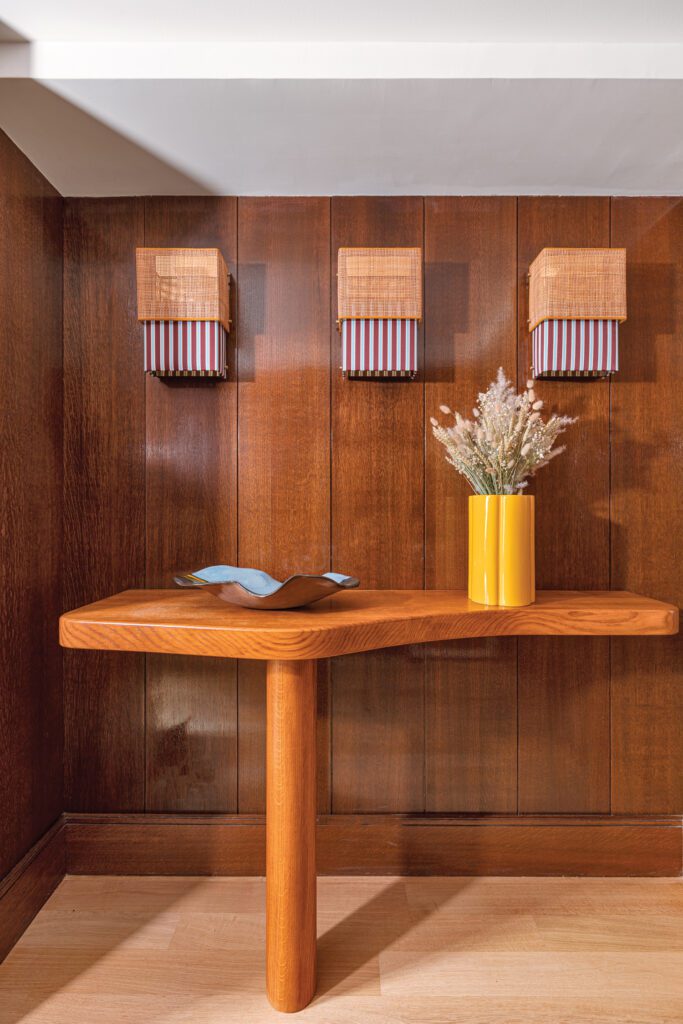 Over the decades, the wood veneer had lost something of its luster as well as its original color. "The apartment itself is very light and had been bleached by the sun over the course of nearly 40 years," Madani notes. For the designers, there was no discussion about whether the oak should be kept. Miraculously, they managed to salvage all of the panels, sanding and then staining them a dark chestnut hue. "We love to use wood in tones that are not so obvious," Hauvette asserts.
Due to their decision to maintain the paneling, few structural changes could be made. The pair simply removed a sliding partition between the dining room and kitchen. Most of the architectural elements also predate their intervention, whether it be the cursive brass staircase banister, the marble-and-brick fireplace, or the building's elevator shaft whose cubelike top pops up next to the mezzanine. Among the few modifications they made to the interior envelope are the trumeau mirror in the sitting room and a full makeover of the primary bathroom, with its new 1930s-style oak vanity.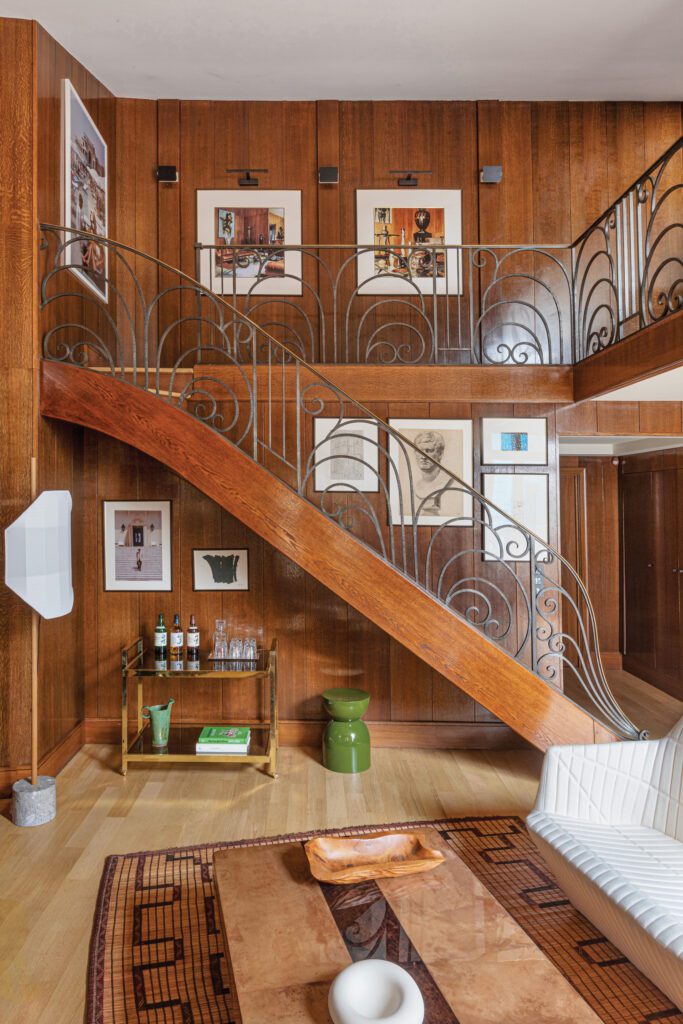 Rather fittingly, one of the duo's greatest design inspirations is Art Deco maestro Jean-Michel Frank. Others include the Grace Kelly and Bing Crosby movie High Society and the spirit of the Seventies. "We don't necessarily like objects in orange plastic," Madani points out. "It's more the approach to lifestyle and the freedom we associate with the decade." One designer whose work they were particularly keen to integrate was Pierre Paulin—an alumnus of the prestigious École Camondo in Paris, where Hauvette and Madani first met as students. They set up their eponymous practice in 2010 shortly after graduation. "We love the curves of Paulin's furniture and his irreverence," Madani enthuses. "He created forms that had never been seen before." Shapes that provide a perfect counterpoint to the more rigid, rectilinear nature of the apartment's shell.
The notion of contrast is inherent to Hauvette & Madani's work in general. One word that constantly crops up in conversation with them is équilibre—French for equilibrium. They achieve that balance partly by combining furniture from different eras—not an original concept per se, but they do so with particular flair, creating intriguing juxtapositions and dialogues between different pieces. "Sometimes we even take pieces that don't look so great solo, but they really come into their own once they're combined in the right way," Madani notes.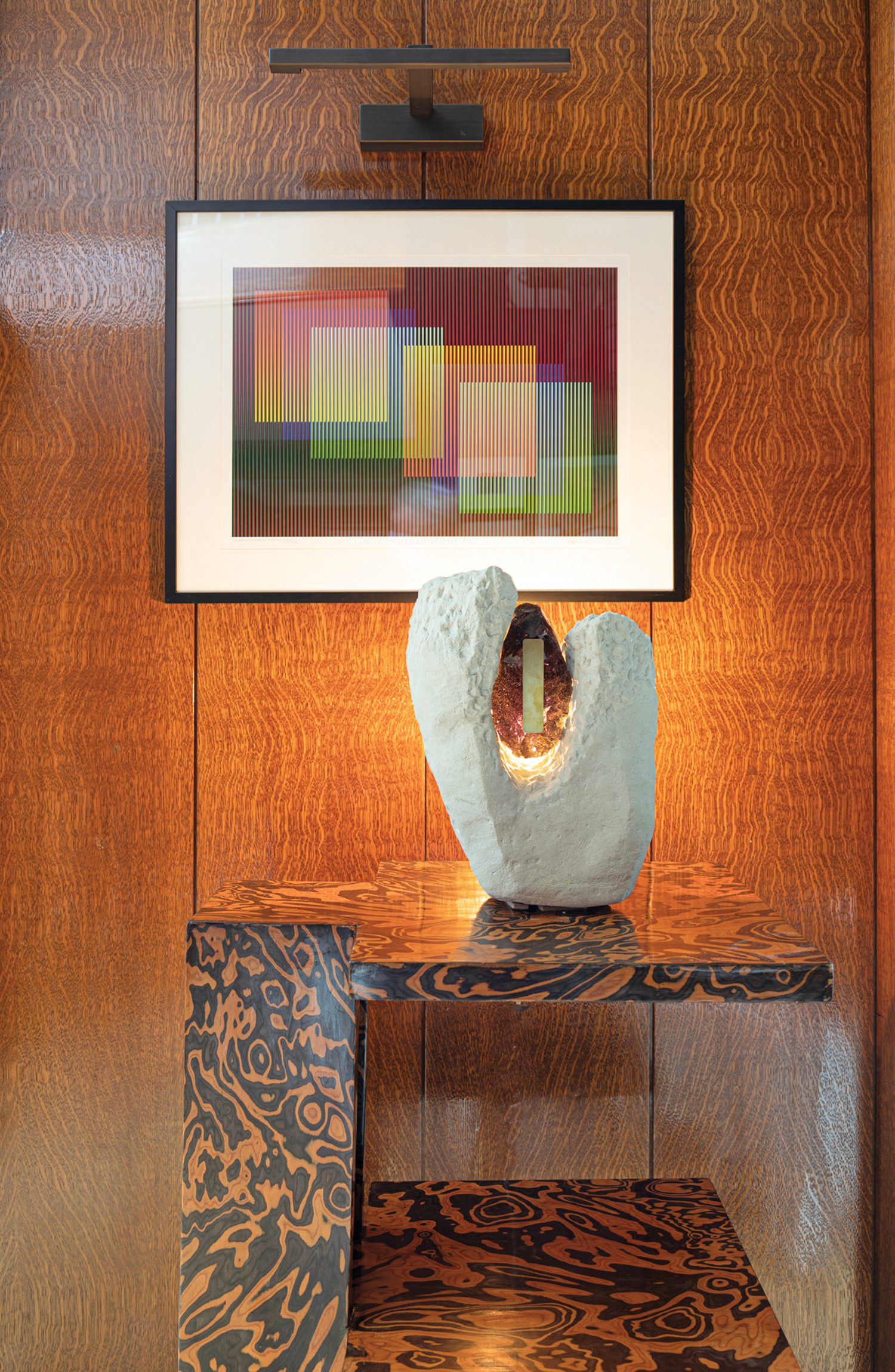 In the sitting room, a painted-wood vintage console by André Sornay converses with Ronan and Erwan Bouroullec's angular Facett sofa, while a parchment-clad '70s cocktail table by Aldo Tura sits on a traditional Mauritanian reed-and-leather rug. One of the apartment's most bravura gestures, meanwhile, is perhaps one of the simplest: the huge Isamu Noguchi paper pendant over the dining room table. "We tried lots of other things beforehand and they sort of just disappeared," Hauvette recalls. "We needed something that was both large and light in order not to weigh down the atmosphere. The wood paneling is already very present."
Pale tones throughout help to freshen things up further. A cool blue was chosen for the main bedroom. The décor in the small kitchen, a moodier tone of blue, was created in collaboration with the Parisian decorative painters Austin Redfield Tondini and Violette Bonis Dattner, who are famous for their custom patinated finishes. "There's something a little dated to their creations," Madani asserts. "They give the impression they've been there forever, which is exactly what we were looking for. We hate interiors that look spick-and-span, extremely new. Once we hand over the keys to each of our projects, the goal is for people to imagine, This is how things have always been."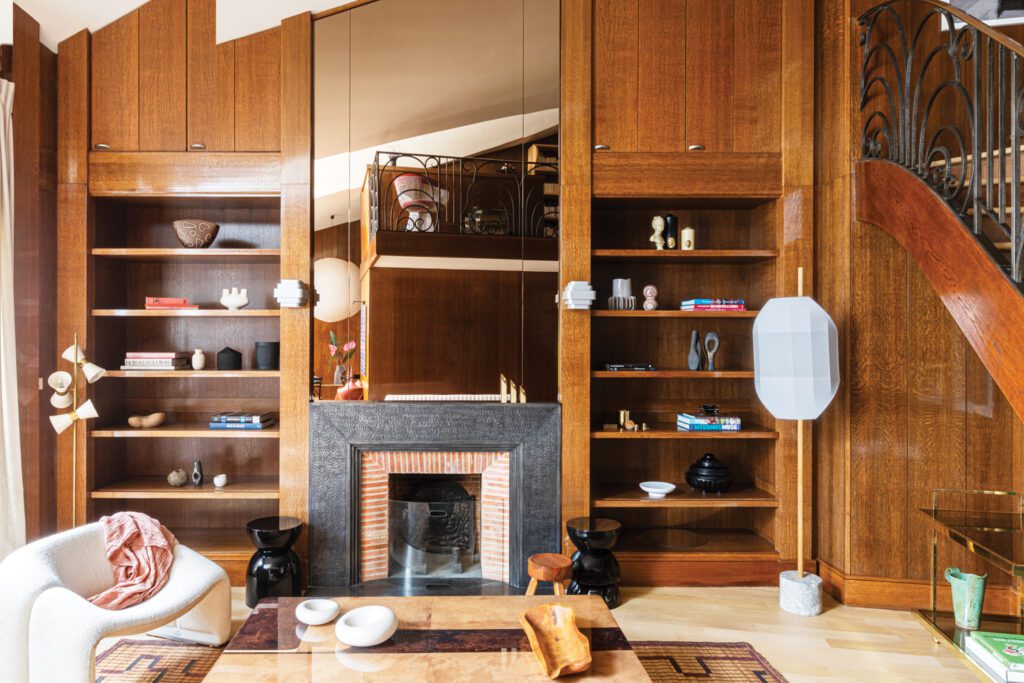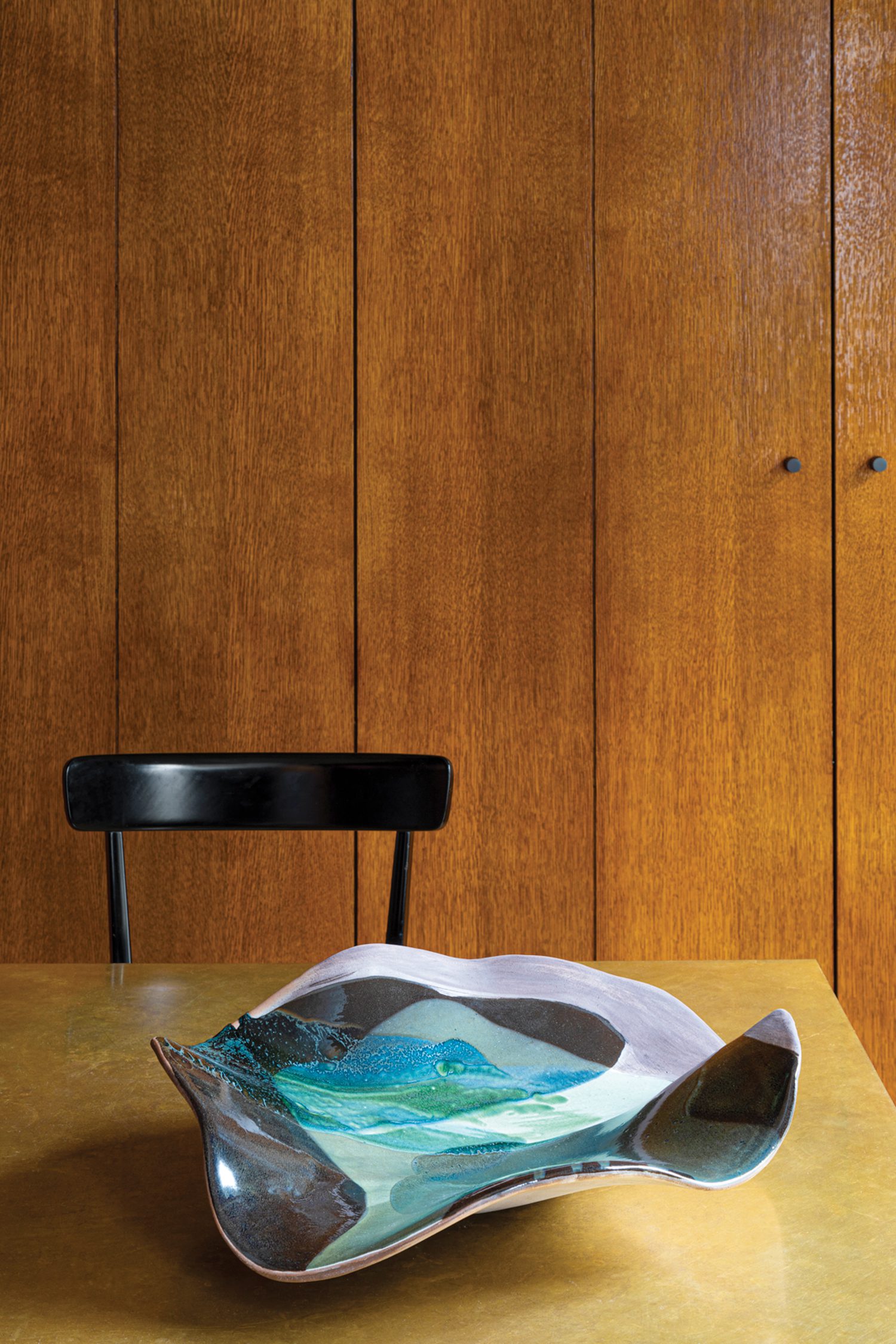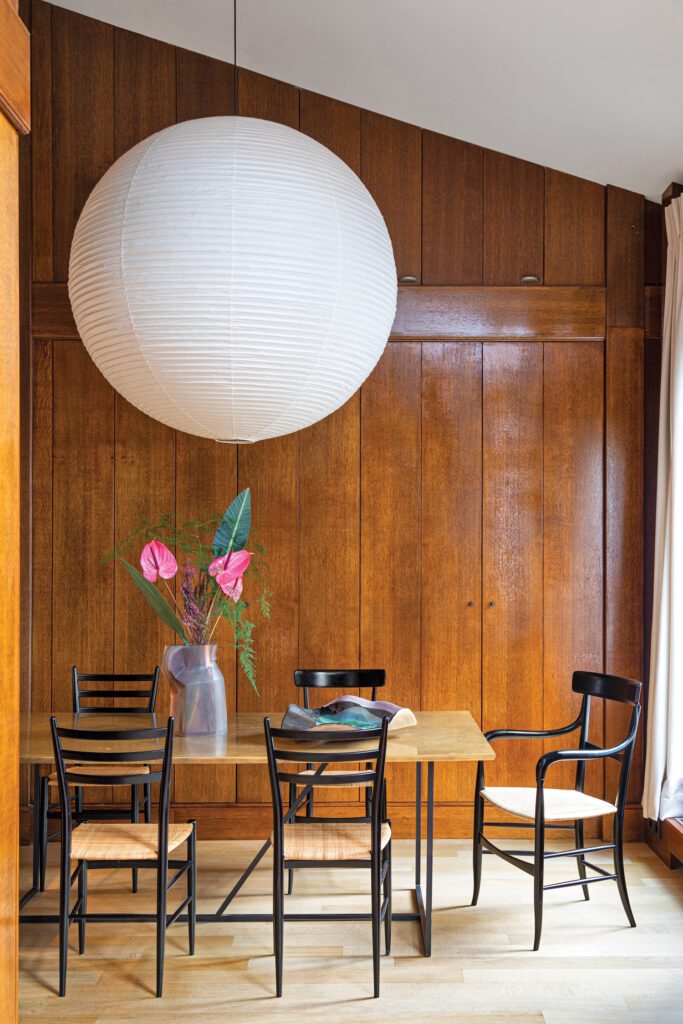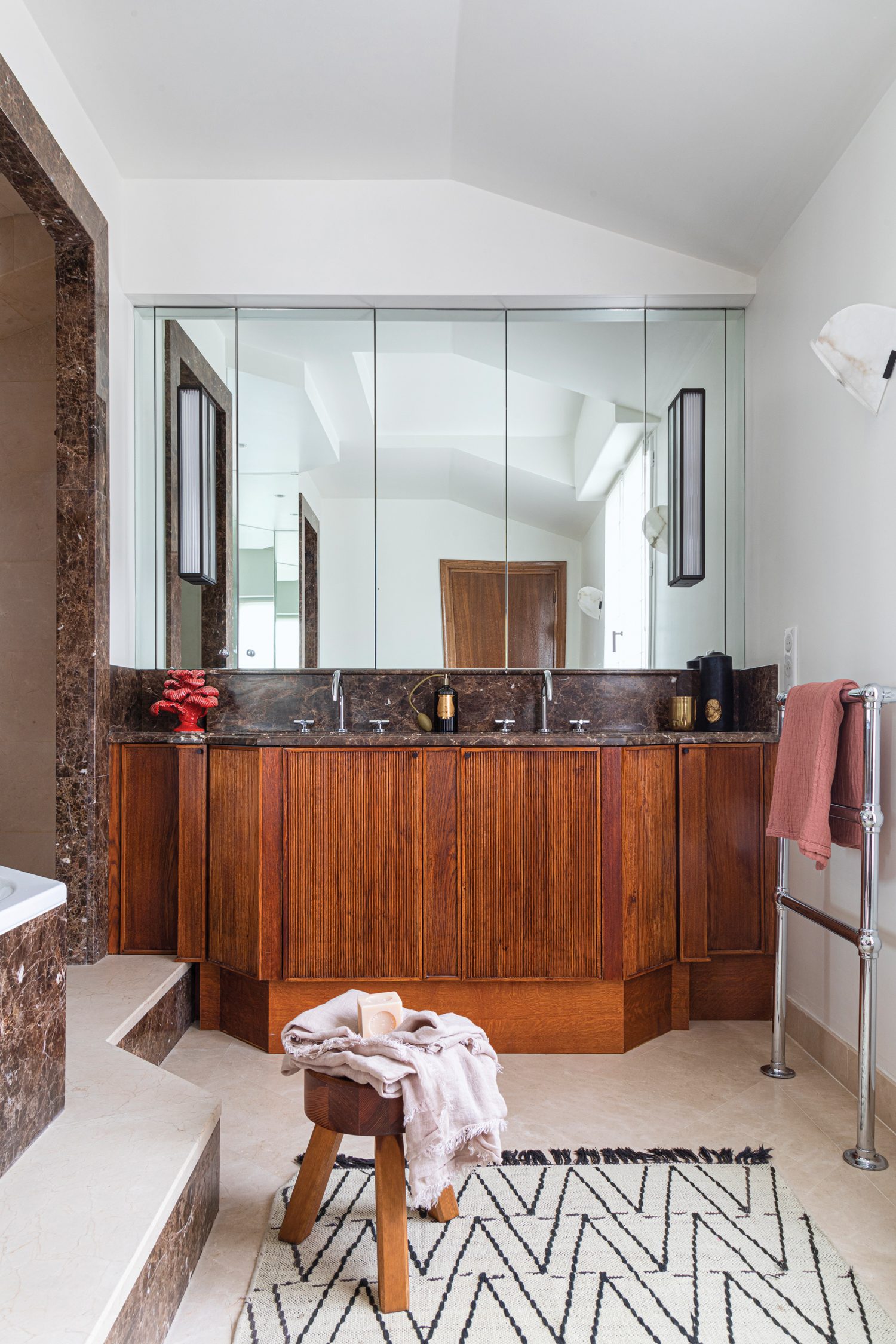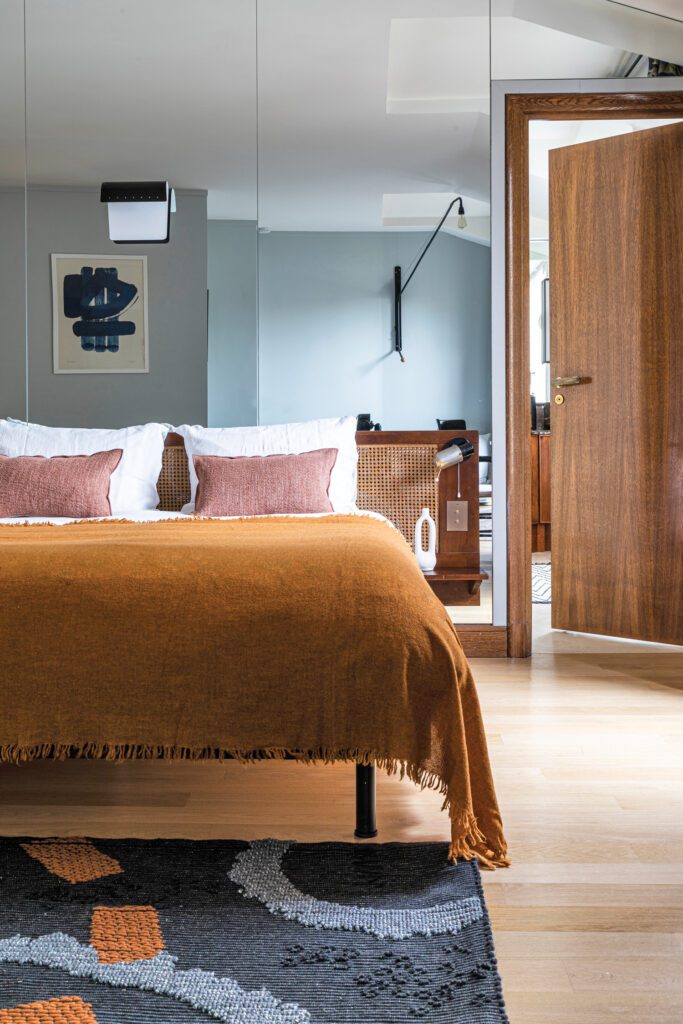 Product sources
Throughout