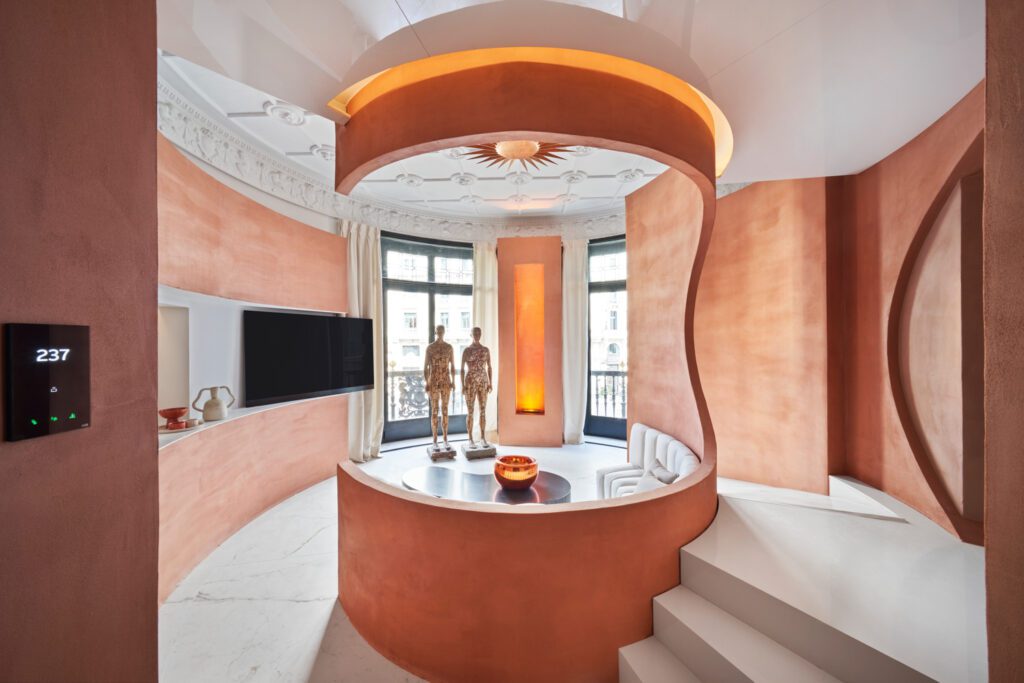 Héctor Ruiz-Velázquez Transforms a Treasured Madrid Building into the Niessen Smart Hotel
The regionalist-style gem Casa de Tomás Allende is one of the most treasured examples of Madrid's exuberant early 20th-century architecture. Completed in 1920 by architect Leonardo Rucabado, the building now celebrates its centennial with a futuristic space by architect Héctor Ruiz-Velázquez: the Niessen Smart Hotel.
A prototype unit tucked into a luxury apartment building, the space integrates a tremendous amount of tech—not to mention a kitchen, living space, spa bathroom, bed, and balcony—into a mere 322 square feet. Almost everything, from air conditioning to lighting to bathroom mirrors displaying health information and workout instructions, are controlled by the ABB Niessen interface. "We didn't want to use technology of the future and forget the past," says Ruiz-Velázquez, "so we used the first human technology: clay." Implemented as both structural and decorative material, the clay acts as an natural analog to the tech, regulating heat and humidity, while absorbing noise and odor.
And for the design itself, Ruiz-Velázquez conceived a series of portholes which act as visual and physical circulation throughout the various zones of the apartment. "It's a metaphor for our times," he says, "trapped in circumstances that project us to a better future." A moment, in other words, where less really is more.