HeyTea by Aan Architects: 2018 Best of Year Winner for Coffee/Tea
Simplicity and ingenuity are the key ingredients to HeyTea, a tranquil tea shop in the heart of the bustling Chinese city of Guangzhou. Principal designer Yan Junjie says he sought to generate a feeling of "cool and Zen that honors the heritage of traditional Chinese tea culture" by creating a sleek and bright environment, but one that encourages customer interaction with the surroundings—and each other.
Yan did so by fabricating an undulating, 33-foot-long communal table out of snow-white solid-surfacing. It runs the length of the 1,600-square-foot space, its peaks and troughs dividing customers seated on wooden stools into casual groups. A mirrored sidewall next to one end of the table gives the illusion of endlessly rising peaks, or "mounts beyond mounts," Yan notes. Overhead is a custom ceiling system of arched powder-coated aluminum panels, "the effect is like you're on a mountain with a view of the clouds," he says, referencing scenes in classical Chinese ink-and-wash paintings. Silver enters the palette at the bar, clad in gleaming stainless steel. Whether drinking tea alone or with new acquaintances, customers are steeped in contemporary design—with nods to the past.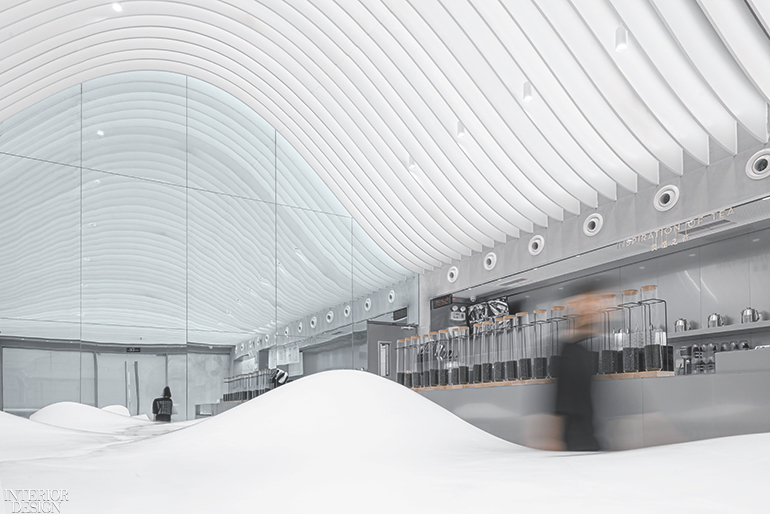 Project Team: Qin Keyan; Zheng Xiaoling; Yi Yuxing; Wen Yinghua; Du Heng; Zhou Xiaofang; Chen Zhiqing; Cheng Hanhan.
> See more Best of Year Project Winners from the December 2018 issue of Interior Design