Home Field Advantage: Chute Gerdeman Designs New York Giants/Jets Stadium's Official Retail Presence
Not one but two football teams, the Giants and the Jets, are based at EwingCole's aluminum-louvered New Meadowlands Stadium in East Rutherford, New Jersey. So Chute Gerdeman, which designed the venue's official retail presence, the Flagship Store Powered by Reebok, had to come up with displays that were easily convertible.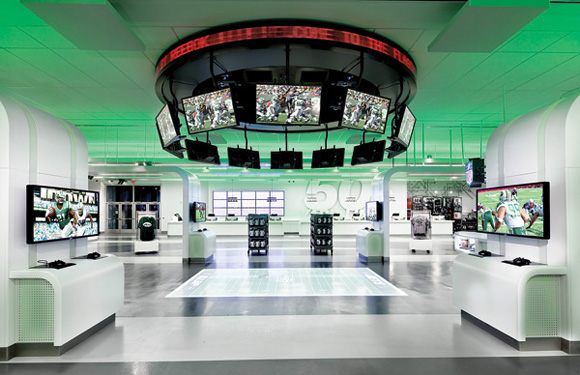 According to Chute Gerdeman president and chief creative director Brian Shafley, "They can completely switch teams in under three hours. It's a perfect example of the ability of design to meet unique challenges."
To wash the ceiling in either blue or green, depending on who's playing that day, Shafley concealed color-changing LEDs throughout the 9,600-square-foot store. Digital signage, including a video wall and floor projections, can be reprogrammed to feature the correct team logo and players in action. Panels revolve to reveal jerseys and jackets for either team. And a hat-display tower switches identity when mirrored panels on hinges flip to conceal or reveal different cubbies. (Never mind that the tower is always topped by a massive chrome takeoff on the Super Bowl trophy named for Vince Lombardi, who made his NFL coaching debut with the Giants.) What happens when both teams are away? They split the store at a figu­rative 50-yard line.