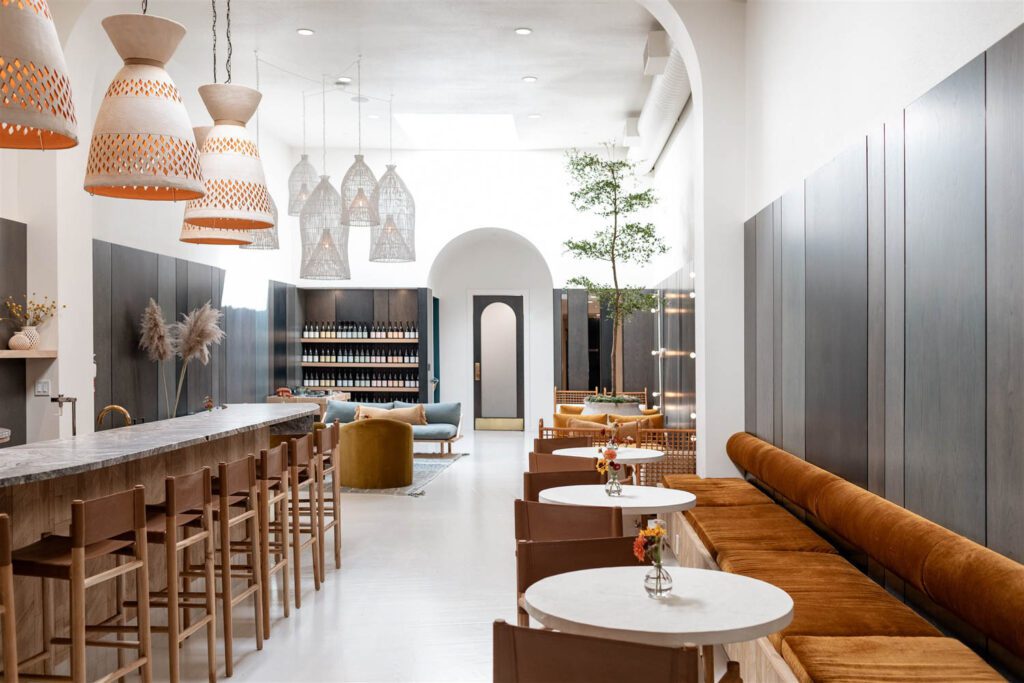 Hommeboys' Marine Layer Wines Hipifies Staid Sonoma County
The Hommeboys have put the word out on the streets of Sonoma: there's a new design culture in the County. Locally-based duo Austin Carrier and Alex Mutter-Rottmayer combined coastal and vineyard vernaculars to create a contemporary California style with a Healdsburg Plaza tasting room for Marine Layer Wines, a new producer of vineyard-designate pinot noirs and chardonnays.
The winemaker has amassed a small, devoted following of industry insiders and locals over the past year, who have embraced the upstart brand's artisanal, approachable wines. The Hommeboys captured that spirit by departing from the formal tasting rooms of the past. "We knew that we needed a place to gather and enjoy wine and life with friends," winery founder Baron Ziegler says.
As the original boxy space was very tall and long and lacked architectural features, Hommeboys wanted to incorporate unique elements and bring curves throughout the tasting room. There are four semi-arched columns that scoop up into the ceiling as guests walk in, centering a long barrel arch at the back of the space. The columns ground both the bar and bench seating in the middle of the space, with lounges at the front and back. Natural mixed oak tones for the bar and bench seating are coupled with the deep ocean blues, inspired by the surrounding coastal region, of the cobalt paneling that envelopes the space. Throughout myriad light fixtures accentuated by a collection of multi-sized Vietnamese fishing baskets hung at different heights to break up the expansive 16' ceilings. Above the bar are oversized sculptural ceramic light fixtures from an Oaxacan artist.  The two smaller lounges feature five-bulb cord-wrapped sconces from Cuff Studio. There is an element of surprise when guests walk into the restroom, with the three replicated deep barrel arch alcoves for the vanities. 
The residentially-minded Hommeboys set out to design a restroom that felt different yet connected to the main tasting space. Opting for an open washroom with private unisex stalls, vanities are in tiles with a rich and deep teal and dark graphite coloring—each unique tile creates a waterlike feeling throughout the bathroom floor. The walls feel just as special with a Rococo lime wash. Mixing into these two finishes is a slab of emerald quartzite for the vanity tops, contrasted with walnut cabinet panels and brass hardware.
"Commercial settings are great for us because they give us more freedom to be creative because the client doesn't have to live in the project so they're great for dipping toe in water and showing what we can do," Carrier says. "Plus, Baron gave us the freedom to flip fussy Healdsburg wine culture, which can be dark and boring, on its head," Mutter-Rottmayer adds.