Hong Designworks Combines Unexpected Colors and Sensibilities at a Xi'an Office
A very 21st-century workplace in Xi'an, China, has a decidedly European, early 20th–century influence. The 7,000-square-foot office belongs to an executive with multiple tech and e-commerce businesses—and a flair for the sophisticated and global. "The client loves collecting art and breaking stereotypes," Ming Dang says. So Dang, founder and chief designer of Hong Designworks, looked beyond the usual office design tropes for the project, which is part work space but also part innovation-collaboration center. His guiding light: Le Corbusier.
The Swiss architect also known as Charles-Édouard Jeanneret believed color was instrumental to orchestrating spatial effects. "Certain colours have the property of stimulating in a lively and dynamic way…others are exceptionally constructive, more 'human'," he wrote in 1925. Dang pulled from this theory, using color, some in shades rarely associated with workplace, as a central architectural element to differentiate zones and shape the emotional experience of those using the space, which ranges between 10 and 30 people from different companies on any given day. "I wanted to show the client's own personality in this design as well," adds Dang, who, like the executive, spent time studying abroad.
A palette of reds, pinks, and white—per Le Corbusier, "constructive" hues, which he considered to be naturally occurring shades used to create atmosphere—was chosen to create a multilayered, multifunctional environment that utilizes color to delineate spaces. White performs as the neutral base, deep red brings warmth and drama, and soft pink serves as a coordinating, transitional accent. The pastel was specifically selected, Dang explains, "to break everyone's perception of the traditional commercial office." He also incorporated curved forms and furnishings to produce a futuristic feeling. "Symbolizing the infinity of creative thinking, the rounded elements make the space more playful," Dang adds.
That this is no ordinary office is clear upon entering reception, where a swooping spiral desk is backed by a deep crimson curtain. Steps away, two cylindrical volumes that function as a waiting area and a reading room have interiors cloaked in brick-red carpet and wall covering. The hushed cocoonlike pods are meant to be calming, quiet, restorative. Their exteriors, however, are more animated, clad in acrylic screen-printed with an abstract fractal dot pattern that evokes the world of sci-tech, one of the key words guiding the overall concept, along with warmth, business, and nature. Creating this component was the biggest challenge for the Hong Designworks team, according to Dang. They had intended to use fabric, but the material was too soft to fit the curves of the surfaces. A similar pattern reappears in the ceiling above the conference room and private offices, but there it's applied to perforated aluminum panels that conceal ductwork.
A continuous and sinuous ceiling track of recessed LEDs outlines the different zones, serving as a circulation guide while accentuating the curved shapes and free-flowing vibe. The glowing trail leads back to the conference room, featuring a custom table done in a triangle shape so it won't block circulation during a meeting, or over to an open, elevated lounge space for collaborative work. At each area, color reinforces the transition: The conference room threshold is marked by a maroon archway, while a raised pale-rose platform
denotes the lounge. The latter color extends to the adjoining all-hands area, which has built-in bleacher seating to accommodate up to 30 people for presentations or events and also offers another casual spot for employees to work. "People feel more chilled and
comfortable there,"
Dang notes.
But even the workstations feel more
relaxed than what's typically found in
a tech company's open office. They're separated into pods: one with five fixed desks and a sofa, another with
a high-top table that can seat eight, and a third with lightweight moveable chairs and tables and a built-in curved banquette upholstered in millennial pink. Furniture here and throughout reflects the client's and Dang's penchant for the clean-lined and the contemporary, many of the pieces by Lievore Altherr Molina and Jean-Marie Massaud. Lighting is noteworthy, too, with Lee Broom's ethereal pendant fixtures glowing in reception and Arik Levy's unadorned conical forms hanging in a partner's office. The latter showcases a scarlet-red lightbox of a niche that Hong Designworks carved into the wall for displaying a beloved tea set.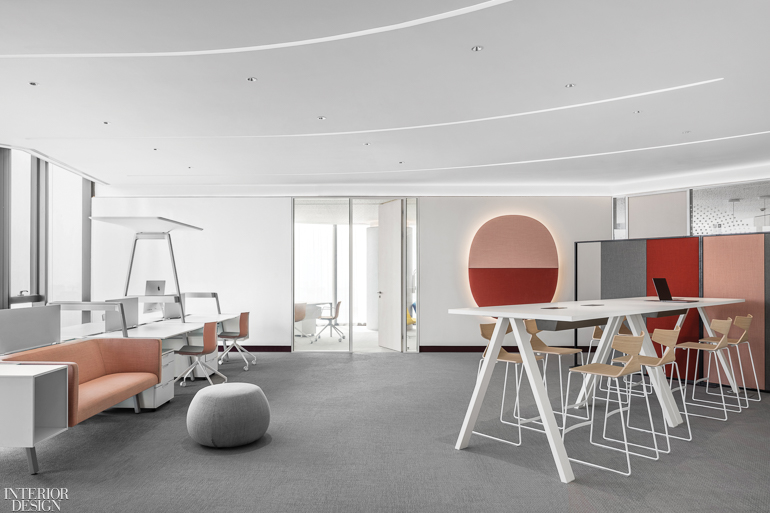 "This is an open, free, and artistic office space that enables the employees to find an appropriate working environment at any time," Dang concludes. And it's
the thoughtful application of color that achieves that flexible yet stimulating
atmosphere. Timeless, yet forward-thinking, the project embodies Le Corbusier's belief that color is the foundation of a harmonious interior.
Project Team:
Xu Xie; Qinge Ao; Qing Wang; Zhen Yan; Haichuan Wang: Hong Designworks. BPI: Lighting Consultant. SDCIC Construction Group Shares Co.: General Contractor.
Product Sources: Lee Broom: Pendant Fixtures (Reception, Waiting Area). La Cividina: Bench (Reading Room). Waldmann: Pendant Fixture (Conference Room). Arper: Chairs (Conference Room, Break-Out, Waiting Area, Open Office, Office), Tables (Break-Out, Waiting Area, Open Office, Office), Ottomans (Waiting Area, All-Hands, Lounge, Office), Sofa (Office). Milliken: Carpet (Waiting Area, Office). Shandong Hongtao Yichuang Technology Co: Wall Covering. Vibia: Pendant Fix­tures (Office), Recessed Lighting. Throughout: Bolon: Flooring, Column Surround. Kvadrat: Wall Covering, Curtain Fabric. Benjamin Moore & Co.; Dulux: Paint.