Hoshinoya Tokyo Spa Hotel by Rie Azuma Reinvents The Traditional Japanese Ryokan
Even travelers who love Tokyo's high-octane pace occasionally crave a serene retreat. Somewhere to kick off their shoes, relax in a cotton kimono, and take a dip in mineral-rich hot-spring waters. However, that traditional hotel experience used to be available only elsewhere—around Kyoto or deep in the countryside. Now, at last, there is a typically Japanese inn or ryokan, complete with a proper hot-spring spa, right in the middle of Tokyo. That's thanks to Hoshino Resorts, a company with roots stretching back to 1914, and Azuma Architect & Associates, which has designed four Hoshino properties.
Hoshinoya Tokyo is in the Otemachi district, the city's answer to Wall Street—wedged between the Imperial Palace and a forest of skyscrapers. The hotel occupies a tower, too, but one that is distinctly different from neighbors. It's smaller, just 18 stories high, and set back from the street, beyond a courtyard with an artful cluster of trees. The facade is furthermore wrapped in aluminum latticework baked in jet-black resin, and soft lighting from spotlights makes horizontal bands of the exterior glow. At one corner of the ground level is a soba noodle shop demarcated by the subtlest of signs. There's little to reveal the delights that lie within.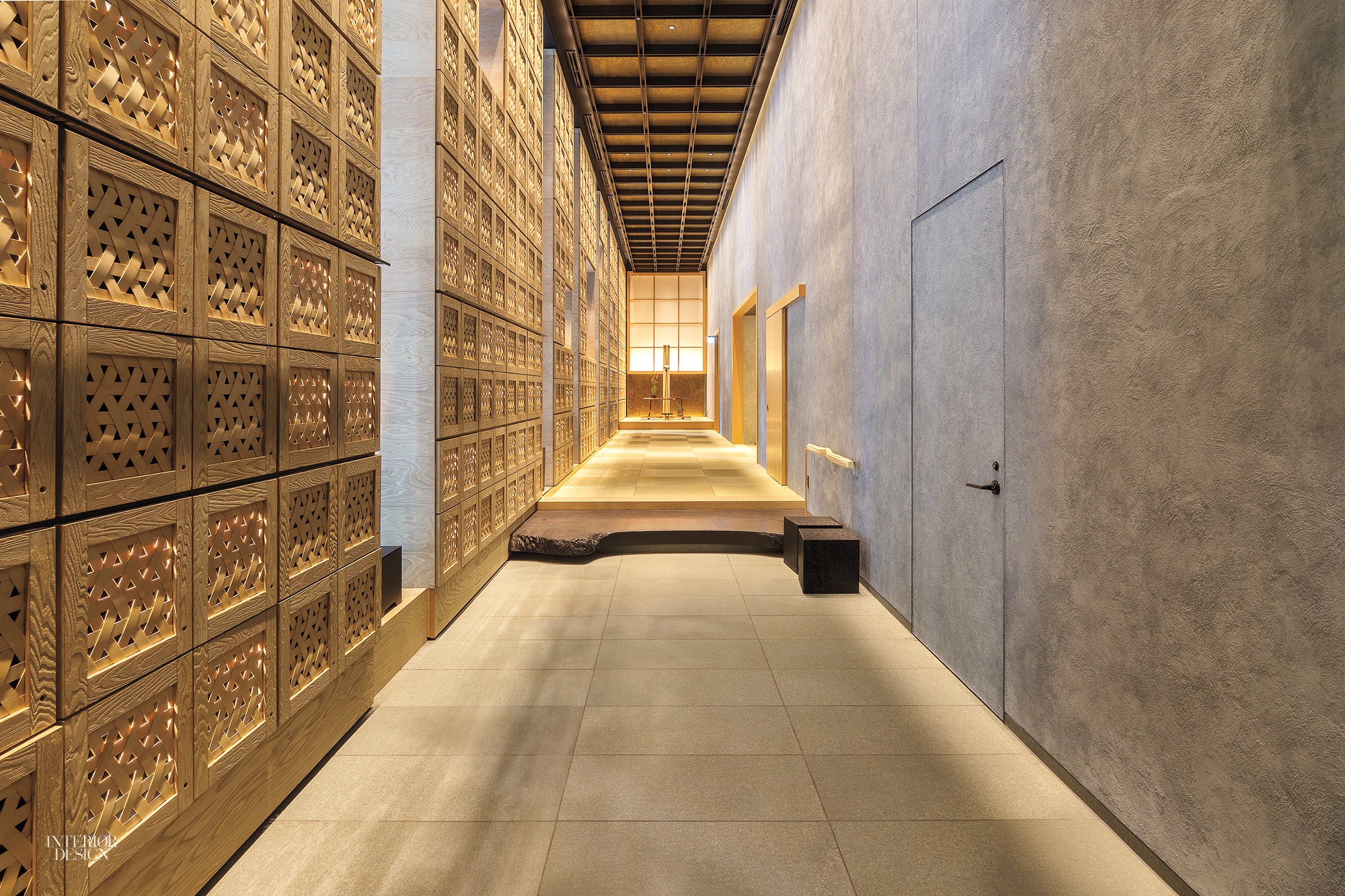 As soon as the hotel's tall door opens, however, and a doorman in traditional garb appears, guests know they are in for something special. Shoes are swiftly removed, just as they would be in a traditional ryokan, and placed in one of dozens of cubbies crafted from chestnut with doors of woven bamboo. Instead of carpet, there is tatami matting, distinctively fragrant and used in Japan for centuries. As guests are whisked upstairs, they are transported into a hushed world of hand-plastered walls and sliding shoji screens.
"We knew from the outset that we were going to design a traditional ryokan," Rie Azuma says. "We wondered why Tokyo didn't have a top one when Kyoto has several." Adapting an ancient format to the needs of the contemporary traveler presented its challenges, but Azuma succeeded by never straying too far from tradition, using the best indigenous materials. References to old Japan are integral to the design. The facade's latticework is shaped in a pattern popular on Edo-era kimonos. Guests arriving by taxi pull up to a subterranean entrance concealed behind a black hemp curtain, the kind typically used as a divider in Japanese shops. And the discreet hotel logo is modeled on noble family crests.

There are 84 guest rooms in total, six per level. Room furnishings are a clever hybrid of old and new, with shoji screens rather than curtains and bathrooms enclosed by clear glass that becomes opaque with the flip of a switch. Instead of the usual futon mattresses rolled on the floor, low beds look the part but have been built with Western standards of comfort in mind. Seating and tables were custom-designed with weight-distribution elements to avoid damaging the tatami matting.
Every level also features a lounge where Japanese sweets, freshly brewed green tea, sake, and plum wine are served. And the pièce de résistance is the penthouse spa, for which water is pumped up from the hot spring discovered beneath this site. Local granite lines the pool for bathing, and cypress panels the walls. To give a hint of the classic Japanese outdoor bath—the combination of hot water and fresh air that Japanese bathers love—a light well angles toward the sky.

Naturally, a hotel of this kind is a collaborative affair, with many specialists called in. An award-winning lighting consultant re-created the warmth of an old ryokan. A leading woodworking studio took charge of laying the extra-wide chestnut floorboards throughout, including in the restaurant—where the chef produces the lightest of French cooking with a Japanese twist. For sidewalls in the restaurant's vestibule, a master of plasterwork mixed plaster with compressed earth. The vestibule's Japanese granite feature wall was installed by the same company that used to supply Isamu Noguchi. Using natural materials was important to Azuma. "I like the randomness of nature, the different sizes and surfaces," she says. "If properly looked after, natural materials only get more beautiful with age."
In her 30-year career, Azuma has worked on a number of ryokans but none like this one. "I really hope people will be able to relax in the Japanese way. We'd love to show even Japanese people that tradition can work in contemporary life," she says. Consider the library, where tea ceremonies are held daily and musicians perform ancient court music on lutes and harps. Spotify playlists seem a universe away.
Project Team: Mitsubishi Jisho Sekkei; NTT Facilities: Architects of Record. Illumination of City Environment: Lighting Consultant. Takasago Thermal Engineering Co.: Mechanical Engineer. Yurtec Co.: Electrical Engineer. Saikyu Kogyo Co.: Plumbing Engineer. Toda Corporation: Structural Engineer, General Contractor. Hinoki Kogei: Woodwork. Izumiya Sekizai: Stonework.