How Craig Stanghetta's Theatrical Past Helped Him Design Projects in Vancouver
Interiors are all about "building a world and telling a story." So says Craig Stanghetta, who has made a second career of coming by these skills honestly: He trained as a theater actor and performed for years in film and TV before entering the Vancouver, Canada, hospitality scene as a designer and a restaurateur. In the past decade he's built Ste. Marie, his 14-person studio, into a powerhouse, shaping more than a half dozen of the city's most distinctive bars and eateries.
The firm's approach is to synthesize concept, identity, and human experience to create authentic spaces. Witness the 2015 restaurant Savio Volpe, which Stanghetta co-owns. Drawing on his Italian-Canadian heritage to establish a mood, pleated oak millwork meets banquettes upholstered in herringbone fabric that looks almost like it came from your Nonna's house. The crafts­manship and hints of family history carry on in newer food-related spaces, such as the Shaker-meets-Scandinavian concept for Flourist. Now Ste. Marie is taking that approach into larger, non-hospitality projects nearby and across the border in Washington State.
Interior Design: What did you carry with you from your acting career?
Craig Stanghetta: Growing up, I was interested in art and design, and the world-building aspect of the theater. When I got the chance to do a restaurant from the ground-up, Bao Bei, I took the same approach: to tell a story. It was a newer-generation interpretation of Chinese family dining traditions, rooted in an individual's personal experience—matchbooks from a restaurant where the owner had worked in London, for instance, or a floral wallpaper that speaks to her childhood memories and looks like it's always been there. I'm adamant about creating a personal narrative. Restaurants that are successful are the ones that people feel a connection to emotionally.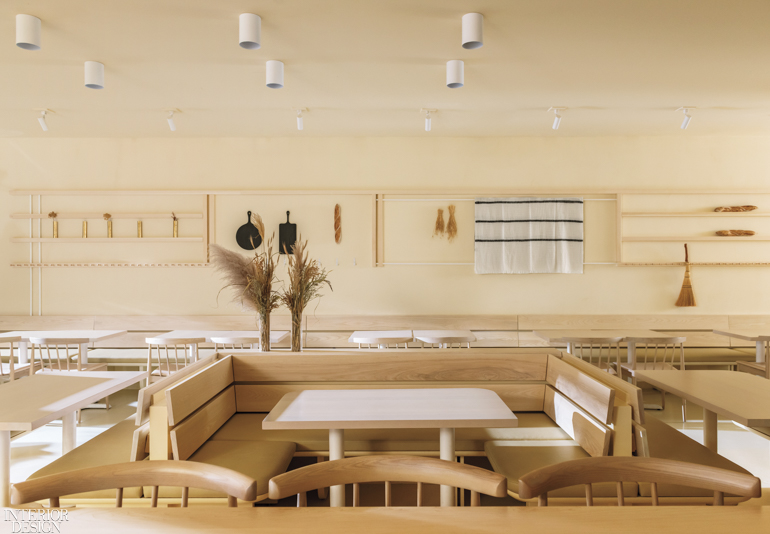 ID: How does that appear in newer projects like flour-retailer Flourist?
CS: Flourist is all about sourcing exceptional wheat that's processed in a stone mill right in Vancouver. The concept is really tethered to the prairies, and there are associations with a farm lifestyle embedded in that. So we installed a communal table at the front of the space. The palette is a unified wheatlike color expressed in pale maple, ash, and pine and vinyl upholstery. But the language is a bit abstracted. There are also Shaker and Scandinavian influences.
ID: The racks on the wall seem to be somewhere between functional and ornamental.
CS: Yes, people use them to hang their coats, but there's also space for display. We're trying to celebrate the idea of making things and that something as simple as a broom can be as beautiful as the art on the wall.
ID: Does Jaybird yoga studio push toward a different kind of beauty?
CS: Yes. There's a big trend in health and wellness that's about self-presentation. But the Jaybird owner is looking to defy that. So our space is not all light and airy, rainbows, and butterflies. There are no mirrors, the palette is dark, and the studio itself is almost completely dark. Some of the materials are oak plywood, granite, and honed travertine. Flooring is recycled cork that visually has a strong feeling of movement to it. It can be laid so the seams are almost invisible, creating a randomized pattern. Cork is unexpected in this context. It helps send the message: This is not like the 10 other yoga studios you've seen. If you want this particular experience, we're here for you.
ID: You just finished the office for real estate developer Onni. How was that experience?
CS: We treated it a lot like we would a restaurant, with booth seating and interesting lighting. There's a lot of dark ash veneer, marble, and terrazzo. The setting has helped galvanize the staff to hang out together, since the design feels like it wasn't just an afterthought. The unwritten message is that Onni is a company that cares about quality.
ID: You're working on a mixed-use project in Bellevue, Washington. How do you translate your storytelling approach into large commissions?
CS: We're actually focusing a lot of our energy on mixed-use projects these days, ones with residential, office, hotel, and food, beverage, and amenity spaces. The scale is completely different. For Bellevue, which is composed of three towers containing a hotel, offices, and apartments, we're one of the lead consultants, helping with positioning and programming, and then creating a brief for the rest of the consultants to help fill in the narrative with landscape, wayfinding, and architecture. It's a big site, so we need to have a lot of story points and root them in something. For public spaces, one reference is to the curious architecture and soft tonality of the contemporary Pacific Northwest cabin. There also used to be an old cinema on the site, so our design includes a minimal neon sign that cuts through the hotel lobby. We're layering in those types of notions, in ways that aren't obvious. But we know they're there.
Up next: Kinzo Maximizes Space for Publishing House Suhrkamp Verlag's New Headquarters