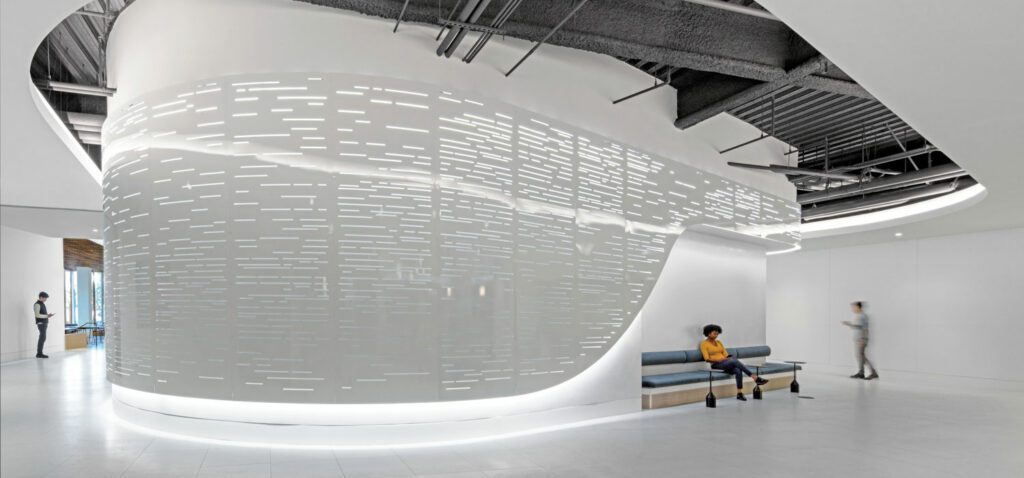 Huntsman, Pfau Long, RMW, and SHoP Deliver a Five-Star Campus for Uber Headquarters in San Francisco
It's been 12 years since Uber disrupted the transportation system with its ride-hailing technology that's now ubiquitous. Today, the company proves itself another disruptor, this time in workplace architecture and design. Uber's new San Francisco headquarters is a consortium of four towers, not by one or even two firms, but four internationally renowned studios. Like dating, Uber paired them in a harmonious match. For MB1 and MB2, Uber's first commissioned ground-up headquarters, SHoP Architects conceived the original building plan, and then RMW came aboard for interiors. Huntsman Architectural Group was mainly responsible for the interiors of MB3 and MB4, originally created on spec by Pfau Long (which has since merged with Perkins&Will). Then Huntsman and RMW collaborated with Uber on the campus master plan. MB, by the way, stands for Mission Bay, the city's burgeoning, formerly industrial neighborhood. As for stats: MB1 is 11 stories, MB2 seven, including the partially enclosed rooftop, and buildings three and four rise 11 stories each. All told, interiors total just over 1 million square feet and will eventually bring together some 6,000 staffers. "We saw this as an opportunity to unite employees within a campus setting rather than have them scattered throughout the city," begins Uber director of workplace and real estate Tracie Kelly, who worked alongside project executive Michael Huaco, Uber's VP of global real estate. As for the design teams? "It was a happy marriage," Huntsman associate principal Nicole Everett reflects.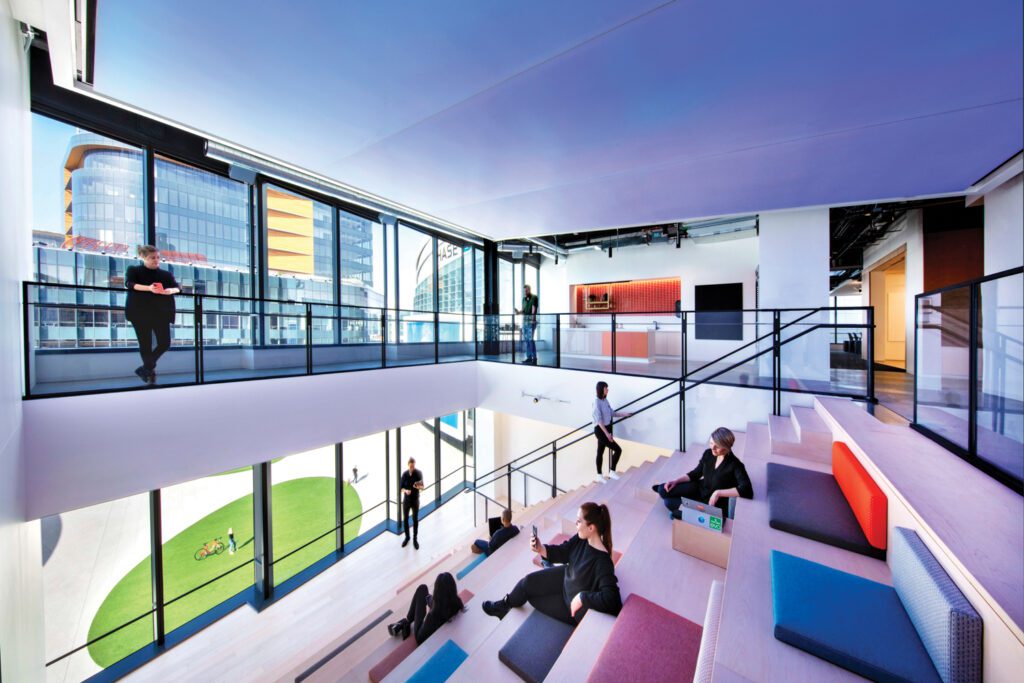 On a grand scale, Uber is conceived as a micro-city, one within and connected to the urban area at large where the two pairs of towers align. This micro-city breaks down into boroughs signified by the towers, communities analogous to floors, and neighborhoods as sig­naled by teams. It's a broad organizational device allowing for—and encouraging—qualities of contributing to a "sense of place bring­ing people together to a positive environment," Alison Woolf, also a Huntsman associate principal, notes.
Thus everyone, no matter where their location, experiences a shared panoply of indoor-outdoor junctions: public spaces, collaboration areas, and quiet zones in the form of libraries, wellness facilities, terraces, cafés, and break rooms—specifically designed to be communal and active, or focused and calm. Each pair of buildings shares an approximately 30,000-square-foot cafeteria, supplemented by four coffee bars. All together the setting offers a work-from-anywhere scenario, albeit one with dedicated workstations, indicative of an autonomous office paradigm. The fact that each environment presents a uniquely textured fabric induces folks to interconnect and continuously explore the entire campus—much as they would San Francisco's heterogenous streetscape.
Given their origins, the two sets of buildings are entirely different. Logic has the introduction start at MB1 and MB2, since the gateway to the campus occurs at the latter. Double-glass facades create layered transparency as a vertical atrium weaving through all floors be­tween the two skins—and a literal and metaphorical connection to the city. The design teams refer to this interstitial space as solariums, for gathering or working. "They give people the choice to choose their own adventure," SHoP associate principal Shannon Han says. They also add the asset of fresh air. Computer-controlled, operable windows respond to weather conditions creating what she terms "breathing facades." Yet, adds RMW design principal Hakee Chang, "We were essentially presented with 17 different floor plates due to the various ways in which the solariums engage with the building core." Unlike typical buildings with a central core, he continues, "Circulation is concentrated along the sides to high­light the bridge connections." Two reflective glass sky bridges, mirrored on the bottom and visible from outside the buildings, span levels four to six and five to seven with pathways both covered and uncovered.
Inside, the main lobby is a digital experience. "Conduits run from the feature wall behind the 40-foot-long concrete desk, up to the ceiling and along the length of the space," RMW senior designer Jenna Szczech explains. Then come choices. Grab a coffee or proceed directly to the events space occupying most of the rest of the floor. Like moths to a flame, visitors are pulled to it, since it's wrapped in a backlit and perforated white screen. Inside, the room is multifunctional and divisible, made so by an accordion-pleated partition that can rise to the ceiling.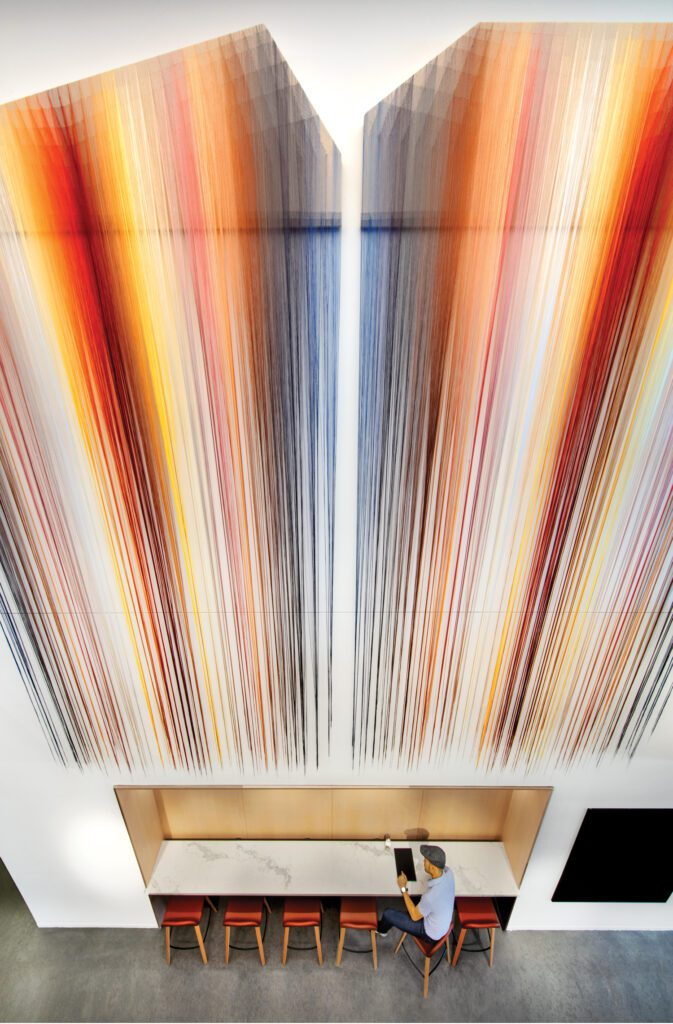 These are two of what RMW calls "iconic spaces," meaning places with campus-wide draw. The cafeteria is another. In MB2, it occupies the entire second floor in a setting every bit the hip restaurant: polished concrete flooring, serpentine white-oak banquettes overlooked by a curvaceous installation of acrylic tubes, and brass floater strips. Up on the sixth floor is the second and main events space. The Forum, preceded by an icy white pre-function environment with a mossy back wall hinting at the rooftop terrace above, counts as an all-hands venue. "The architecture is a beauty," Szczech states. Indeed it is: a bright, double-height room enclosed on two sides by a floor-to-ceiling window system capped by a grid of skylights.
Work areas, with each team neighborhood introduced by a "front porch" and privy to break rooms, are focused and calm. Quieter still is the cobalt cocoon punctuated by oak and walnut millwork. Sssh, this is the fifth floor's head's-down library devoid of any AV component. What's missing from this complex scenario? Art, as true walls are scarce. For that, all commissioned from locals, cross over to Huntsman's component. The two buildings face each other across a plaza; MB3 has a terrace off its seventh floor. While the SHoP-RMW parcel has built-in wow factors, "We had to create these spaces after the fact," Woolf recalls.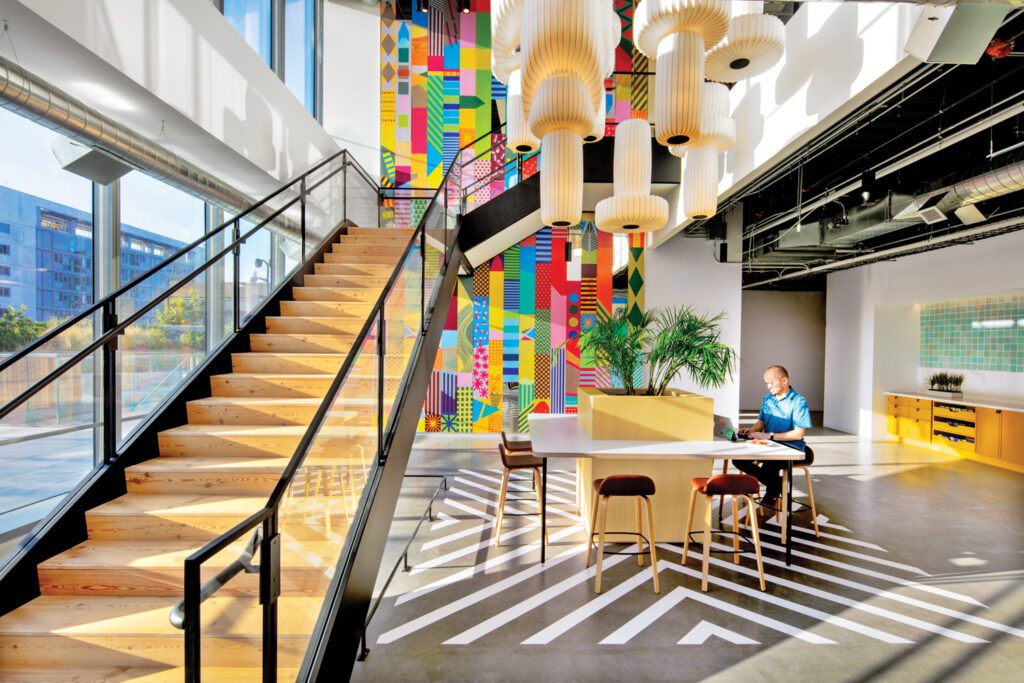 For starters, the firm cut through slabs in multiple locations. Now both structures have double-height lobbies, the larger with a slatted wood statement stairway, the smaller a cube framed with dichroic glass tubes, their colors changing according to one's viewing stance. The ceiling above the bleachers, beneficiary of a cutout between floors four and five, has more fluctuating colors. A double-height break room, itself a novel amenity for the top 10th and 11th floors, has a fiber artwork extending upward over the expanse. Meanwhile, a vibrant, multi-panel painting is installed at the connector stair from yet another break room to the wellness suite.
Uber is particularly proud of this initiative. Almost every floor campus-wide has a mother's room, but the big push is the mirrored studio for yoga, barre, or dance classes with a bird's-eye view of the terrace below thanks to glass sliders. There are also adjacent pre- or post-workout chill zones that beckon with hanging wickerlike chairs.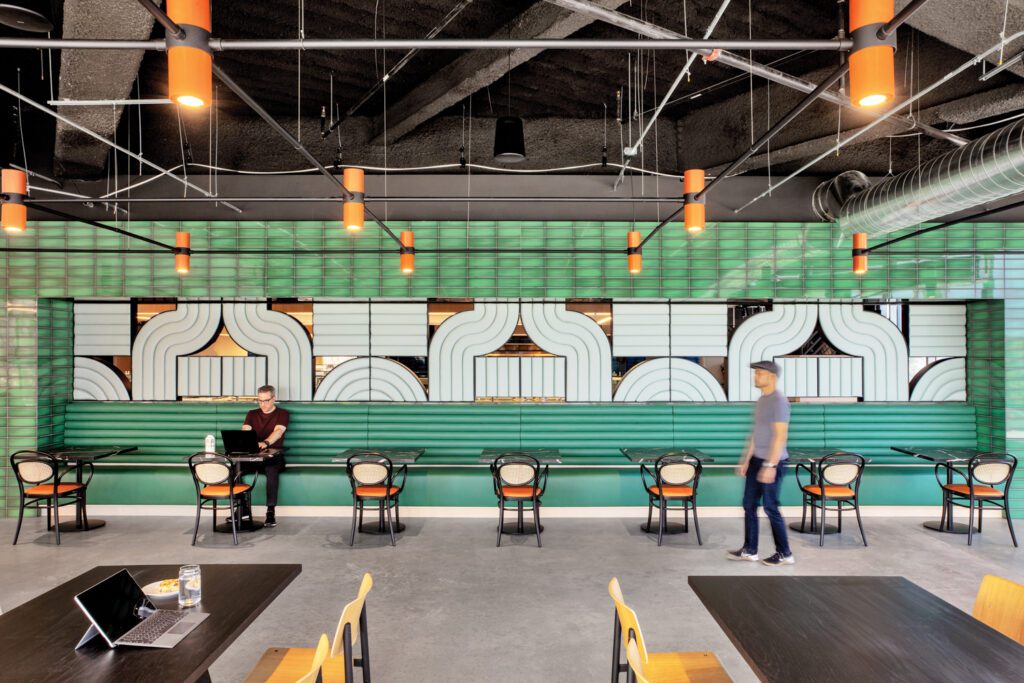 Back inside, the cafeteria serving this part of the quad is anything but corporate. It presents a cheeky take on the green wall with verde tiles. The ceramics combine with stitched, white-bolster fabric to form a dimensional divider between servery and seating. Post-prandial, staffers can head to MB4's makers' room for collaborative work or MB3's library for heads-down work. This version is "a digital and tech-enabled space prompting different neurological stimuli," Woolf says. Regardless, Huntsman paid some homage to the old-school library format by furnishing it with long tables and carrels. It turns out, some things don't need disrupting.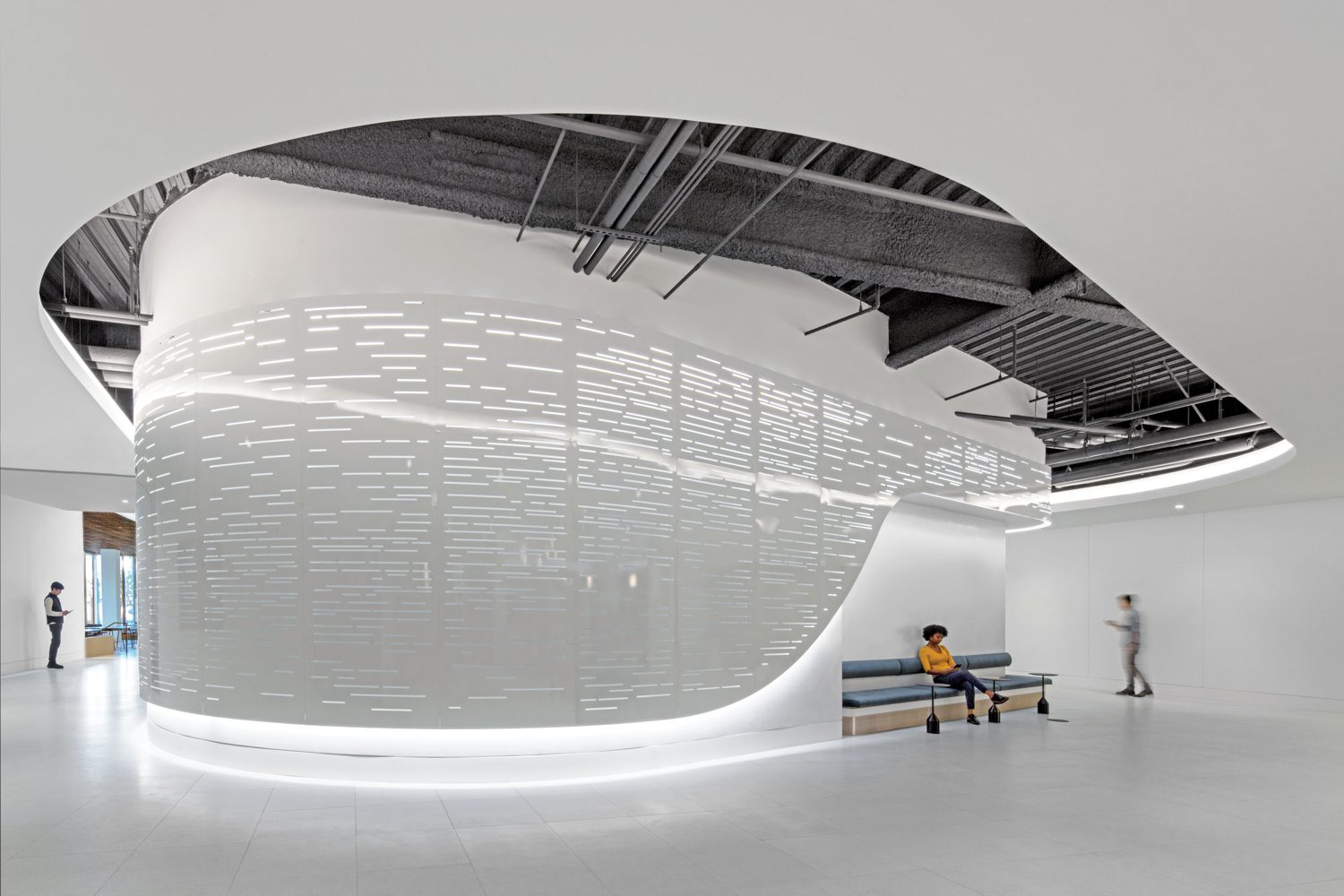 project team
PRODUCT SOURCES FROM FRONT
throughout