Immersive Art Meets Sleep at Japan's BnA Alter Museum Hotel
Immersive art has taken on new meaning in Japan. It's thanks to Kenji Daikoku, Keigo Fukugaki, Yuto Maeda, and Yu Tazawa, the multidisciplinary co-founders of BnA, their hospitality company that aims to showcase and support local emerging talent—a portion of profits goes to each artist—and galleries while providing guests, or patrons, the unique experience of "stay­ing in an art piece." They opened their debut property, BnA Hotel Koenji, in Tokyo in 2016. BnA Studio Akihabara bowed nearby in 2018, and another is underway in the city. The concept has expanded to Kyoto with BnA Alter Museum, the largest hotel so far, occupying a 10-story, 18,000-square-foot building by Toyo Architects and Engineers Office.
"A hotel can be a cultural in-between space—neither local nor global," says chief design officer Fukugaki, a Gensler alum who led the BnA Alter's interiors team that worked alongside the artists to realize the project's 31 rooms and suites, ranging from 230 to 640 square feet. "This detach­ment creates the perfect cultural ma, or vacuum, that can empower experimentation and expres­sion for the creative community." He and chief art director Daikoku recruited 15 Japanese artists whose work is "cutting edge" and "rebellious," and worked with outside designers, such as Reiichi Ikeda Design and Kanome, to conceive the rooms. Here are seven of the dreamiest.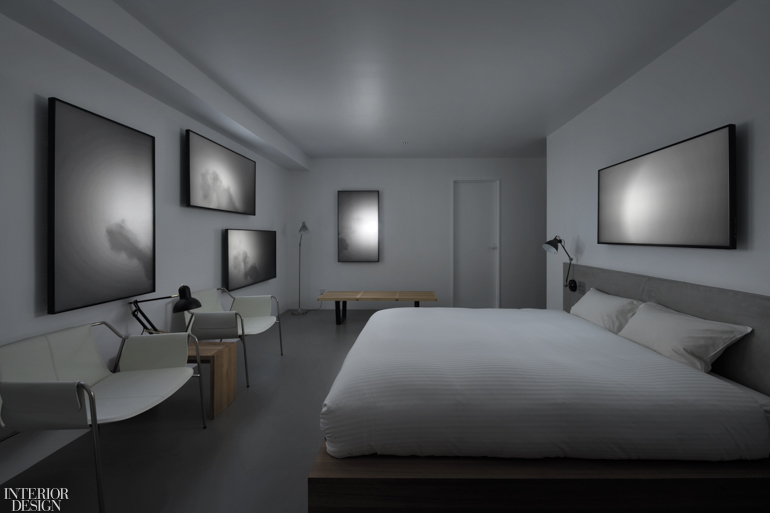 1. Designer: Daito Manabe
Installation: Continuum.
Standout: Five super high-resolution screens create an audio­visual experience, the looping nebulous footage transforming so slowly it can't be detected.
Product Sources: Tiga: Custom Bed. Sharp Corporation: Screens. Hermosa: Lamps. Flymee Noir: Loveseats.
Inspiration: "Human perception is not able to notice the change in images."
2. Designer: Sato Sugamoto
Installation: Double Dreams
Standout: One of the two deluxe quad rooms in which her work appears, the fiber artist employs colorful strings to express the diversity and complexity of human thought.
Product Source: ModuleX: spotlights.
Inspiration: "It represents the intertwining of two people's dreams."
3. Designer: Mina Katsuki
Installation: From One Stroke
Standout: Employing the lapis lazuli that's signature to her work, here the vibrant acrylic on canvas explodes amid the deluxe queen's all-white furnishings and polished porcelain flooring.
Product Sources: Icos: Custom Bed. Laminam: Flooring. Panasonic Corporation: Lighting.
Inspiration: "The painting pays homage to its most fundamental elements."
4. Designer: Mon Koutaro Ooyama
Installation: Nextefx
Standout: The street artist conceived a panoramic acrylic dragon to snake around the deluxe quad's perimeter, the chromatic experience amplified by LEDs cycling through a sequence of 12 color settings.
Product Sources: Icos: Custom Ceiling, Custom Bed. Ambient Lounge: Cushion, Table. Board Co.: Flooring.
Inspiration: "Gradual color changes calm the mind"
5. Designer: Yusuke Nakano
Installation: The birds stay in the tree by the pond, and the fish sleep below the waves in the gracious moonlight (A Model of Our Blue Heterotopia)
Standout: Inspired by years of working in a library, the artist references the moonlight and waterfront in Toru, a Japanese 14th-century play, through fiber-reinforced polymer, Corian, and phosphorescent paint.
Product Sources: Icos: Custom Bed. Interface: Carpet Tile. Dupont: Wall Circle. Panasonic Corporation: Lighting.
Inspiration: "Key motifs recall the production's metaphysical events"
6. Designer: Lulu Kouno and Asitanosikaku
Installation: Dream of a Trip, Journey of a Dream
Standout: Kouno's happy murals are at parks and children's hospitals, and here, acrylic castles, snowcapped mountains, and starry skies imbue a sense of adventure, heightened by gently curving walls and a floating bed.
Product Sources: Tiga: Custom Bed. Yashuhiro Uratsuji: Custom Table, Custom Chair.
Inspiration: "The tunnel-shape space invites dreams of travel."
7. Designer: EY (Boredoms)
Installation: D/R/M
Standout: The musician and DJ has appropriately turned the deluxe suite into an interactive audio experience based on the structure of the ear, where guests encounter thousands of luminescent dots as they progress into the inner room, aka the cochlea.
Inspiration: "The visitor is like a sound particle moving through the ear."