In Martha's Vineyard, Gray Organschi and Aaron Schiller Meticulously Craft a Family Home
"One if by land, two if by sea," is how architect Aaron Schiller describes the experience of arriving at this house, on a sloped site with dramatic views of the Atlantic. Schiller's description is both charming and literal. The northern approach leads straight to the main floor of the 6,200-square-foot five-bedroom, a barnlike gabled volume clad in cedar charred in the manner of Japanese shou sugi ban. From the opposite side of the four-plus-acre property, entry is via an exterior staircase of glulam beams. Despite its scale and stark modernity, the three-story structure closely embraces the land, evoking the local vernacular of timber sheds weathered to a gray patina—a poetic byproduct of the region's salt and sun.
For Schiller, who worked with Gray Organschi Architecture on the design and build, the house is not only a unique first commission for a young practitioner, but also a labor of love that hits particularly close to home. At age 28, just as he was finishing his first year of graduate studies at the Yale School of Architecture, Schiller was hired by a relative to find a plot of land and build a year-round residence at Chilmark, a town on Martha's Vineyard, Massachusetts, that his family has frequented since the 1950's. The short-and-sweet brief: a home with ocean views from every room.
It was a tall order for an architect in training. Luckily, Schiller found a friend and mentor in one of his professors, Alan Organschi, who teaches an immersive housing studio at Yale in which student groups design and realize a residence in a single semester. Organschi and his wife and partner, Lisa Gray, have a thoughtful and holistic approach to the practice of architecture, often managing construction in tandem with design. Schiller teamed up with the duo on the dwelling, beginning a slow-brewing five-year professional relationship. "We had never worked this way before," Gray says. "But our fondness for Aaron and his family blossomed into a great friendship, and the building is a result of our very close collaboration and exchange of ideas."
The house is a successful confluence of the firm's signature site-specificity and Schiller's deep familiarity with both the client and the location. The upper volume, which houses the main living spaces, is wrapped in panoramic windows and charred cedar siding, a rot-resistant cladding that takes on a silvery sheen on sunny days—an effect that guided the team's choice of a matching color for the standing-seam roof. By dramatic contrast, bleached ash interiors offer a sense of enveloping lightness. "The rough-and-tough exterior materials meet the environmental stresses—the salt, the wind—while the interiors offer sanctuary from them," Organschi says, acknowledging the need for a tight building envelope to withstand the region's hardy climate. "The strategy was that the home could button itself up but also open up completely on those beautiful Vineyard days when the wind is low."
The lower level, which contains the gym, media room, and four bedrooms, is constructed from red western cedar and board-formed concrete with a distressed surface texture, the result of being poured against salvaged mushroom battens pitted with fungal decay. Schiller worked closely with the contractors to achieve the detail. He also charred the shou sugi ban louvers that demarcate the home's north entrance himself.
For the interiors, Schiller drew on his early exposure to the masters of midcentury design, which he experienced in the most intimate of settings as a grandchild of J. Irwin and Xenia Miller, owners of the famed Eero Saarinen–designed Miller House in Columbus, Indiana. Alexander Girard's iconic decor for that house influenced Schiller's warm-modernist approach here, where open-plan spaces are gently structured by color accents and groupings of furniture, much of which he designed himself.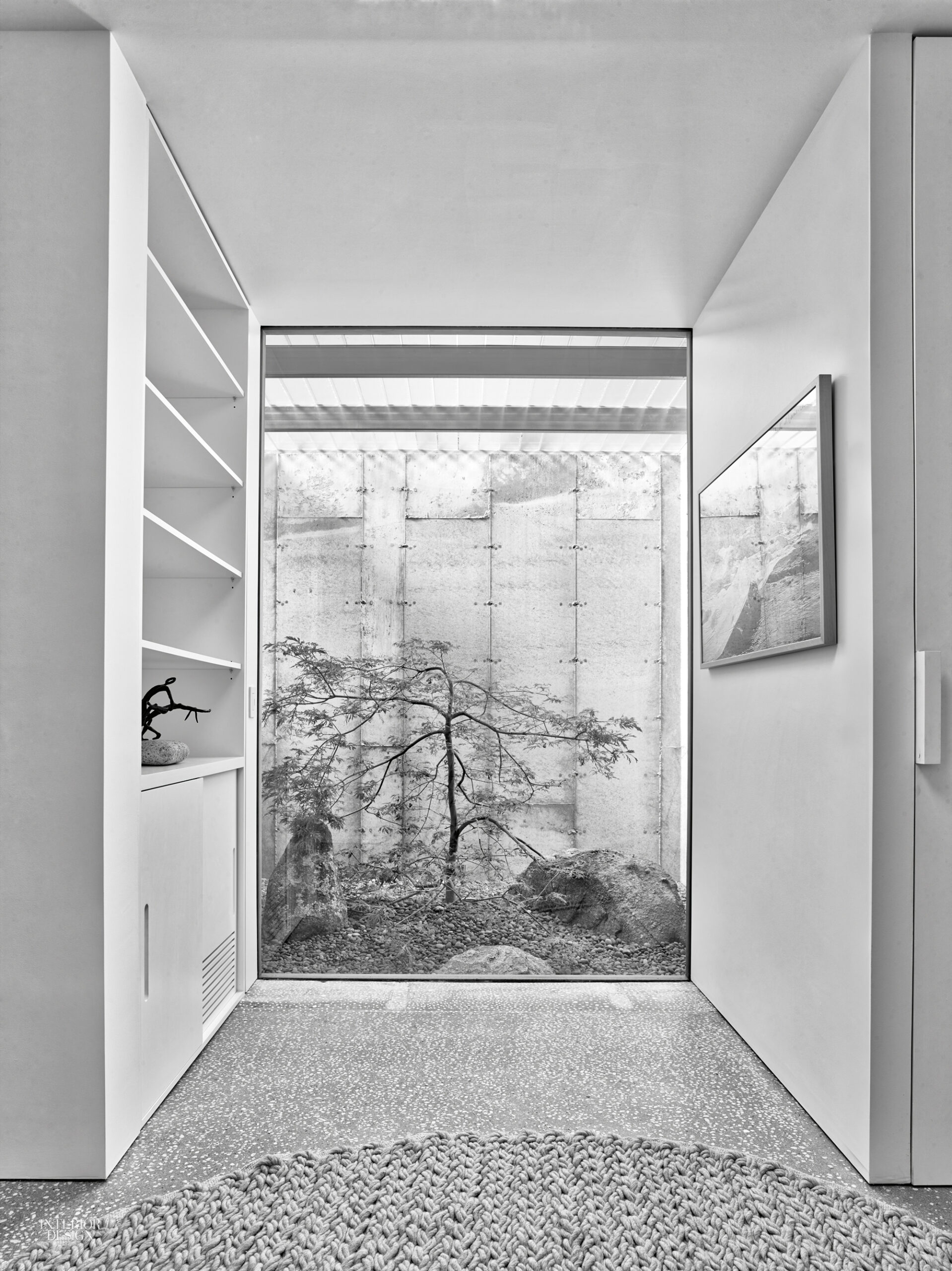 For the lower level, the rear of which is below grade, "we were fixated on not building a basement," Schiller says. "Why would you come here to have no light or air?" Instead, the design team resolved to create what he calls "a little Noguchi moment," with a pair of 14-foot-deep light wells along the home's lengthy northern facade. Planted with Japanese maples, these underground courtyards form serene, sun-filled vignettes that flood the bedrooms with light. (Just as importantly, they perform a crucial structural role, buttressing the abutting concrete retaining wall.) As Schiller says, "When you're downstairs and turn your back on the ocean view, you're faced with the wonderful surprise of these tranquil, Japanese-style gardens."
Project Team: Eero Puurunen; David Sheeren; Britt Brown Hayes; Marion Forbes: Gray Organschi Architecture. Colin Cleland; Ollie Zlotnicki: Schiller Projects. Contemporary Landscapes: Landscape Contractor. Atelier Ten: Lighting Consultant. Jacobson Structures: Structural Engineer. Schofield Barbini & Hoehn: Civil Engineer. Walter Smith Plumbing & Heating: Plumbing Contractor. Dillon Creations: Millwork. Richard Cantwell Woodworking: Specialty Woodwork. Rosbeck Builders Corporation: General Contractor.
> See more from the Spring 2017 issue of Interior Design Homes