In STUDIO Designs Fun into Toronto Toy Company Spin Master's Headquarters
The modern office needs to do more than just create optimal environments for its employees; it needs to embody its brand. Luckily, Toronto-based children's toy and entertainment company Spin Master's brand is fun, which iN STUDIO has incorporated into every detail of the firm's new 100,000-square-foot headquarters.
"The mandate was to strip away every 'corporate' aspect of this very corporate, mid-1990s office tower interior," says iN STUDIO partner Anthony Orasi. "We wanted the look and feel of a toy and entertainment 'workshop.'" A wayfinding ribbon starts at ground reception and leads to playgrounds of product displays and installations as it makes to the sixth floor, taking in a children's library, tinker labs, and a 3D printing workshop along the way. Height-adjustable workstations and office suites take the pain out of work, while trophy walls highlight the rewards.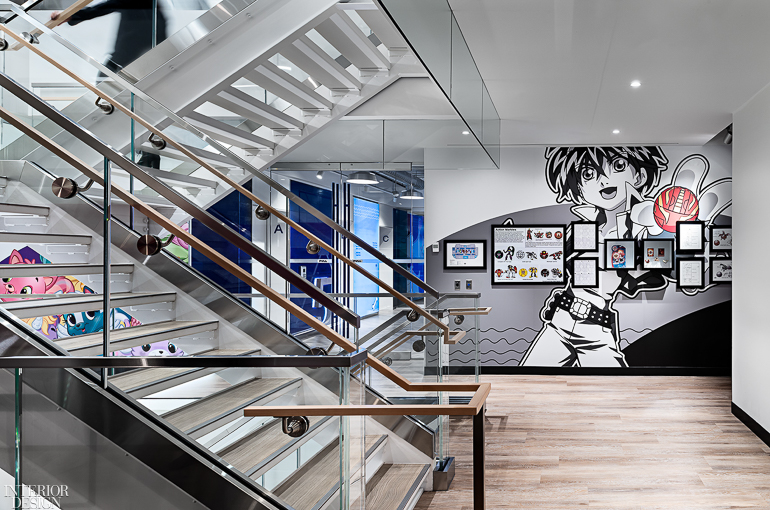 Speaking of work, "We had to cut substantial openings in floor slabs, modify exterior glazing, sandblast concrete columns, and convert a portion of the tower's main floor lobby into an interactive showroom, complete with a 20-foot touch screen wall," Orasi says. But there was still time to play: The team whipped up a feature stair as an homage to Spin Master's Jumbling Tower toy, while signage in the town hall is made of the brand's sticky Bunchem balls.
Read more: PleasantHouse Design and Intact Studio Create Giant Pixilated Maze at GameOn Shenzhen