Indie Cuisine: A Hip London Indian Restaurant by Afroditi Krassa
London's old-school curry houses serve their chicken tikka masala with a hearty helping of decor clichés: carved teak, painted maharajas, brass Ganeshas.
Hungry for something more progressive, three entrepreneurs turned to the firm of Afroditi Krassa to concoct a recipe that's subtly exotic but decidedly cosmopolitan. On research trips to India, she looked past the aggressive architecture of today's Mumbai and instead absorbed the remnants of Bombay, what she describes as the "honest functionality" of fading cafés and street stalls.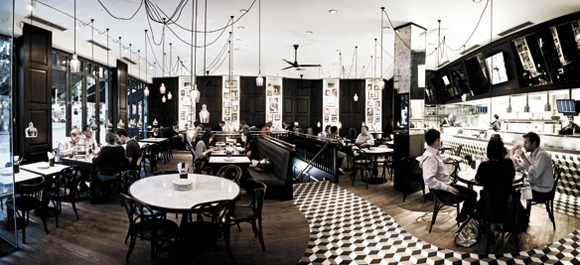 The result is the freestyle blend at Dishoom. (That's Bollywood lingo for pow.) In this 5,000-square-foot restaurant, stereotypical jewel tones have been banished, and oak paneling alternates with pastel-painted brick. Sepia photographs and movie memorabilia surround the dining room, where mismatched Michael Thonet chairs accompany Carrara marble tabletops. Industrial triple-blade fans slowly rotate between a medley of pendant fixtures in brass and glass, their cords swooping into swags. And a pathway of M.C. Escher checkerboard, rendered in porcelain tile, snakes across the oak flooring between the open kitchen and the stairs to the basement bar-a descent lined with vintage ads and graphics.