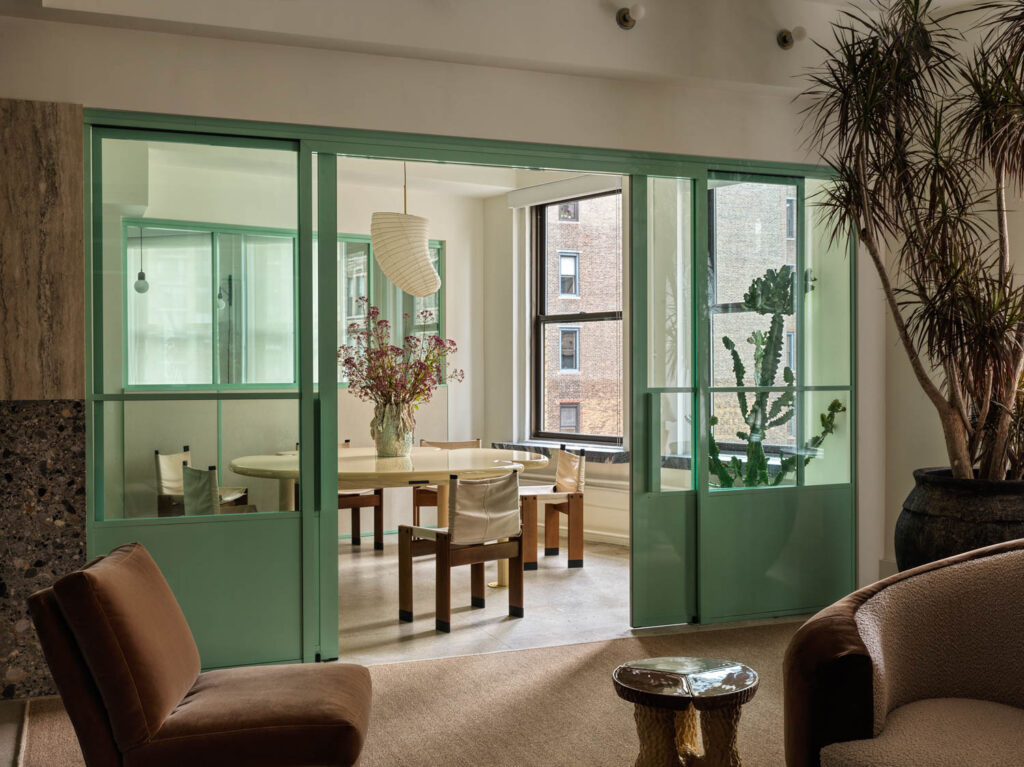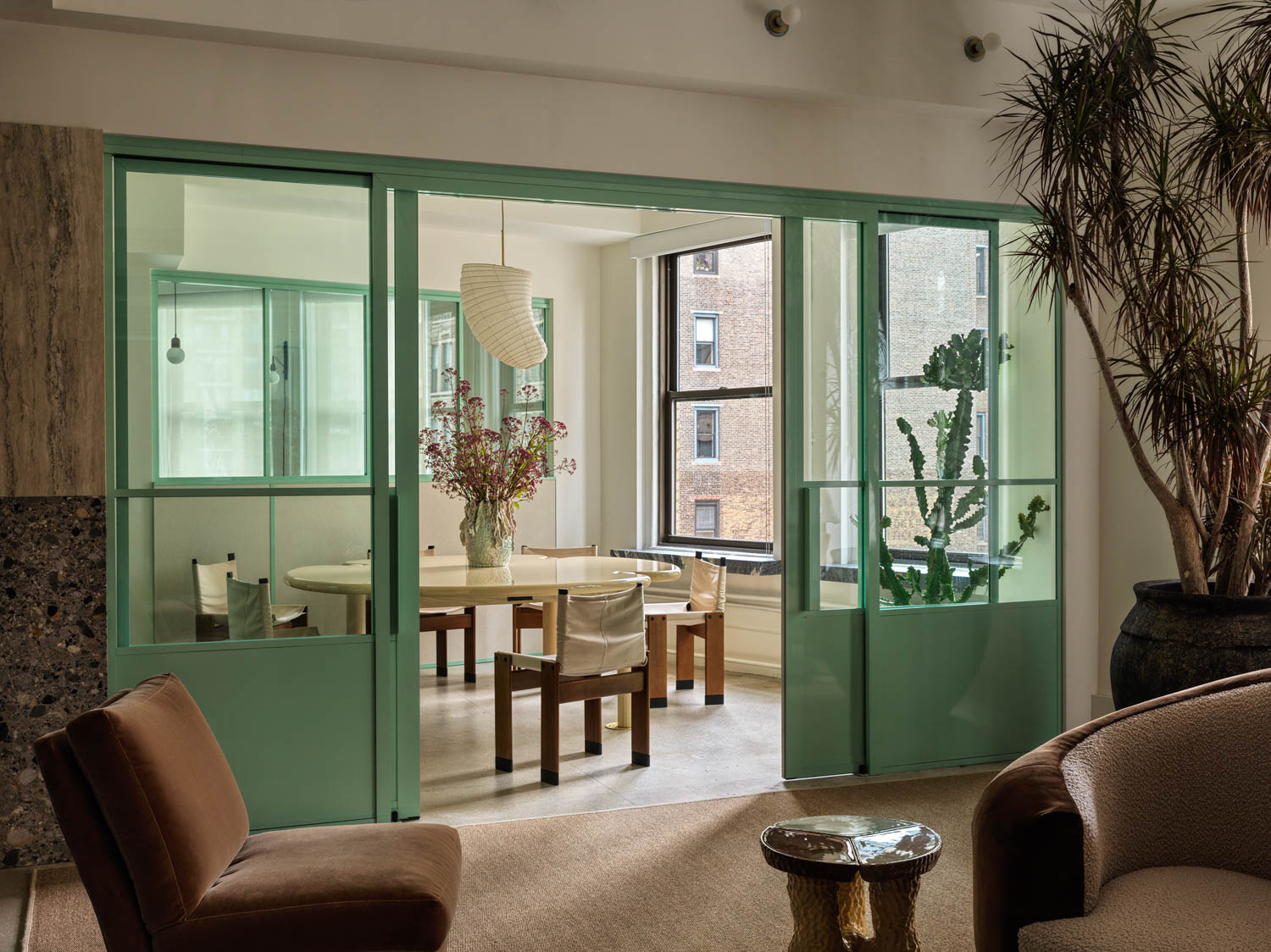 Grab Some Popcorn for an Office Tour of SandBox Films
When it comes to post-pandemic workplaces, in-office movie theaters are a rare find. But for Sandbox Films, which recently unveiled its new digs in Manhattan's Flatiron District, a 22-seat screening room is far more than an office amenity—it's essential to the work done day in and out by the company's creatives. With this in mind, the designers at Civilian ensured the space stood out, aesthetically and functionally. "It has state-of-the-art sound quality and so much technological fire power, but we had to take great care to ensure the experience felt seamless and completely immersive," says Civilian cofounder Ksenia Kagner of the Art Deco-inspired screening room. "It feels like the creative center of gravity for the space."
Furnished with custom, fully reclining seats by CINEAK, which include built-in table lights designed by Civilian and Lambert et Fils, the Dolby Atmos screening room offers an elevated movie-watching experience. Sound engineers were consulted to create an immersive environment with sound equipment, acoustic dampers and reverberators concealed behind chocolate colored stretched wool and walnut panels. As for lighting, overhead sconces and foot-lighting allow the space to serve multiple functions, from public screenings to private editing sessions.
An Office Design That Leans into Hospitality and Residential Elements 
But the journey doesn't end there. Given that the Sandbox Films staff have the option to work remote, Civilian was tasked with creating a 4,200-square-foot office that prioritized comfort and collaboration. "We designed the office to support the creative labor that goes into filmmaking and ensure the team got the most out of the time spent in the office," says Kagner. "It was less about making it livable, but rather making the act of labor feel dignified." With nods to early European movie houses, the office, which is housed within a 1920s Neo-Gothic skyscraper, weaves together a rich tapestry of vintage furnishes and custom pieces, creating a cozy, and slightly quirky, atmosphere.
"Researching historic precedents is an important part of our process for all of our projects, not just for material and stylistic inspiration but to understand how the use of space evolves over time," shares Kagner. "The interwar period was when cinema design really came into its own as an art form with the rise of the mass-market film industry and introduction of synchronized sound. In New York we have the legacy of large-scale gilded movie palaces, which provided some inspiration." Specifically, Civilian explored the aesthetics of movie houses in Amsterdam and the Bio Capitol cinema in Stockholm. "It's a place that you might go hang out, whether or not you are coming to watch a movie," he continues, "those were qualities that we wanted to bring to Sandbox Films."
As a non-profit documentary company focusing on making inclusive, science-centered films, the Sandbox Films office also doubles as an event space with an active roster of screenings, as well as a residency program for independent filmmakers. "Sandbox was founded to tell more artful and inclusive stories about science and celebrate filmmakers working in a genre that has historically been overlooked," says the company's founding director Greg Boustead. "[The space] thoughtfully carries through these values, giving us an office, a modern-day salon and a gathering place to build community and mentor early-career filmmakers."
Inside the Sandbox Films Office in Manhattan